Winter's hanging on….and on….and on.  So soups are still on the menu here.  How about you? Today's soup is chuck full of vegetables and black beans.  Add a little dairy free sour cream right before you eat it and it gets a little creamy.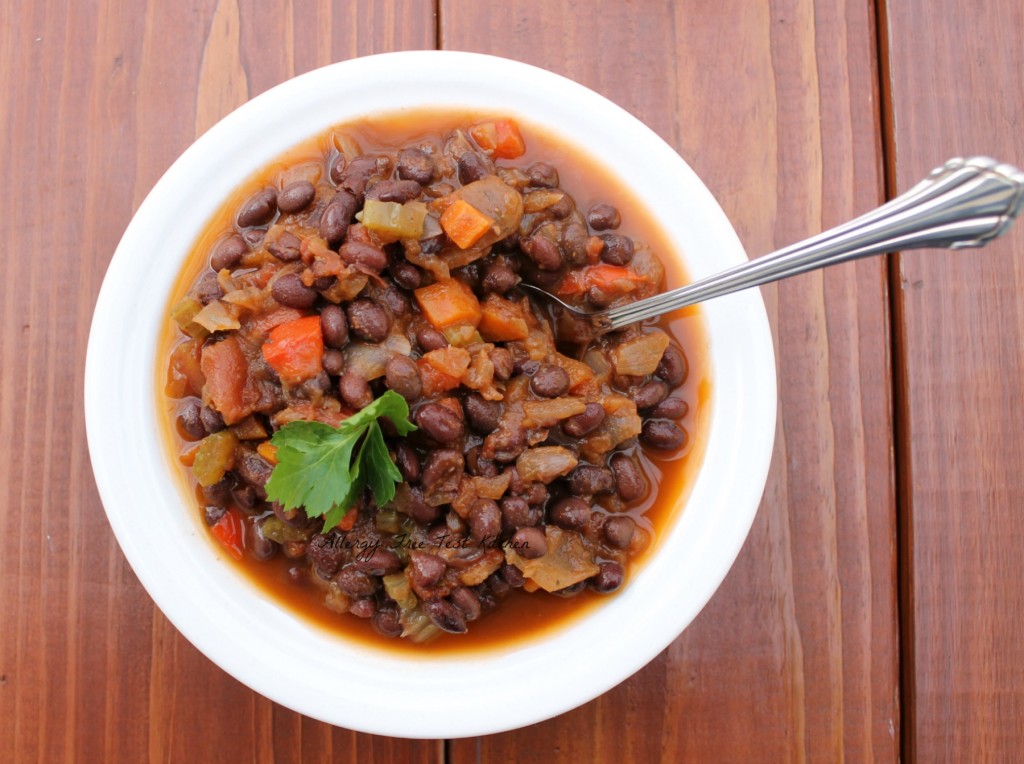 So whether or you are a vegan, vegetarian or meat eater who enjoys a meatless meal now and then, this is a good soup for you. It is comfort food. It makes a lot, so I freeze some for a later day when I do not feel like cooking.
You may be interested in these six soups and stews as well:
Also shared at Mostly Homemade Mondays. Whole Food Fridays. Wellness Weekend. Allergy Free Wednesday.


Veggie Black Bean Soup
Ingredients:
2 onions, chopped

1/2 cup chopped celery

1/2 cup chopped carrot

1/2 cup chopped red pepper

2 T. minced garlic

2 cups vegetable broth (or chicken broth), divided

1 T. oil

3 cans black beans, rinsed, soaked, drained and rinsed again

1 can diced tomatoes

2 T. tomato paste

2 T. xylitol (or white sugar), optional

4 tsp. chili powder

2 tsp. cumin

1/2 tsp. oregano

dairy free sour cream if desired
Directions:
Heat 1/4 cup of broth with 1 T. oil in a large pot.

Add onions, celery, carrot and red pepper.

Cook and stir until vegetables are tender.

Add garlic, remaining broth, beans, tomatoes, tomato paste, xylitol and spices.

Bring to a boil, reduce heat to low, cover with lid and simmer for 40-50 minutes.

Serve with sour cream of choice if desires.