I used to have a baked potato soup recipe that was so delicious!  It was loaded with heavy cream, butter and the like.  It was high calorie/fat so I limited myself to making it only once or twice a winter.   It was also a lot of work.
So about two years ago, I set out to find a potato soup that could replace my old love.  I found it in a vegan cookbook.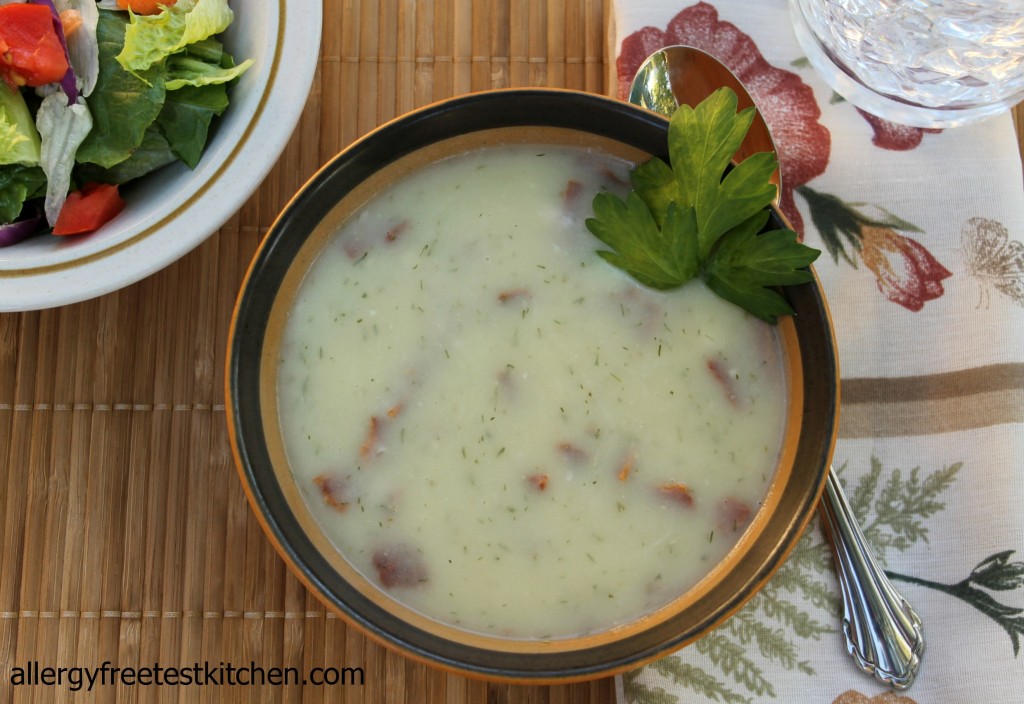 It was simple and fast; not a lot of hard work.  It was creamy and full of garlic and onion which I adore.  It also used tofu, which we know is pure soybeans!  Now no one in my family is allergic to soy, but for other reasons, we like to limit our intake of soy.  And for the sake of this blog, I cook soy free for the many people who do suffer with soy allergies.  Soy is difficult to get around especially if you also cannot have milk.
This soup goes down easily.  In fact, it is the one dish that my little munchkin will eat as leftovers….over and over.  To make the soup dairy free alone you can use Tofutti "sour cream."  To make it dairy and soy free you can use WayFare "sour cream."  I have used both and they both work wonderfully.    
Potatoes, garlic, onion, bacon, and chicken broth make up this wonderful soup.  I also make it vegan sometimes by using vegetable broth and omitting the bacon.  It tastes great anyway you make it!
I would love to have you follow me on Twitter or like my Facebook page.  You can do that by clicking the buttons in the header.
Also shared at Wellness Weekends , My Meatless Monday and Mom's Test Meal Monday.

Creamy Garlic Potato Soup (Vegan Option)
Ingredients:
1 T. olive oil

1/2 cup onion, chopped

4 cloves garlic, minced

4 cups water

4 tsp. chicken broth seasoning or vegetable broth seasoning (bouillon)

3 cups diced potatoes

1 cup WayFare "sour cream" or Tofutti, or regular sour cream

1 tsp. dried dill weed

6 strips bacon, cooked and crumbled (optional)
Directions:
Heat oil over medium high heat in a large soup pot.

Add onion and saute for 3 minutes.

Add garlic and saute for another 1-2 minutes.

Add water and broth seasoning of choice and bring to boil.

Add potatoes and return to boil.

Reduce heat to medium and cook potatoes gently until soft, about 10 minutes.

Using a soup ladle, spoon some potatoes and some broth into blender and process until smooth.

Add the rest of potatoes and broth and process until smooth.

Return all to pot and reduce heat to low.

Add sour cream of choice and dill weed and cook until heated through.

If using bacon, add right before serving.