Today's soup is easy peasy!  Everything is put into the crockpot and then you can forget about it.  Another great thing about this soup is that it makes a huge batch.  So if you have a large family, you wouldn't have to double it, and if you have a smaller family you can freeze half.  That is what I do.  I make a crockpot full and freeze half (it freezes well).  This is a great option for any mom.  On nights you are too tired or busy to cook, you can simply defrost this soup, add a salad and maybe bread and you have a healthy meal and quick!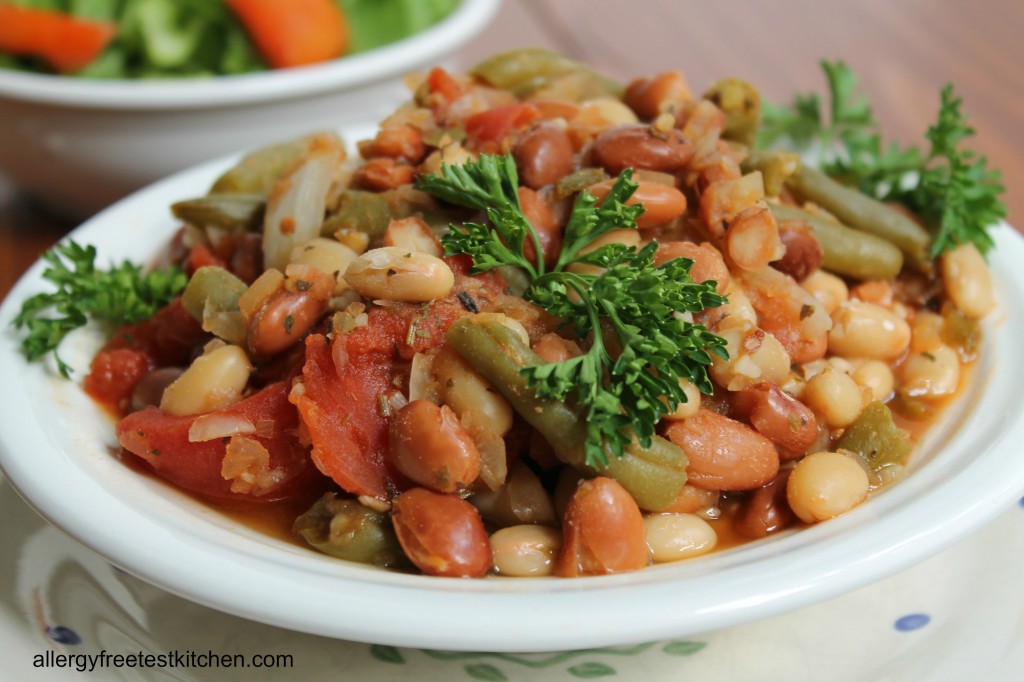 In my post about Mexican Bean Salsa I talked about why I cook meatless meals once in a while and how to cook with beans without the unpleasant side effects.  Today I want to talk about the benefits of beans aka legumes.  I found 10 facts about beans from sites such as  Mayo Clinic.
 Beans are affordable
 Legumes have a long shelf life.
 Beans are a sufficient form of protein and can take the place of meat.
 Beans are low in cholesterol and have little to no fat.
 Legumes are high in the minerals of iron, potassium and magnesium.
 Beans are one of the best sources of soluble fiber which can help lower the levels of damaging LDL cholesterol in the blood.
 Soluble fiber in beans can ward off the highs and lows of blood glucose levels.
 Legumes are also a source of insoluble fiber meaning they can keep your pipes working well.
 The vitamin folic acid is found in beans.
 Beans are versatile.  They can be made into soups or stews.  They can be added to salads or be toppings on baked potatoes or noodles or in wraps. Since most are bland they can take on the flavor the spices in your dish.
I found this recipe (and adapted it) in a slow cooker cookbook with no named author.  So, with all this good news about legumes, will you give this soup a try?  Let me know in the comment section below.
Also shared at My Meatless Mondays. Allergy Free Wednesday.

Italian Bean Soup
Ingredients:
2 cans great northern beans drained, soaked, and drained again

2 cans pinto beans drained, soaked, and drained again

1 large onion, chopped

1 T. beef bouillon granules

1 T. minced garlic

2 tsp. Italian seasoning

2 cans Italian stewed tomatoes

1 can cut green beans, drained

1/4 cup water

1 bay leaf
Directions:
Mix all ingredients in slow cooker and cook on low for 6-8 hours.

Remove bay leaf before eating.