I love soups, stews and chili this time of year.  I love to make them and eat them.  Today I bring you a vegan chili that is so hearty.  This is a good way to introduce people to meatless soups or a good way to start trying them yourself.  You will not miss the meat.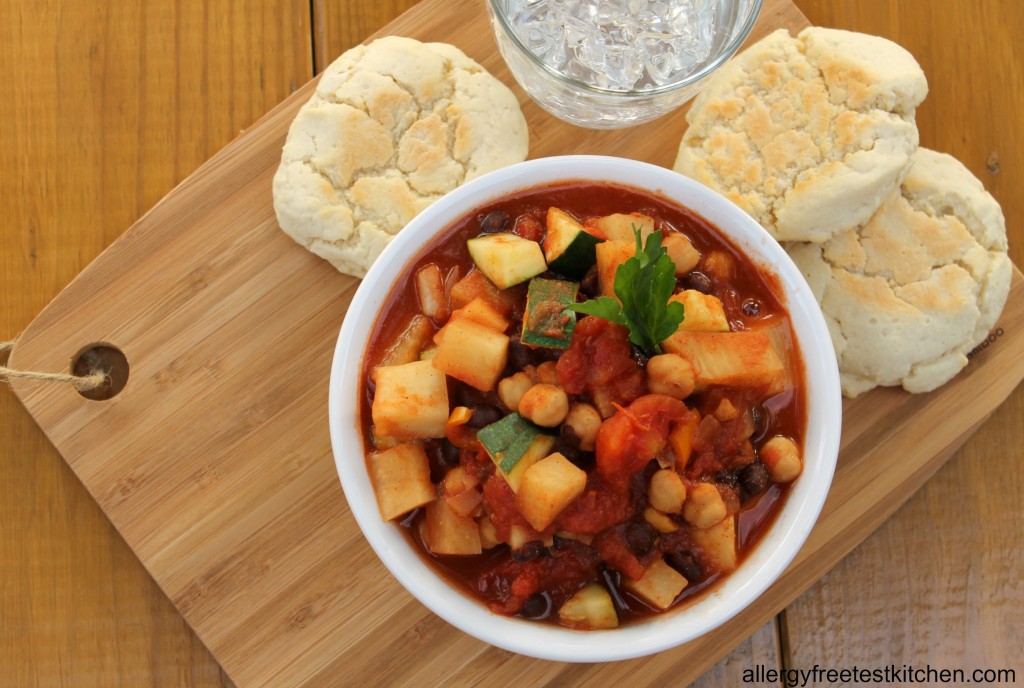 I bring this recipe (slightly tweaked) to you from More Choices, Eat Well, Live Well by Cheryl D. Thomas-Peters, RD.  It is a decent cookbook.
Serve with corn bread or biscuits and a green salad and you have a complete meal.
Also shared on Gluten Free Friday and Wellness Weekends.

Vegetable Chili-Vegan Style
Ingredients:
2 cups cubed potatoes

1/2 cup chopped onion

1 small red or green pepper, chopped

1 T. chili powder

1 tsp. cumin

1 28 oz. can whole tomatoes, undrained

1 can garbanzo beans, rinsed, soaked and drained

1 can black beans, rinsed, soaked and drained

1 8 oz. can tomato sauce

1/2 tsp. garlic powder

1 tsp. lemon juice

1/2 tsp. sugar, honey or agave nectar

1 cup cubed zucchini

dairy/soy free (or allowable) sour cream
Directions:
Peel and cubed potatoes and cook for a few minutes in microwave to start the softening process.

In a large saucepan, combine the "pre-cooked" potatoes with all the ingredients except the zucchini.

Break up tomatoes with kitchen scissors. Stirring occasionally, bring soup to a boil.

Reduce heat. Cover and simmer about 15 minutes.

Add cubed zucchini. Cover and simmer until zucchini are tender.

Ladle into bowls and top with allowable sour cream, if desired.