Big News!  Over the years that I have been writing here on Allergy Free Test Kitchen I was also busy creating and writing a cookbook and it is now available for anyone!  It is on Amazon as a paperback and on Kindle, but they are currently listed separately.
This book is literally FOR ANYONE despite the title!  It has 125 delicious recipes (my kid eats every one!) in categories breakfast, soups/casseroles, meat entrees, vegetables/sides, and sweet treats!
All recipes are 100% gluten, dairy, soy, and corn free.  No refined sugars are used either.  Only a few use eggs and only one has nuts.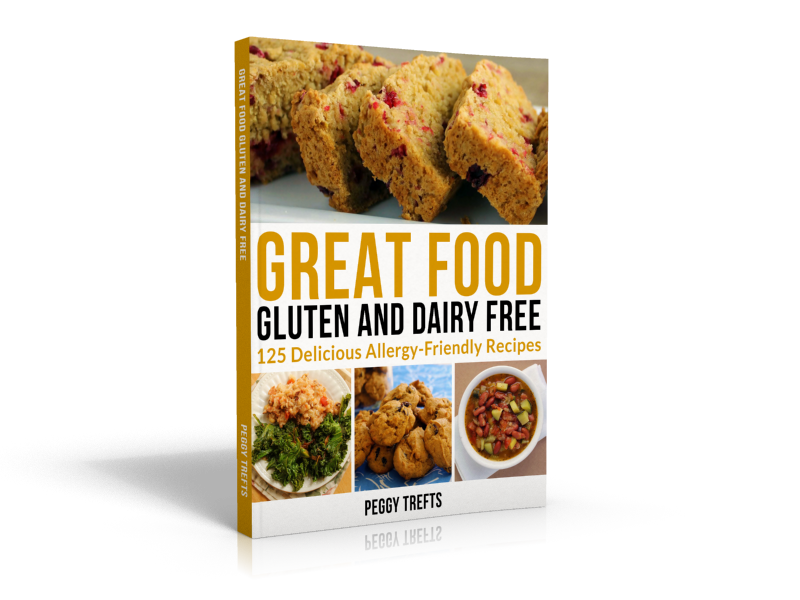 This is healthier fare packed with lots of flavor and most are easy to make too!  You don't have to have a restricted diet to enjoy these recipes! (In fact I don't feel restricted at all!) Imagine a creamy potato soup all without milk/butter or soy! (It's healthier that way!) It can be done and it's delish!  Or how about an apple pie without white or brown sugar!  And what about breakfast? Learn my secret to a breakfast full of healthy fats and protein and no grains that will keep you full til lunch!  Need vegetable ideas?  I got many…and yes, collard greens can taste great (they are my 9 year olds favorite vegetable).
This book is chock full of comfort food-including a few vegan meals, beef, pork, and chicken recipes that will tantalize your taste buds! I love the crockpot, so I've got a lot of those recipes too!  Love chocolate?  I have a recipe for making your own eating chocolate without all the sugar!
I could go on and on…but I'll let you find out more when you read the book!  You'll be very pleased with the paperback version…the front cover are my pics, the interior layout is easy to read and each recipe comes with a little snippet of info…some practical, some fun!  The Kindle version will look nice too, but I'm partial to books I can hold.
Click here to be directed to Amazon.
Help spread the word!  Please share on Facebook, Twitter, Pinterest etc.
And be looking for a giveaway….I'll be hosting one soon!