Can you say "YUM?"  Yep, this is super yummy.  You can make this Chili Mac Bake meat lovers way or vegan style.  I have made it both ways and both ways were super good.  In fact it can also be made allergy free or not.  This recipe fits anyone's diet or preferences.
Here is a picture of the vegan version of Chili Mac Bake.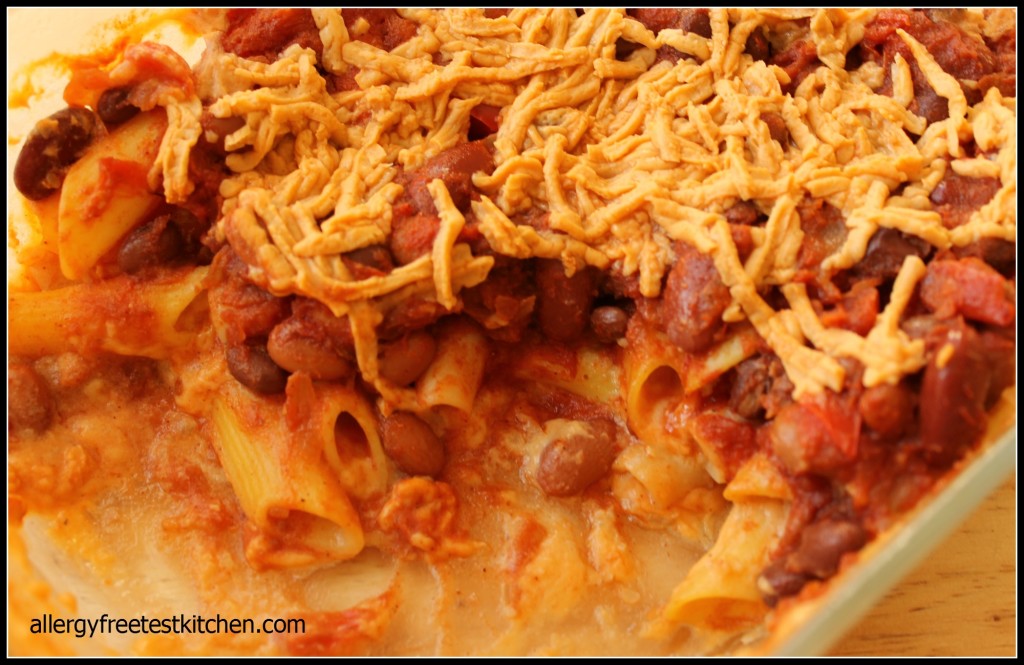 Besides being delish and comfort food this is easy to put together.  When you are meal planning you can plan two meals at once.  I suggest you make a double batch of chili one night.  And then with the leftovers make this Chili Mac Bake the next night.  I have adapted this recipe from Vegan Planet by Robin Robertson.
I love followers!  Remember to "like" my Facebook page and click "add to interests" list so you can get a heads up about more yummy recipes like this.  You can also keep track of new things at Allergy Free Test Kitchen by following me on Twitter or Pinterest too!
Also shared at Allergy Free Wednesday, Gluten Free Fridays, Gluten Free Monday and My Meatless Monday.

Chili Mac Bake
Ingredients:
1 1/2 cups gluten free or regular elbow macaroni

1 T. olive oil

1 T. dried minced onion

2 T. garbanzo bean flour or regular wheat flour

1 cup rice milk or cow's milk

1/2 tsp. salt

1/2 cup Daiya cheddar style shreds or regular cheddar cheese

1 1/2 cups meat chili or vegan chili
Directions:
Preheat oven to 375 degrees.

Cook macaroni according to package directions.

Heat olive oil in skillet over medium high.

Add onion and cover pan with lid and cook for a few minutes.

Add the flour and stir until well mixed.

Turn heat to low, add milk and whisk until mixture thickens.

Add salt. Remove from heat.

In a large bowl, combine the sauce, chili, macaroni and 1/4 cup of the cheese.

Spread into a 8 x 6 glass baking pan (or similar size).

Sprinkle remaining 1/4 cup cheese over top.

Bake about 30 minutes or until hot and bubbly.