Avocados.  Nature's creamy fruit.  Have you heard that?  I never had an avocado until I gave up milk.  And boy was I missing something!  Everyone should be enjoying this fruit.  I started out eating it as guacamole and loved it so much I made it nearly weekly at first. But I have since tapered off.  I guess there is such a thing as too much of a good thing.
But here is a super cool way to eat avocado; in a creamy, mousse like dessert.  It is rich, chocolately and filling.  It will satisfy your sweet tooth or your chocolate craving.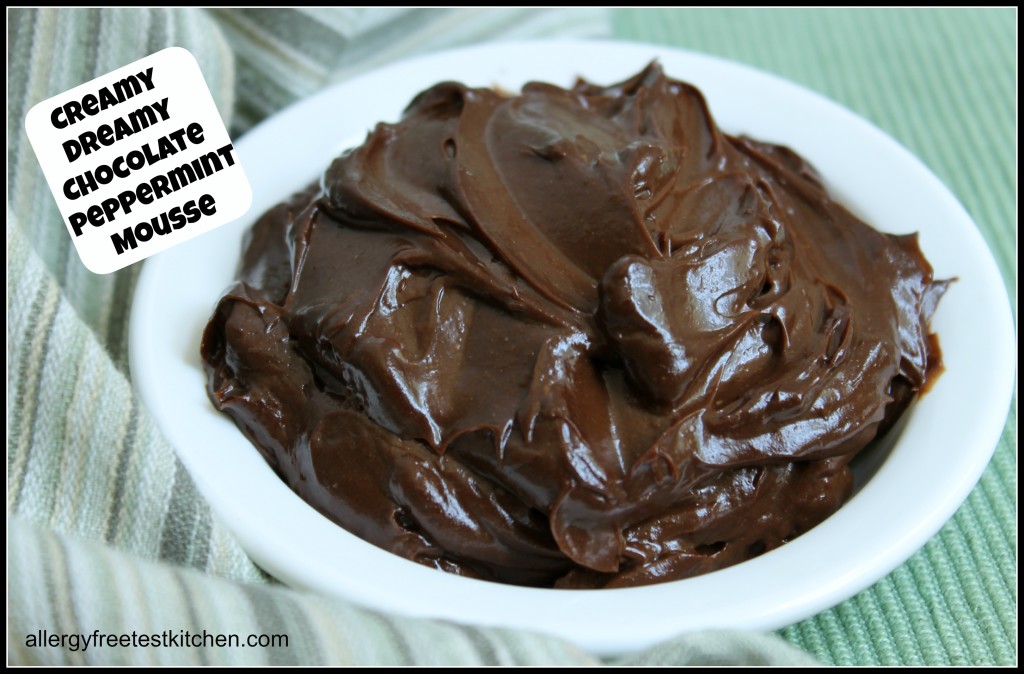 I have seen this recipe or similar ones on the food blogosphere, but I found it in Sheryl Crow's cookbook If It Makes You Healthy with Chef Chuck White a few years ago.  I changed it up and made it be peppermint chocolate mousse.
This chocolate dessert is so creamy you will forget it is dairy free!  And what an awesome way to sneak this fruit into your children.  If you make it without them seeing you use avocados they will never know!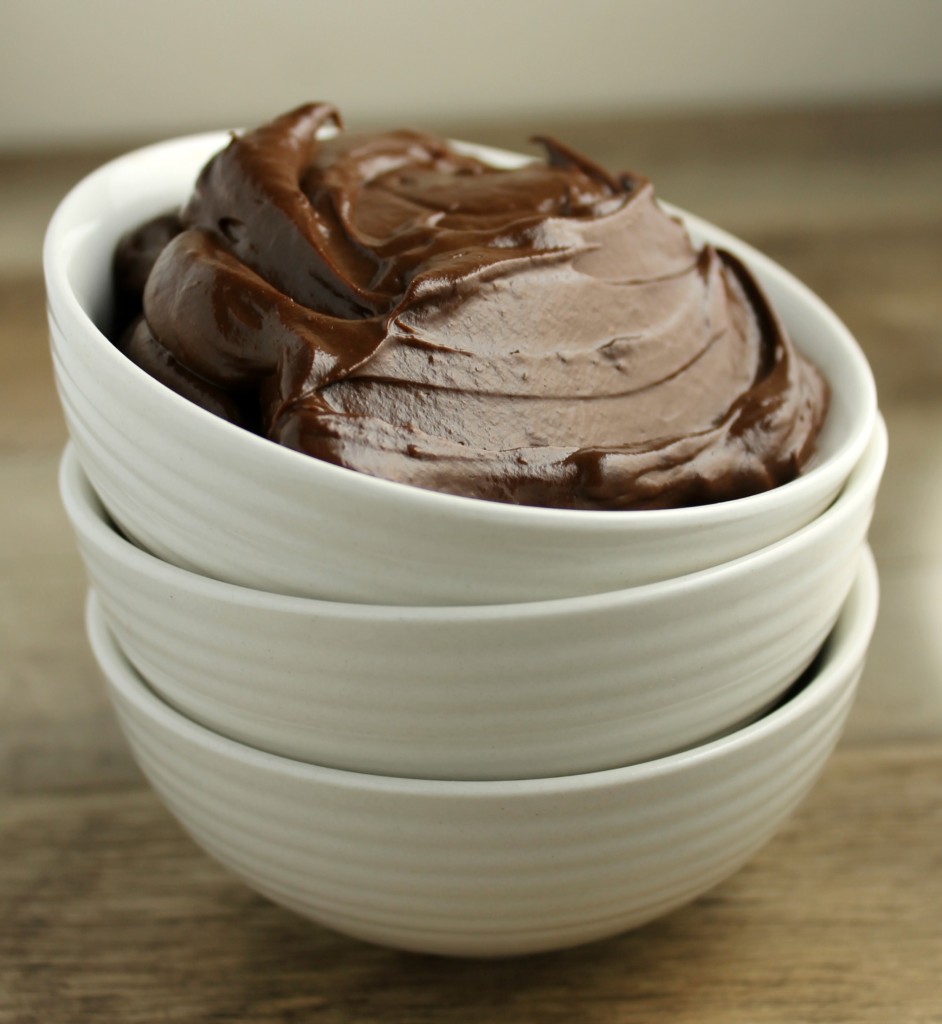 Since this mousse is very filling and rich, your serving sizes can be small.   A new thing I have tried recently was to make the mousse and put it in mini muffin tins lined with mini muffin papers.  Then I froze them.  They stayed wonderful in the freezer!  I could pop a little chocolate mousse bite in my mouth after dinner for the little chocolate fix I needed.  It was refreshing and I felt like I was being virtuous because I was actually eating a fruit!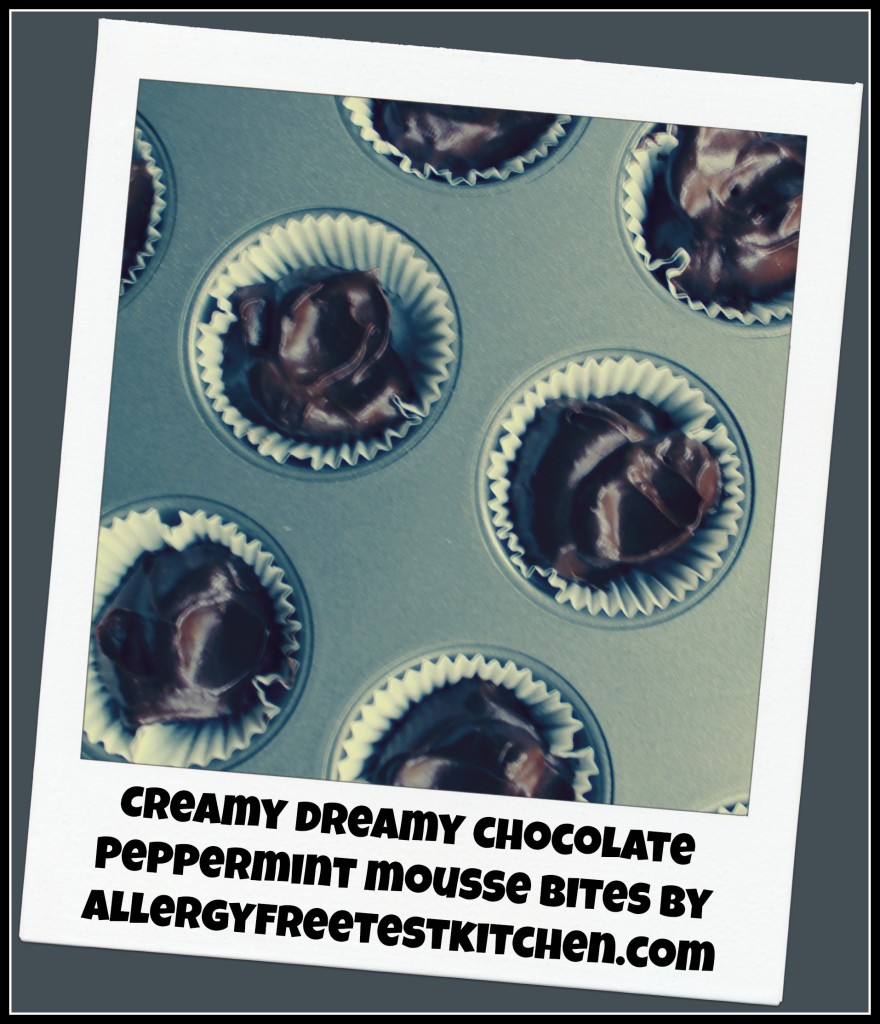 The great thing is…they never got hard in the freezer.  I could easily bit into them.  They also never got any sort of frost or freezer burn on them.  I had them in a sealed plastic container and they stayed good for about 8-9 days.  I am sure they would have lasted longer than that, but they were so good I ate them up that fast.
So, at the beginning of this New Year, let yourself indulge in a chocolate treat!  This one is good for you!
I'd like to invite you to follow me on Pinterest, Twitter or like my Facebook page!  Or you can subscribe to receive emails when I post something new!
Also shared at Slightly Indulgent Tuesday  and Whole Foods Friday Wellness Weekends, and Allergy Free Wednesday, Mom's Test Meal Mondays.

Creamy Dreamy Chocolate Peppermint Mousse
Ingredients:
2 large avocados

1/2 cup cocoa powder

1/2 cup agave nectar, plus more for taste if desired

1 1/2 tsp. vanilla

1/4 tsp. peppermint flavoring
Directions:
Clean outside of avocados with water. Cut in half and scoop out avocado flesh.

Place avocado in the bowl of a large food processor with blade in place.

Add cocoa powder, agave nectar, vanilla, and peppermint flavoring.

Process and scrap down sides occassionally.

Process until smooth.

Add more agave nectar by small amounts if desired and pulse a few more times to incorporate.

If serving as a dessert, place mousse in individual bowls before chilling. Chill for at least one and half hours.

If making mousse bites, line a mini muffin pan with liners and fill the papers with mousse.

Freeze for about 2 hours.

Then transfer each mouse bite to a plastic container with lid for storage. Keep mousse bites in freezer.