Making a casserole is a once in a while thing in my house. I have made this Mexican Bean Baked Casserole a handful of times and thought I would pass it on.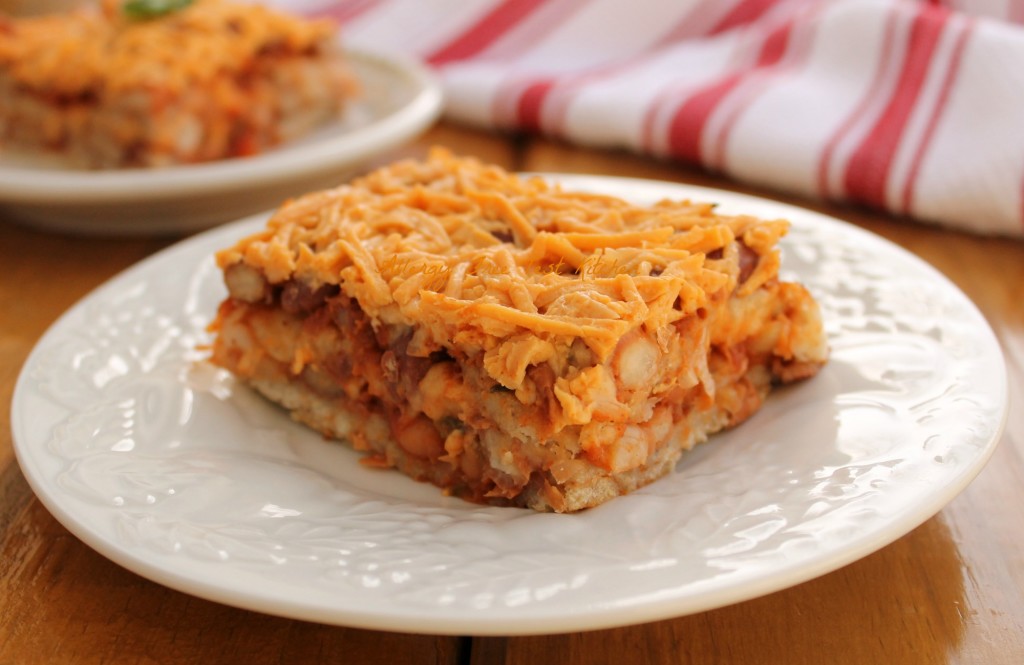 It refrigerates well and reheats well, so it works for leftovers. I always love to have leftovers…makes lunch the next day, EASY!
The recipe is flexible. Love cheese? Or should I say Daiya? Load it up. Not so much…go skimpy. Same thing goes with a lot of the other ingredients.  I use these homemade tortillas in the recipe.
I like to top my piece with some dairy free sour cream, but it isn't necessary. I guess adding some chopped tomatoes or avocado would work too (even though I haven't tried that). Make it your own!
Enjoy!
Also shared at Allergy Free Wednesday. Gluten Free Friday.

Mexican Bean Baked Casserole
Ingredients:
1 15 oz. can pinto beans, rinsed, drained, soaked, drained again

1 15 oz. can mild chili beans, with sauce

1 onion, chopped

1/2 cup mild salsa

1/16 tsp. cinnamon

gluten free (homemade or bought), corn, or wheat tortillas (how much is up to you)

Daiya Cheddar like cheese shreds (as much as you like)
Directions:
Preheat oven to 375 F.

In a bowl, combine beans, onion, salsa and cinnamon.

Cut your tortillas into little 1-2 inch pieces.

Place a layer of tortillas in a 10 by 8 Pyrex pan.

Spoon some bean mixture evenly over top of tortillas.

Sprinkle some cheese over top.

Layer more tortillas.

Spoon more bean mixture over tortillas.

Sprinkle more cheese, if desired.

Repeat layers as often as you like or want. Top most layer should end with cheese.

Bake for 45 minutes.

Cut into squares and serve with sour cream, or any toppings you choose.