July is national ice cream month. So what better time to talk about a new dairy free ice cream cookbook!?!? (The author did not ask me to write this, I just chose too).
As I happen to have a July birthday, my husband bought me the cookbook Dairy-Free Ice Cream – 75 Recipes Made Without Eggs, Gluten, Soy, or Refined Sugar.   I love reading and perusing through cookbooks, but I think it was also a subtle (or not so subtle) clue to make more ice cream. 🙂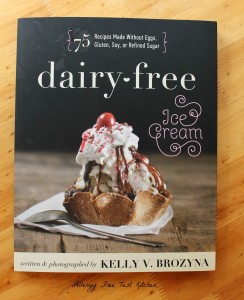 This cookbook is BEAUTIFUL! It is one of the prettiest cookbooks I have ever seen! Every recipe includes a picture. And these are not just any old pictures. They are stunningly styled and photographed (taken by the author). This could easily pass as a coffee table book. In fact, this cookbook has not found its spot in my cookbook cupboard yet, as I keep flipping through it after having it for about a month now.
All the ice cream recipes are free of refined sugar, milk and egg free (vegan), and soy and gluten free. In fact, this book can be considered Paleo since all the recipes are grain free too (like the cookie and brownie type recipes)!
There is a chapter on traditional ice cream flavors of which I tried three—Vanilla, Strawberry and SunButter Fudge Ripple. All were excellent! The Vanilla recipe is actually a base for many of the book's recipes. I made the SunButter Fudge Ripple with my homemade cashew butter and not SunButter. I will make this over and over again, I am sure.  The entire batch of Strawberry Ice Cream got eaten in one sitting.  I should mention that some of the ice creams in the traditional section do not seem all that traditional to me, but do look and sound fabulous!
Another chapter has unusual flavors of teas and coffees. Cakes and Cookies is another chapter in which I tried the Brownie Batter Ice Cream. The recipe turned out just fine, but for me it was too rich, for someone else it was not sweet enough (go figure) and one wouldn't eat it. I guess it just wasn't for us.
There are also chapters on popsicles, sherbet, sauces and toppings in addition to tips and tricks for making great ice cream (I have learned a lot). I also enjoyed reading the history of dairy free ice cream.
This is a book worth buying if you like ice cream! Or if you love to collect cookbooks! Or love to feast your eyes on beautiful food pictures.