Every vegetable deserves a chance to shine. Today it is the mighty, little brussel sprouts turn!
Basically a mini cabbage, the brussel sprout is a health boon boasting tons of vitamin A and C and beta carotene. They also contain protein and fiber.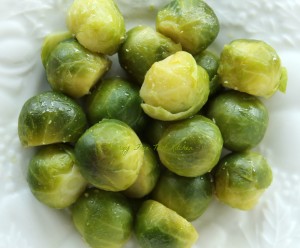 Sadly, they somehow get a bad rap. And I used to be one of those who wouldn't eat them. But one thing I have learned about vegetables. It's all about how you cook them. Cook them wrong and you will get a bad result. Cook them right and you will get a delicious vegetable.
Follow the recipe below to get a cooked brussel sprout a kid would even eat!
Also shared at Fat Tuesday.

Easy and Tasty Brussel Sprouts
Ingredients:
16 oz. bag frozen brussel sprouts

1 T. coconut oil

1/2 cup vegetable broth
Directions:
Thaw brussel sprouts.

Cut large brussle sprouts in half.

Heal oil over medium heat.

Add brussel sprouts and cook and stir for 5 minutes.

Add vegetable broth.  Bring to a simmer.

Turn heat to medium low, cover with a lid and cook until brussel sprouts are desired tenderness.