Summer is in full swing and who doesn't like an ice cream on a hot day? Thankfully, even those of us who do not eat dairy products, (whether due to allergy or if you are a vegan), can still enjoy ice cream.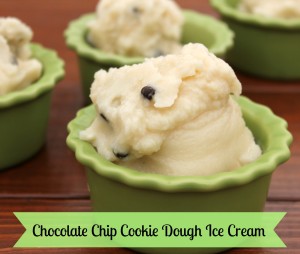 While I have had this in my arsenal for a while now, I have not been keeping this recipe to myself on purpose, rather trying to get it just right. While a lot of people work on one recipe over and over until they get it right, I do not. I only work on one when I want to eat it!
So, I have worked on it here and there. Every time was edible, but the proportions a bit off. I think I've come close to a finished product so I am now sending it your way.
This cookie dough ice cream recipe is safe for everyone. It is gluten free, egg free, milk free, soy free, nut free, peanut free, but it is not free of taste! You will love this ice cream treat. It takes a little forethought, but not much.
You do need an ice cream maker. I use this one by Cuisinart. I always keep a container in the deep freeze just in case the mood hits to make ice cream; then I'll always at least have a container frozen and ready to use.
What say you? Do you make your own ice cream? What is your favorite flavor of ice cream?
Also shared at Gluten Free Fridays. Mostly Homemade Mondays.

Chocolate Chip Cookie Dough Vanilla Ice Cream
Ingredients:
1/3 cup brown rice flour

3 T. dairy free and soy free shortening (or regular)

1/4 tsp. vanilla

1/4 tsp. liquid stevia

1 T. agave nectar

2 T. chocolate chips

=

2 cups vanilla coconut milk

1/3 cup agave nectar

6 drops liquid stevia

1/4 tsp. vanilla

1/8 tsp. xanthan gum
Directions:
Several hours before making ice cream mix together the first 6 ingredients(the cookie dough portion).

Refrigerate in one big chunk.

When ready to make ice cream, use blender to combine the last 5 ingredients (the ice cream portion).

Pour into frozen ice cream maker container.

Turn on machine for 30 minutes.

During the last 5 minutes use table knife to break up cookie dough and toss into ice cream.

Continue to mix ice cream until cookie dough is mixed through and desired consistency.