Are you looking for a gluten free breakfast idea; an allergy friendly option for breakfast? Do you have a penchant for eating healthy? Maybe you like to skip grains, even gluten free ones, altogether. Or maybe you are a foodie who likes to try new things. Well, this hot breakfast cereal is for you.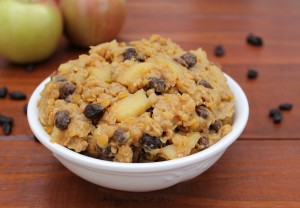 Don't be scared off by the use the lentils (just make sure to use the red ones). It's a wonderful way to make a grain free/gluten free hot breakfast cereal that is also high in protein. It is also dairy, egg, peanut, soy, sesame and tree nut free! What is even better is that there is NO added sugar or sweetener. Just chuck full of fruit. BONUS! This is truly a healthy breakfast option. With all these "foods" missing you would think this is missing in taste! Absolutely NOT!
I usually make this the night before and reheat it in the morning for breakfast. Let me know how you like it! Enjoy!
I got the idea for this recipe and adapted it from here.
Also shared at Fat Tuesday. Naturally Sweet Tuesday. Gluten Free & DIY Tuesday. Allergy Free Wednesday. Gluten Free Wednesday.

Fruity Red Lentil Hot Breakfast Cereal
Ingredients:
1/2 cup red lentils, rinsed and drained

3/4 cup vanilla flavored coconut milk

3/4 cup apple juice

1/2 tsp. cinnamon

1/4 tsp. vanilla extract

1 gala apple, chopped

1/4 cup raisins
Directions:
Put lentils in pan with coconut milk, apple juice, cinnamon and vanilla.

Bring to a boil.

Add apples and raisins.

Lower temperature to medium low to low and simmer with lid on for 20 minutes.

Stir occasionally.

Serve warm.