What do you do when you buy 5 pounds of red potatoes, only to come home from the grocery store to see that you already have 5 pounds of red potatoes?  Why, make potato salad, that's what!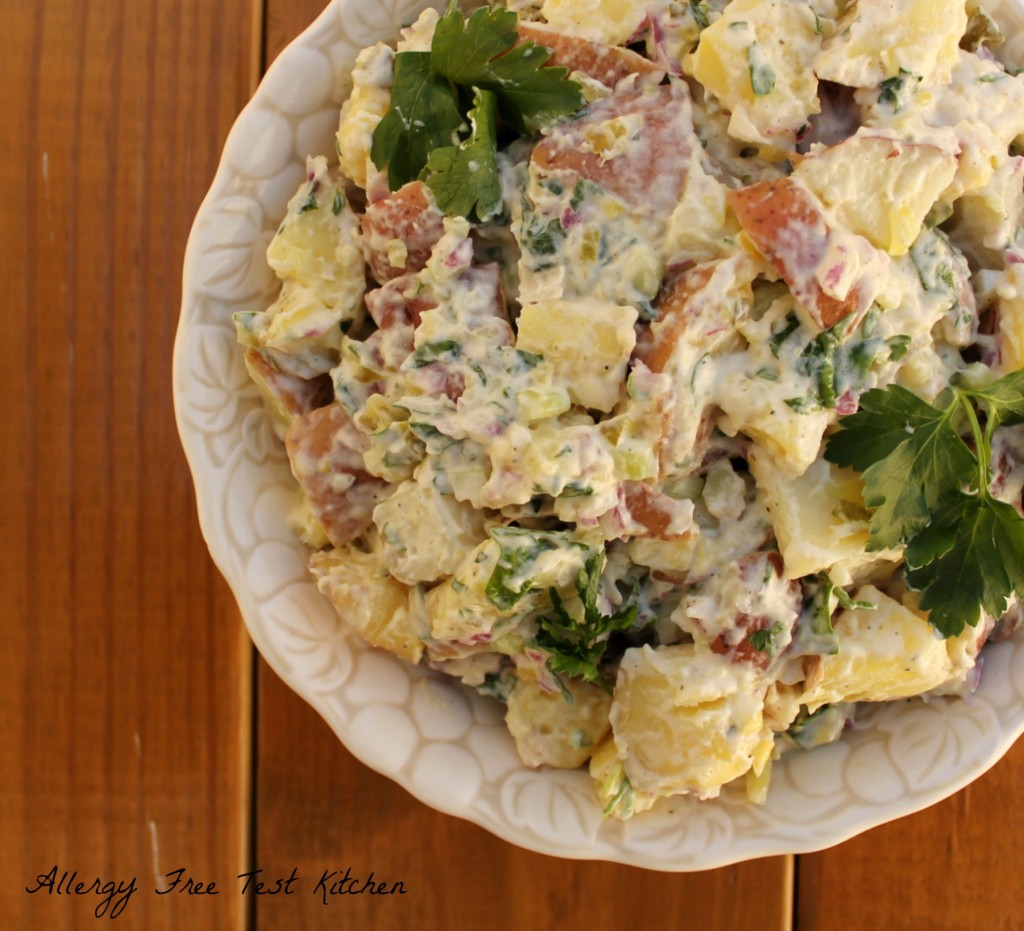 Potato salad is often considered a summer dish.  Well, even though it is barely spring, I'm eating it; and enjoying it!  And you can too.  Who says one can only eat potato salad in the summer?
This recipe is easily made milk and egg free, but just the same, it can easily be made "regular" too.
Also shared at Allergy Free Wednesday. Whole Foods Friday.

Potato Salad-Gluten Free and Vegan
Ingredients:
2 lbs. red potatoes

1/3 cup diced red onion

1/3 cup chopped celery

1/3 cup pickle relish

2/3 cup Earth Balance Mindful Mayo (milk and egg free) or regular mayo

1 T. lemon juice

1 T. dijon mustard

1 T. chopped parsley

1/2 tsp. salt

1/4 tsp. pepper

1/8 tsp. garlic powder

1/8 tsp. onion powder
Directions:
Scrub potatoes, but leave skins on.

Cut into bite sized pieces.

Place in pan and cover with water.

Bring to boil and boil with lid slightly askew for 7-10 minutes or until potatoes are tender.

Drain and then cool potatoes on cookie sheet.

In a large bowl, place onion, celery, relish and parsley.  Add potatoes.

In a small bowl mix the Earth Balance Mindful Mayo (or mayo), lemon juice, mustard and spices.

Pour over potatoes and stir to to cover all potatoes.

Refrigerate for several hours before serving.