Homemade applesauce is delicious. In fact, it far outweighs the taste of store bought applesauce.  And nutrition wise, homemade applesauce doesn't even compare to store bought.  I grew up making our own applesauce, so it was only natural to continue that tradition.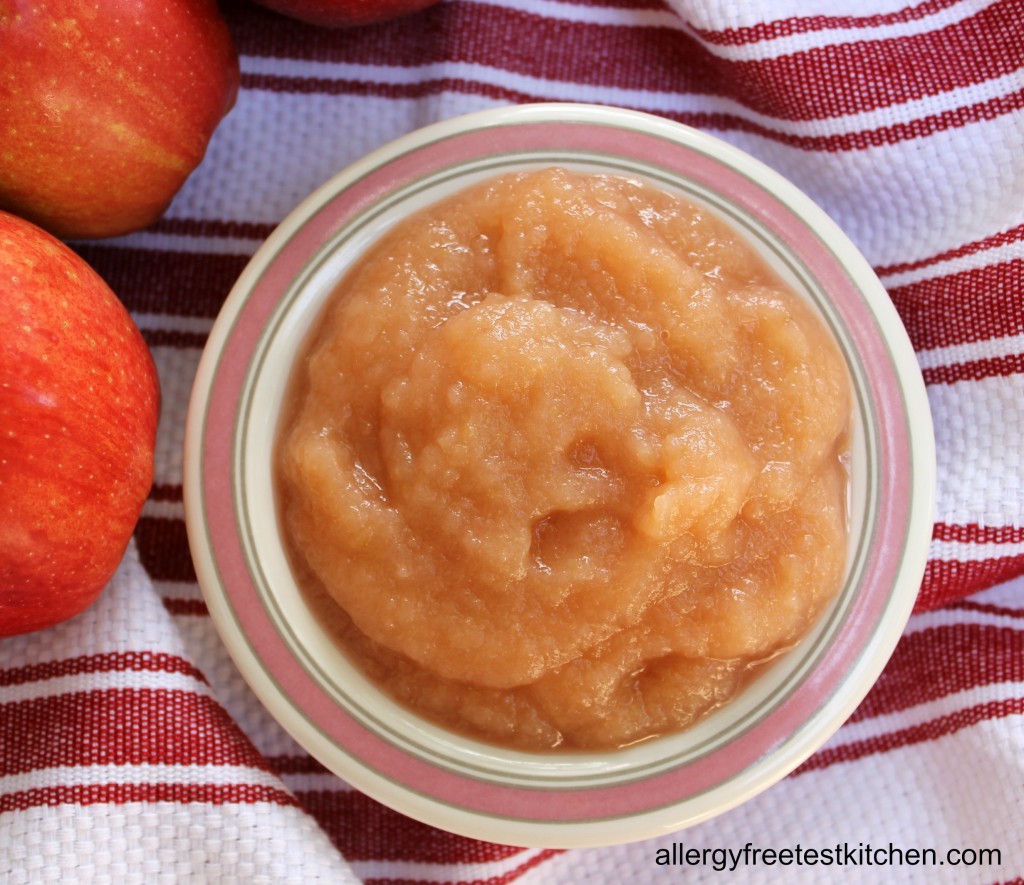 So, why should you make your own homemade applesauce?  Let us count the ways.
 It is nutritionally sound.  Homemade applesauce is simply cooked apples with a little water.  Most store bought varieties are filled with high fructose corn syrup.  Yes, you can buy applesauce in a jar that is "natural" and not chuck full of sugar, but the taste just does not measure up to homemade. 
When you make homemade applesauce, even if it takes all day, you will get a huge sense of accomplishment.  And it will make you feel like you are doing something really good for your family. (Because you are!)  
It is a fun activity with a friend.  A few years ago, I invited a friend over to make applesauce.  It was so fun to stand side by side chopping apples and churning the food mill.  We had a wonderful talk where we learned so much about each other, grew closer and the time flew! 
Making homemade applesauce with your children is a great bonding experience.  What better way to spend an autumn day than with your little blessing by your side.  Plus kids love turning the crank of the food mill.
Speaking of children, what a great learning experience for them!  First there is a trip to the orchard or produce stand to buy apples.  Then they watch and participate in the process of making applesauce.  And we all know how much little kids are sponges and pick up things just from watching.  What a great way to show the process from field to table.  Not to mention, healthy eating habits are instilled.  I found a children's book at the library entitled

Applesauce Season

by Eden Ross Lipson that is a great read.
You will have applesauce on hand in the freezer when you need or want it.  On one of those nights where you forgot to plan a side or salad, simply defrost a container of your homemade goods.
Now let us get to how to make our own applesauce.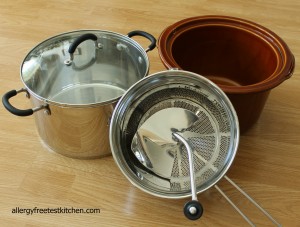 First you will need supplies…a large cooking pot, a food mill and a large container to rest the food mill on.  You may have to buy your food mill from an online vendor.  They are not easy to find.
Then you will need to buy a large amount of apples.  I go to an apple orchard and buy their seconds.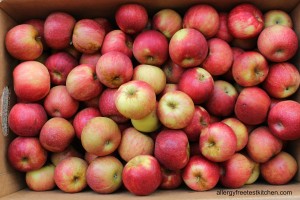 Seconds are less than perfect apples.  They may be too small, or the skin may have blemishes or whatnot.  Now I don't live near an apple orchard.  I had to drive about an hour round trip, but it is a fun day outing with the kiddos.  Also, I bought my seconds, a 40 pound box, for $17.00.  In the store at the orchard a 10 pound bag was $16.  So you can see what a great deal I got!  And I only had two apples that were bad and needed to be thrown out.
When you are ready to make applesauce, start when you have a lot of time.  Wash your apples in water and scrub with vegetable brush.  Use clean water each time.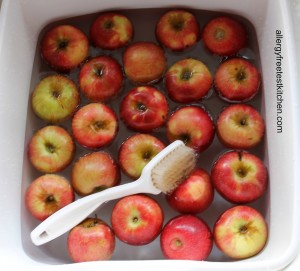 Cut your apples into fourths and cut out the seeds.  Cut out any blemishes or brown spots.  There is no need to peel the apples.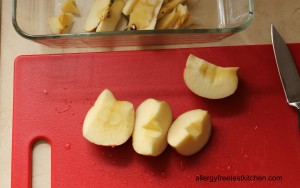 Put your apples into a large cooking pot.  Pour water over top. The more water you use the runnier your sauce will be.  For a large 5 quart pot I use about ¾ to 1 cup water.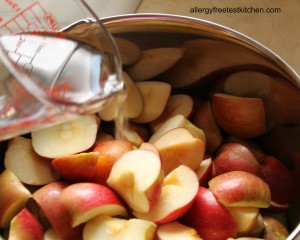 Bring the water to a boil.  This only takes a few minutes.  Then turn down low, cover, and cook apples stirring occasionally.  Stir until they are pretty soft, roughly an hour.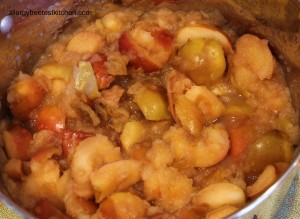 Take the pot off of the stove and use a large space like a kitchen table to set up your food mill.  Place the food mill on a large container and fill the food mill with cooked apples.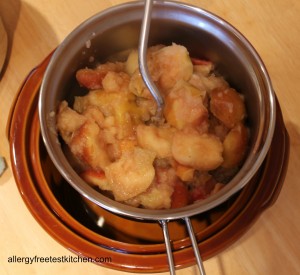 Turn the crank to press the apples through the mill.  Scrap the bottom of the mill occasionally.  Also, every so often you will need to turn the crank the opposite way a time or two, to clean up the bottom of the inside of the mill to make it work efficiently.
Turn crank until you have nothing but skins left.  Throw away the scraps.  Clean out the cooking pot and food mill and start the process all over again.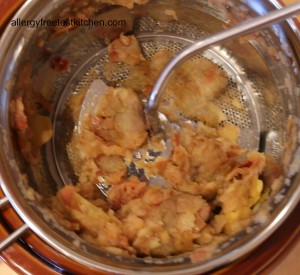 Once applesauce is cooled put in freezer safe containers, label and freeze.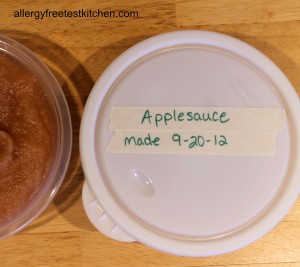 Enjoy fresh homemade applesauce anytime you want.  You won't be disappointed.
Do you make your own applesauce?  Do you think you may give it a try?
Also shared at Make Your Own Mondays and Gluten Free Fridays.