Do you need a quick weeknight meal?  Something easy to put together and that requires few ingredients?  Today's recipe is just that.   In fact, it is so easy; one can hardly call it a recipe.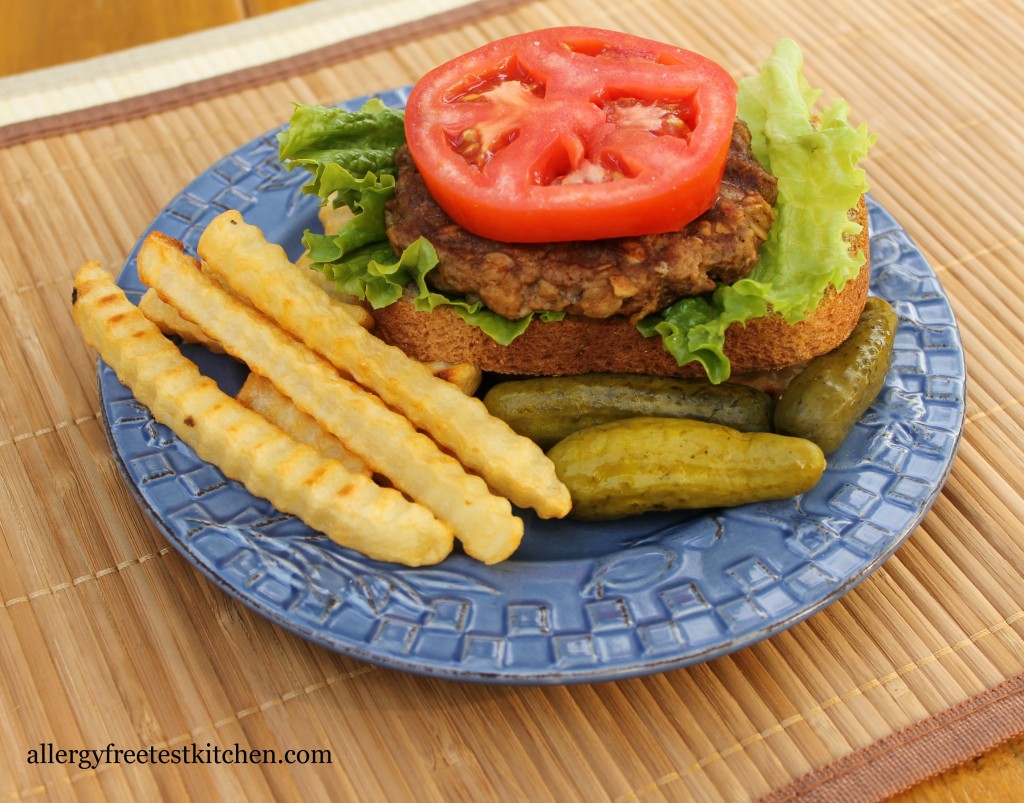 Today's meal idea is made from ground turkey. It does lend a different taste than beef, but it is only slightly healthier than ground beef.  I had always assumed it had less fat than beef, but when I did some research I found out that ground turkey has only slightly less fat than beef.  But one thing I found out that surprised me was that ground turkey is high in calcium.  Now that is an added benefit for anyone, especially for someone dairy free.
To make the ground turkey have a little more pizazz I add a half a package of taco seasoning mix.  To hold it together I use gluten free rolled oats.  If you use high quality ground turkey (or chicken) you will probably need less oats, but if you buy the cheaper, frozen in a tube kind, you will need more oats.
I have always cooked my turkey burgers on my indoor George Foreman grill.  I think if you were to use an outdoor grill, you would need to lay aluminum foil over the grates and be very careful when you flip the burgers.  These do fall apart easily until they are cooked.
After cooking the burgers, put on a roll or bread of your choosing, and top with lettuce and tomato.  Add fries and a vegetable and there you have it…a quick weeknight meal.
Also posted on Hunk of Meat Mondays.

Fast and Easy Turkey Burger
Ingredients:
1 lb. ground turkey (or ground chicken)

1/2 pkg. taco seasoning mix (or 1 to 1 1/2 T. homemade taco seasoning)

1/2 cup to 3/4 cup gluten free oats (or regular oats) (optional)

lettuce

tomato

bread of choice
Directions:
Thoroughly mix taco seasoning mix, oats if using, and ground turkey.

Form into 4 patties.

Cook through.

Place burger on bread or roll of choice, and top with lettuce and tomato.