Fall might be here, but that does not mean that frozen treats have to go by the wayside.   And they can be healthy too!  These frozen bananas covered in chocolate and crushed cereal are a perfect after school snack or even morning breakfast treat.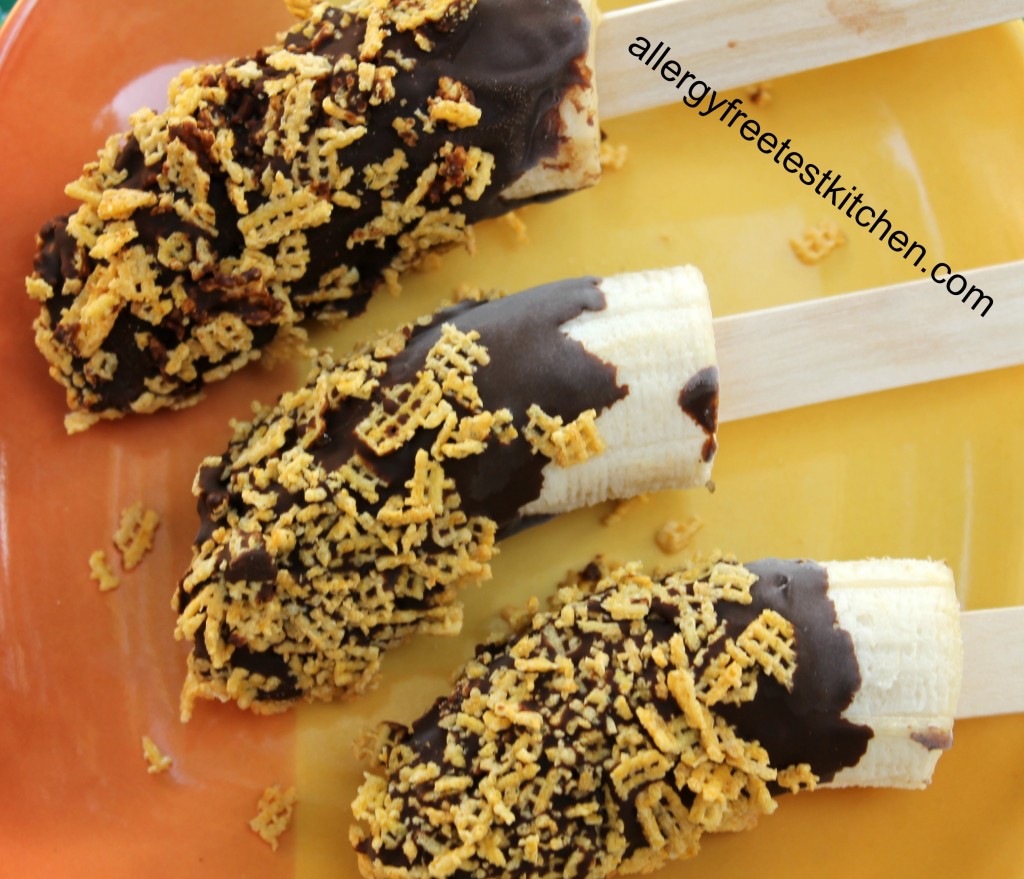 I have seen a version of these pre-made in a store, but making them yourself would be so much more affordable.  And it is so easy.  It only takes a few minutes.  I have also seen various versions of this on blogs and in cookbooks, but I took my cue from an article in a Family Fun magazine. 
Go ahead, melt some chocolate, dip those bananas and enjoy.  (I know you adults will like them too)!
Also posted at Slightly Indulgent Tuesdays, Allergy Free Wednesdays and

Frozen Chocolate Bananas
Ingredients:
2 bananas

1/2 cup dairy and soy free chocolate chips

1 1/2 tsp. canola oil

3/4 cup crushed gluten free cereal such as rice sqaures or crisp rice
Directions:
Leaving the skin on, cut the bananas in half.

Insert popsicle sticks into open end of bananas.

Peel the bananas.

Freeze for about one hour.

Crush your cereal.

Melt chocolate chips and oil in a tall glass or liquid measuring cup in microwave in 10 second intervals until melted.

Remove bananas from freezer.

Working quickly, dip bananas in melted chocolate and roll in crushed cereal.

Return bananas to freezer until ready to eat.