I don't know about you, but I seem to get overrun with overripe bananas.  My freezer door is full of them.  So I created this Banana Nut Pancake With Thick Sugar Free Blueberry Topping.  (This recipe can easily be made without the nuts).  They are so good, I only ever had one (or none) pancake leftover to take a picture of.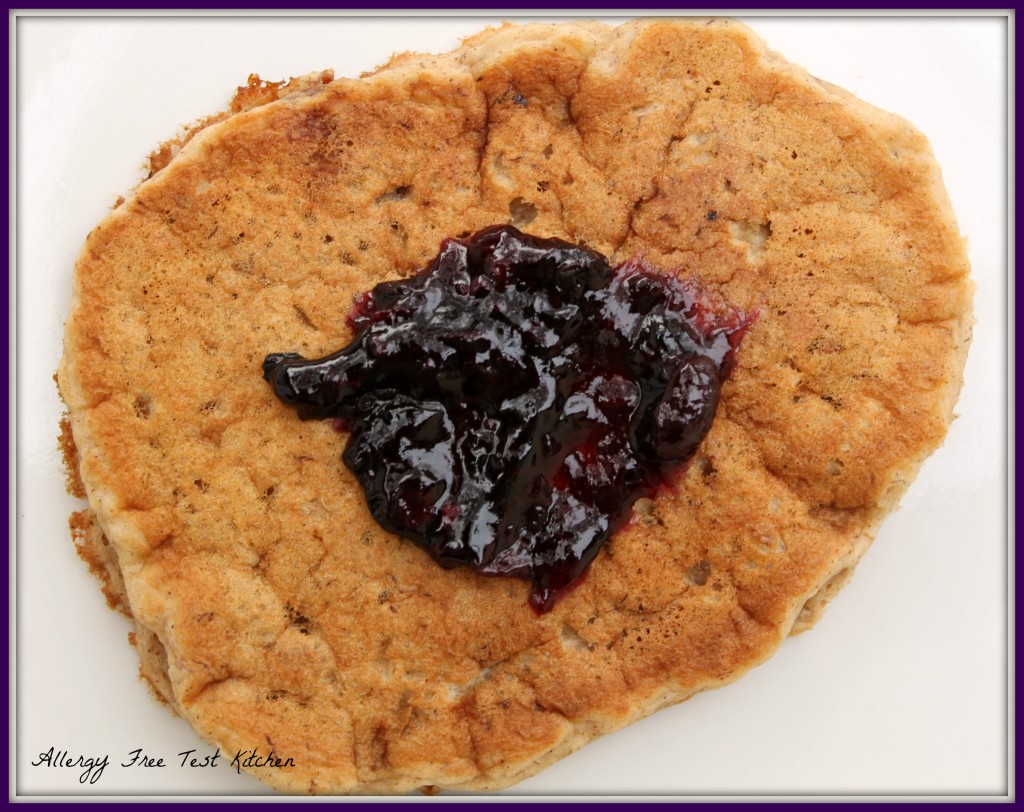 These are easy to make, and are gluten free, milk free, egg free, soy free and refined sugar free.  Free of all those things, but not good taste!  Anyone who would taste these would NEVER know any different.
Mix up a batch and let me know what you think! 
Also shared at Allergy Free Wednesday. Real Food Wednesday.

Banana Nut Pancakes With Thick Sugar Free Blueberry Topping #Gluten Free #Vegan
Ingredients:
1 cup loosely filled Bob's Red Mill All Purpose Gluten Free Flour Blend

2 T. coconut sugar (or brown sugar)

1/4 tsp. salt

1 tsp. baking powder

1/2 tsp. baking soda

1/2 tsp. cinnamon

1/4 tsp. xanthan gum

3/4 cup plain rice milk or plain almond milk

1/2 tsp. vanilla

1/4 cup + 3 T. mashed banana

2 1/4 tsp. Ener-G Egg Replacer mixed with 3 T. warm water (equivalent to 1 1/2 eggs)

1 T. oil

1 T. apple cider vinegar

3 T. chopped pecans (optional)
Blueberry Topping
1/2 cup blueberries

1/4 cup +1 T. water

1 T. xylitol (or white sugar)

1 T. tapioca starch (or any starch)
Directions:
Whisk all dry ingredients (except nuts) together in large bowl.

In a separate bowl, mix the wet ingredients until smooth.

Add wet ingredients to dry ingredients and mix thoroughly.

Add chopped pecans if using.

Pour onto griddle and cook until bubbles appear and then flip and cook other side.
Blueberry Topping Directions
Combine all ingredients in small pan on stove top.

Cook over medium-low heat and use a hand masher to mash most of the blueberries. 

Cook and stir until combined and thick.