Every year at this time, peppermint marshmallows start gracing the grocery store shelves.  Last year, after the Christmas holiday, they went on clearance and my husband thought we needed some.  Jumbo ones! Although we did eat some by themselves while playing games with friends on New Year's Eve, they really are not that great to just chow down.  So I came up with this recipe to use up the bag, and I have been waiting to post this for almost a year!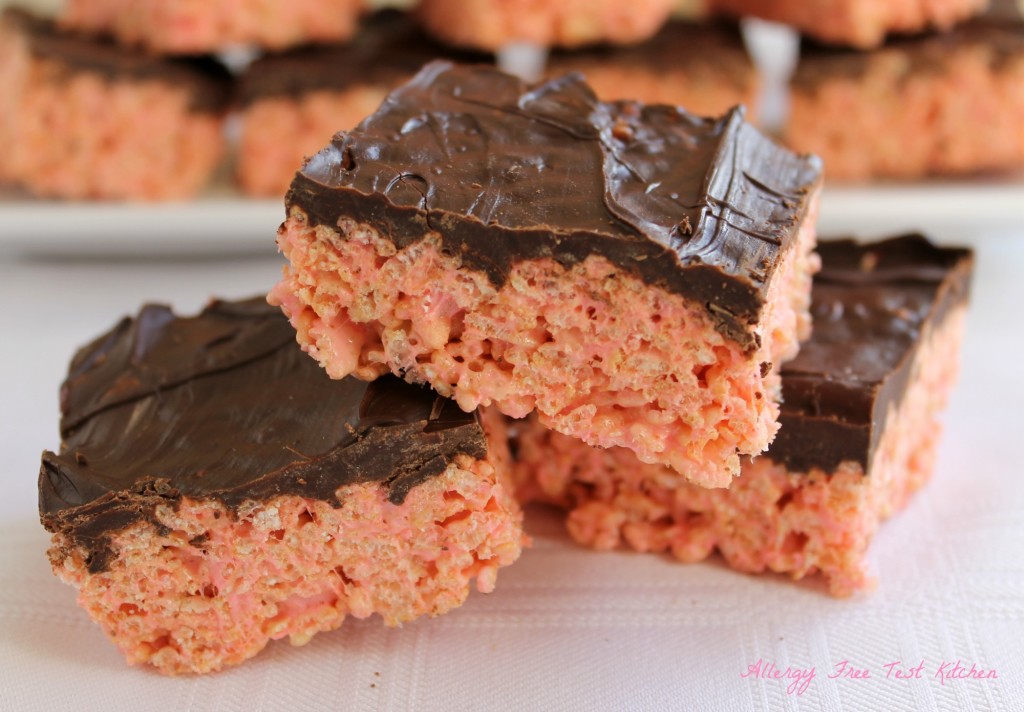 These make a simple and easy Christmas treat.  Maybe you don't like to bake much or maybe you have a last minute party invite and you want to bring something.   This is the perfect treat.   These also make a good treat to bring to the office…they are very portable and tasty.
You only need four ingredients and about 30 minutes, if that.  Gluten Free rice crispies, dairy and soy free margarine, peppermint marshmallows and milk free chocolate chips make up this simple yet rich tasting snack dessert.  Bonus:  it's allergy free!   However, anyone can make this treat with "regular" ingredients, and it will taste just the same.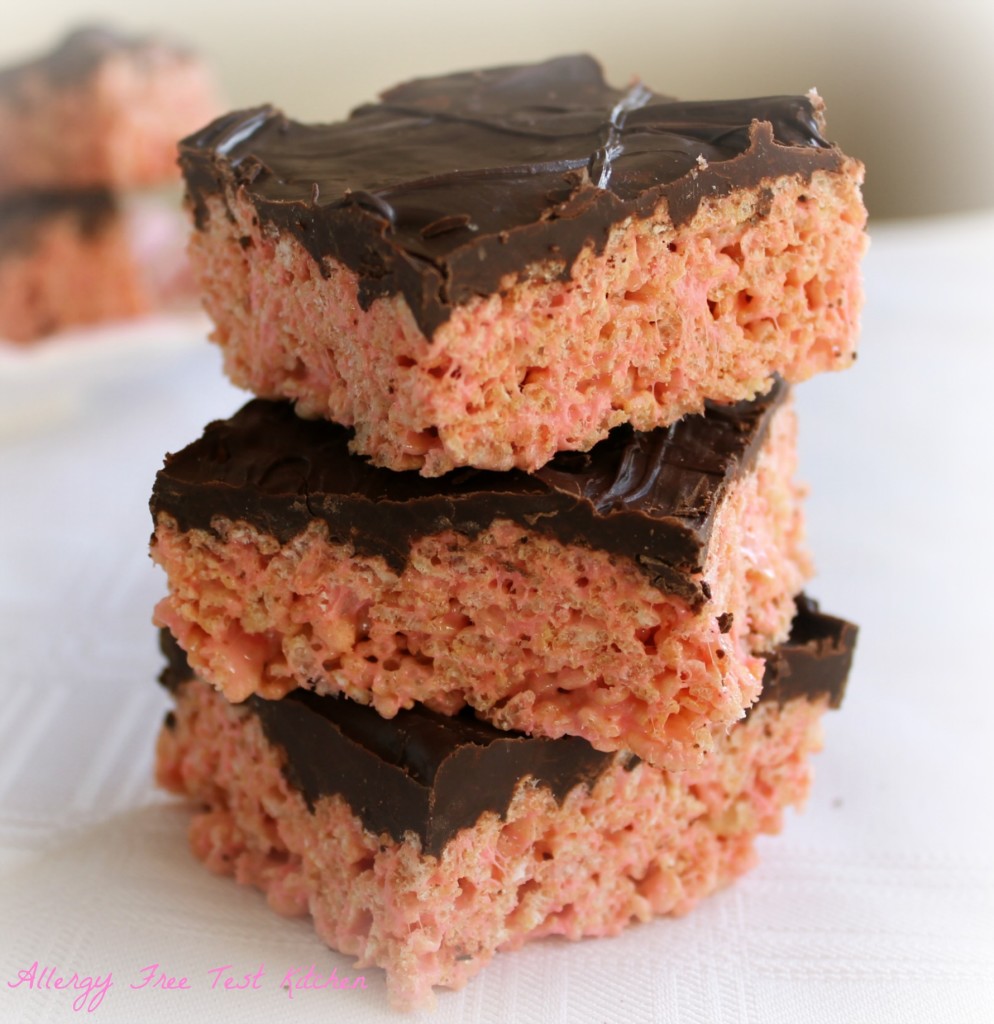 The peppermint flavoring makes this a good Christmas treat while the chocolate downplays the peppermint a bit.  You will be surprisingly satisfied with one of these squares.
Take the basic rice crispy treat to a whole new level with peppermint and chocolate.
Would love to hear your thoughts!
Also shared at 5-Ingredient Monday . Allergy Free Wednesday . Gluten Free Friday . Gluten Free Tuesday. Gluten Free Wednesday.

Chocolate And Peppermint Rice Crispy Treats
Ingredients:
1/4 cup allowable butter

26 jumbo peppermint marshmallows, or 40 regular peppermint marshmallows

6 cups allowable rice crisp cereal

10 oz. bag allowable chocolate chips
Directions:
Melt butter over low heat.

Add marshmallows and stir and melt.

Remove from heat.

Stir in rice crisp cereal and stir to coat.

Spray a 9 x 13 pan with cooking spray.

Spray a sheet of wax paper size of pan with cooking spray.

Place rice mixture in pan and use wax paper to spread out and flatten rice crisp mixture.

Allow to cool completely.

Slowly melt chocolate chips in microwave or on stovetop until no lumps remain.

Spread over rice crispy treats and allow to cool.

Cut once the chocolate is cool and hardened.