I am always on the lookout for a great brownie.   Brownies are the ONE thing that is next to impossible to make without eggs.  I have tried recipe after recipe of vegan brownies with little to no success.  So when I saw the words, "build a better brownie" in an Oprah magazine a couple of years ago, it grabbed my attention. (Recipe that follows was slightly adapted from that).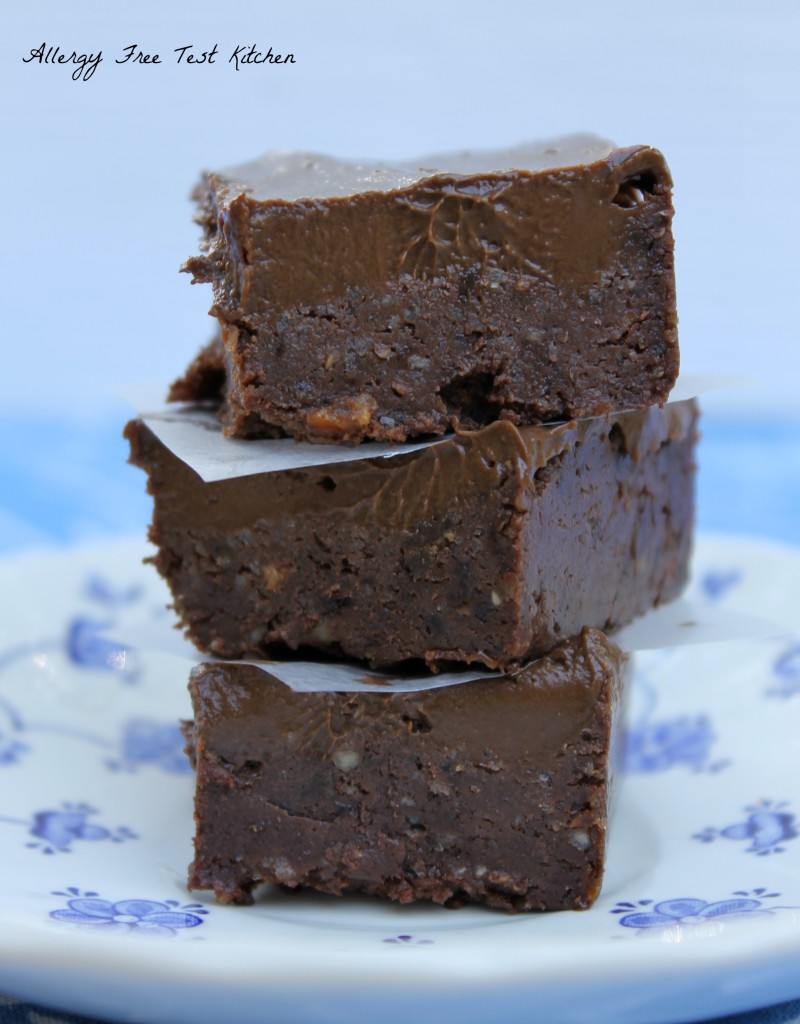 Okay, so I've made the recipe twice about a year apart.  The recipe works. It tastes pretty good. I dare say it's healthy.  It is chocolaty.  But I wouldn't call it a brownie.  I'd call it a "fudge like square."  Okay, it's not quite fudge, but it's not a brownie either.  Maybe "chocolate dessert bar" would be a good name for it.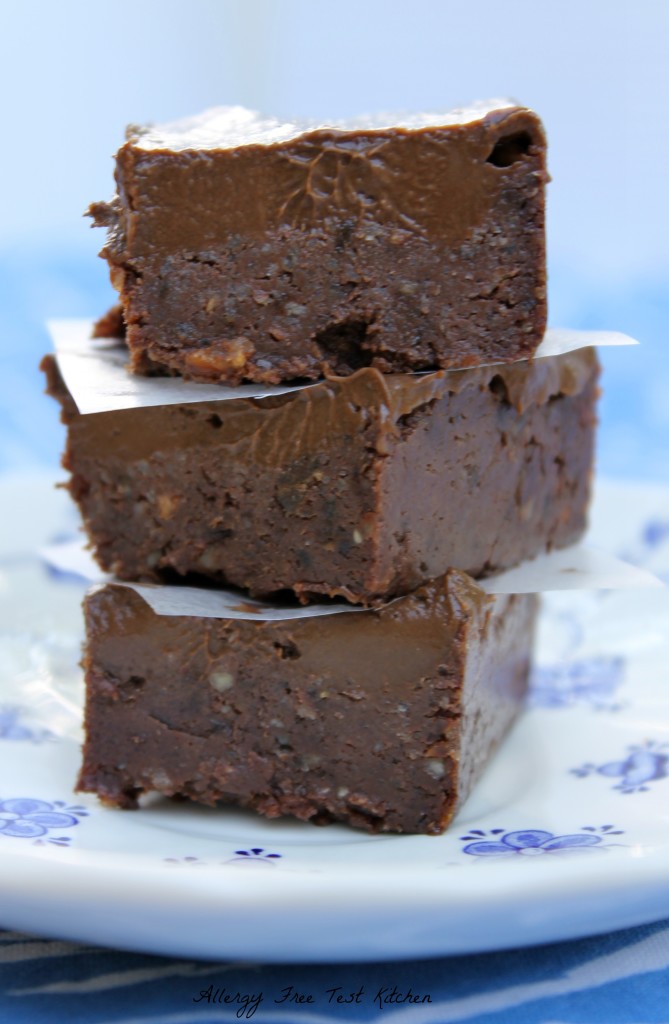 Anyway, if you are looking for healthy ways to eat chocolate this is it.  If you want to consume more avocados this is a great way to do it.  If you like quick, no bake goodies this recipe is for you. 
So, now that I've given it more thought, I think I will call this "Minty Chocolate Dessert Bar." 
Now….off too look for a great brownie while I eat my healthy chocolate treat.
Also shared at Allergy Free Wednesday . Wellness Weekend . Make Your Own Monday . Slightly Indulgent Tuesday .

Minty Chocolate Dessert Bars
Ingredients:
2 cups pecans or other allowable nut

1 2/3 cups dates

1/4 tsp. salt, divided

2 tsp. vanilla

4 avocados, divided

1 cup cocoa powder, divided

1/2 cup agave nectar

1/4 tsp. + 1/8 tsp. mint extract (optional)
Directions:
In a large food processor, combine nuts, dates, 1/8 tsp. salt, vanilla, and one avocado (peeled and pitted), and 1/2 cup cocoa powder.

Pulse until well combined and there are no longer big pieces of dates or nuts.

Pat into an 8×8 pan.  Use wet hands if necessary.  Place in freezer.

Wipe out food processor with a paper towel.

Peel and pit the remaining 3 avocados.  Place in food processor.

Place the remaining 1/8 tsp. salt, 1/2 cup cocoa powder and agave nectar in the food processor.

Pulse until well combined. 

If using mint extract, add mint and pulse for another 30-60 seconds.

Remove pan from freezer. 

Spread the chocolate mint mixture over the base.

Freeze for 3 hours.

Cut bars into squares and place in freezer safe container.  Store in freezer.