I love simple desserts.  And I love fruit desserts.  I love simple, fruit desserts.  This blueberry crisp is all that and more.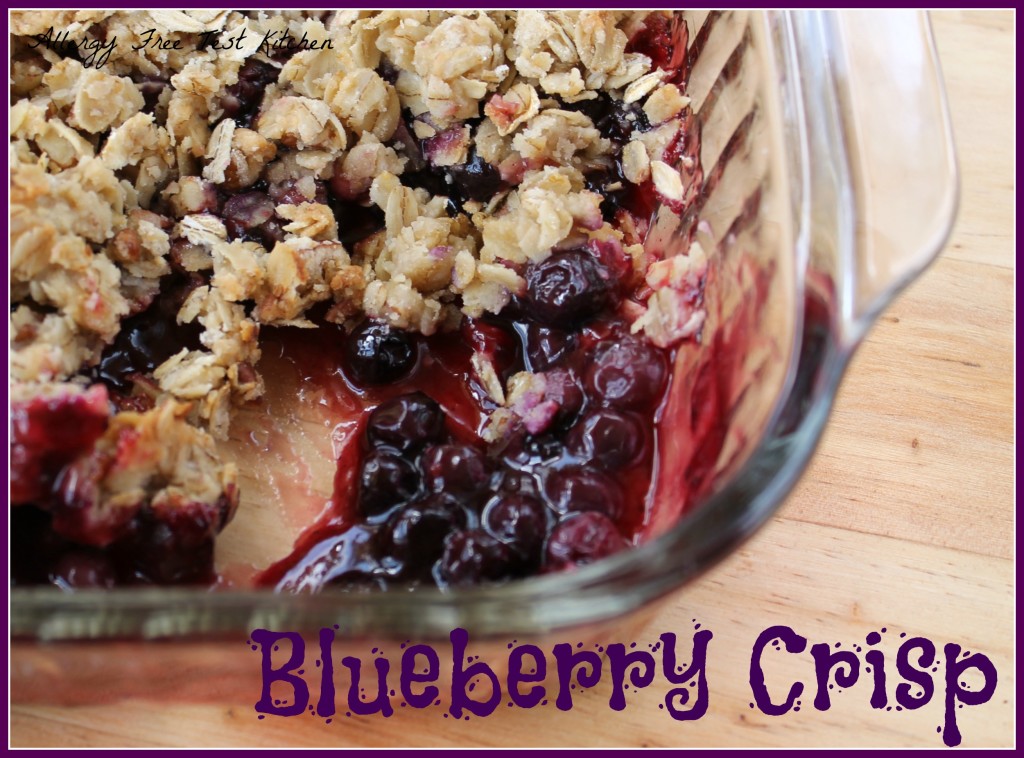 Fruit crisps are one of the easiest foods to make gluten free.   This recipe will work for any wheat eating or gluten free person. 
Do you want a dessert free of refined sugar?  How about a naturally sweetened fruit crisp?  This one is for you!
Simple, naturally sweetened, Blueberry Crisp.
Also shared at Slightly Indulgent Tuesday . Wellness Weekend . Gluten Free Friday . Make Your Own Monday . Real Food Wednesday . Allergy Free Wednesday .

Naturally Sweetened Blueberry Crisp
Ingredients:
1 1/2 cups (12 oz. can) thawed, apple juice concentrate

2 T. tapioca starch (or corn starch)

1 tsp. lemon juice

1 tsp. cinnamon

6 cups frozen or fresh blueberries

Topping:

1/4 cup canola oil

1/3 cup honey (or agave nectar)

1/2 cup chopped pecans (optional)

1/2 cup brown rice flour or wheat flour

2 cups gluten free rolled oats or regular oats
Directions:
Preheat oven to 350 degrees.

In pan on stove, combine apple juice concentrate and tapioca (corn) starch.  Whisk until dissolved.

Cook over medium heat until thickened.

Add lemon juice and cinnamon.  Stir to blend.

Place blueberries in large bowl.

Pour apple juice mixture over blueberries and toss to coat well.

To make topping, place oil, honey (or agave), pecans (if using), and flour and oats of choice in a bowl. Toss and coat to cover all dry ingredients.

Place blueberries in a sprayed 9 x 13 pan, scraping out bowl clean.

Place topping on top of blueberries evenly.

Bake in preheated oven for 30 minutes or until filling is bubbly.