Need a good cornbread recipe?  How about a gluten free, allergy friendly and vegan one?  This one is all that!  And yes, it tastes really good.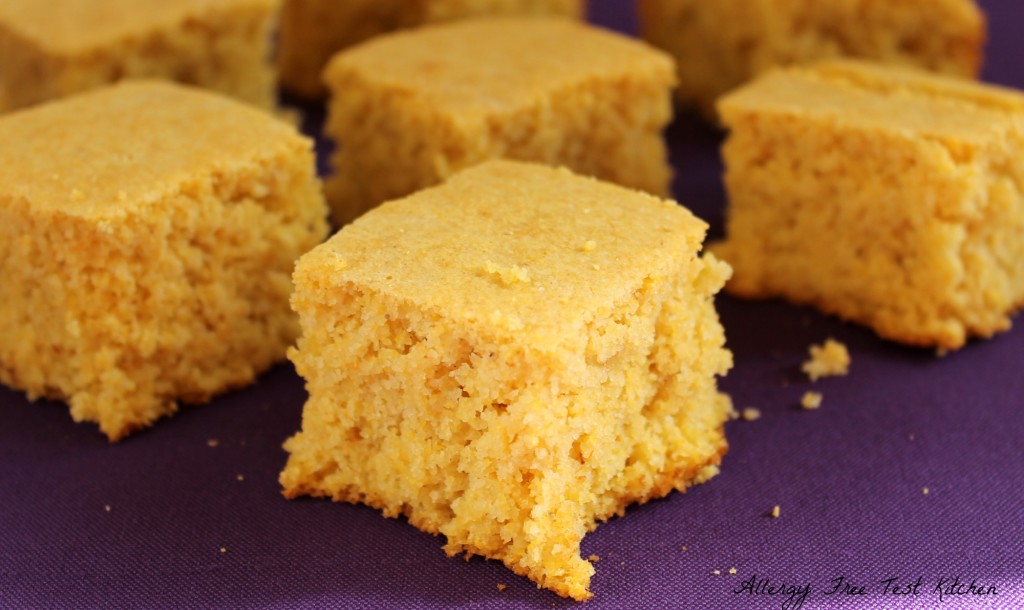 I do not post any baked good recipes without making the recipe several times.  I want to make sure they really work and really taste well.  I've tried too many recipes that were a waste of time and ingredients.  And I don't want to waste yours. 🙂
I have adapted this from The Food Allergy Mama's Baking Book by Kelly Rudnicki.  You can make this in an 8×8 pan or a 9×9 pan.  If you use an 8×8 pan they will look like the picture above.  Cornbread using a 9×9 pan will look like the below picture.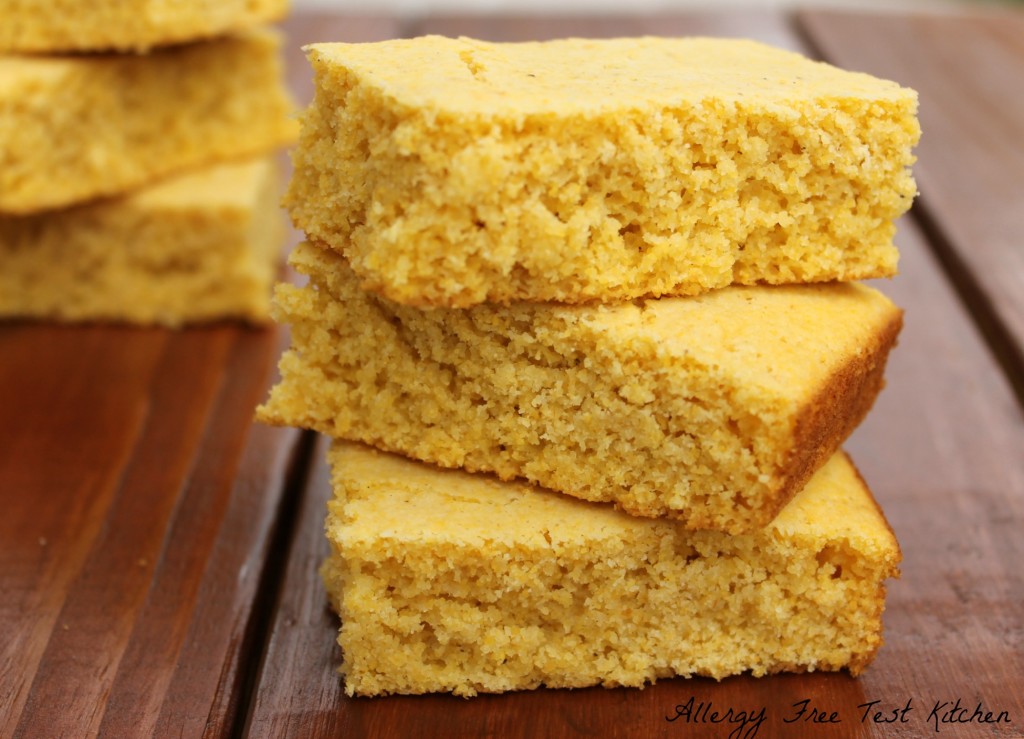 Enjoy!  Let me know how you like it in the comments below.  Or just comment to make my day!
Also shared at Allergy Free Wednesday . Gluten Free Friday .

Classic Cornbread
Ingredients:
1 1/2 cups dairy free buttermilk (place 1 1/2 T. vinegar in liquid measure and add rice milk until you reach the 1 1/2 cup line)

1/4 cup dairy and soy free shortening (or regular shortening)

1 1/2 cups cornmeal

1/2 cup Bob's Red Mill All Purpose Gluten Free Flour Blend

1/4 tsp. xanthan gum

2 tsp. baking powder

1 tsp. sugar (or coconut sugar to make it vegan)

1/2 tsp. baking soda

1/2 tsp. salt

2 T. water
Directions:
Preheat oven to 450 degrees.

Make your "buttermilk" per instructions in ingredient list.

Melt the shortening in a large bowl. by Discount Buddy">

In another bowl, whisk together the cornmeal, flour, xanthan gum, baking powder, sugar, soda and salt.

Add dry ingredient to the melted shortening.

Add the "buttermilk."

Add the 2 T. water and thoroughly combine.

Spray an 8x 8 or 9×9 pan with cooking spray.

Spread batter in pan and bake for 18 minutes.