I am excited to share with you today about Habitall; a new, cup for cup, natural sweetener.  Corey and Michelle, owners and inventors of Habitall, contacted me and sent me two pounds of this sugar replacement to bake and cook with.  And boy, did I have fun with it.  Before I get to my results and thoughts, let's first talk a little about the product.  We'll start with some pictures: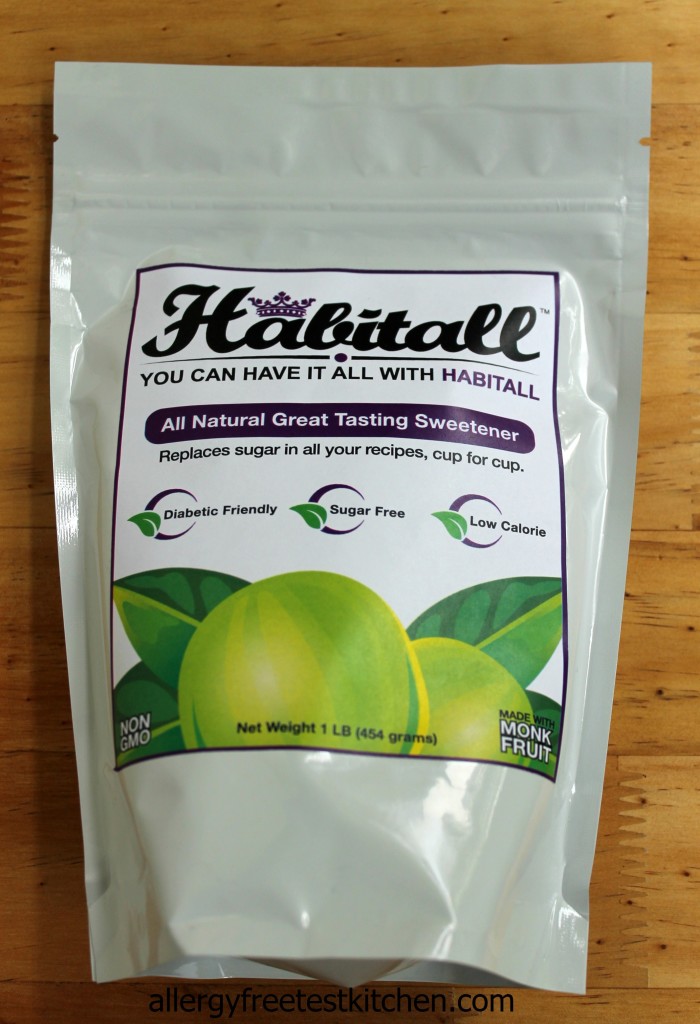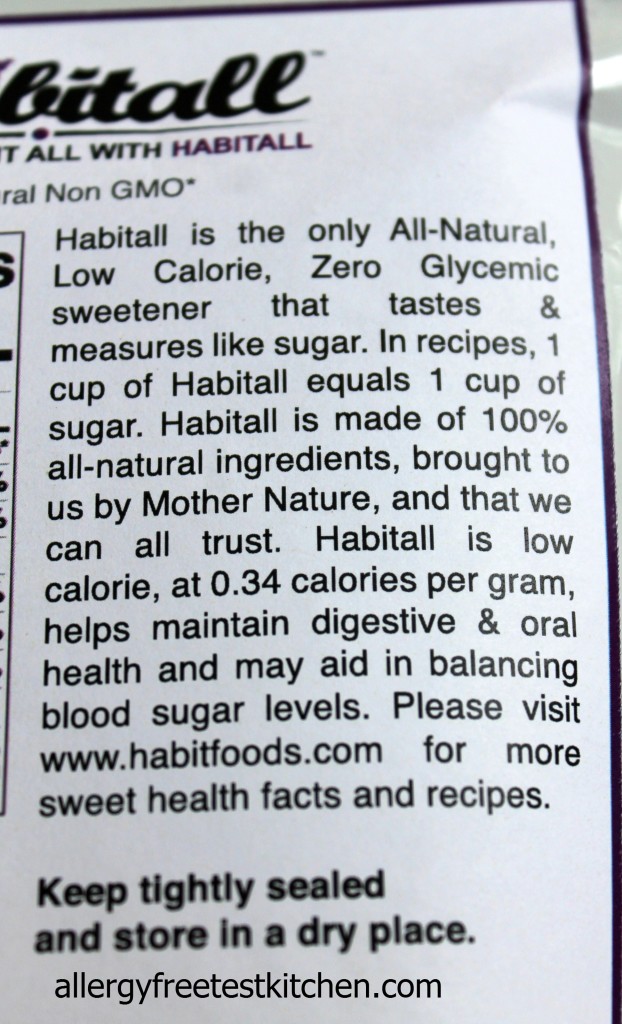 Habitall is made from three all natural ingredients:  Erythritol, Polydextrose, and Monk Fruit.  Now I know what you are going to think.  The first two ingredients do not sound natural, so let me explain further.   Here I quote the letter that was sent to me along with the product.  "Erythritol is a naturally occurring sweetener found in some fruits, vegetables and fermented foods."  About Polydextrose they say, "polydextrose is a form of soluble fiber derived from naturally occurring starch in plants."  Monk fruit is a "vine fruit of the gourd family and is native to China and northern Thailand. Monk Fruit powder is made from dehydrated juice and is three hundred times sweeter than sugar."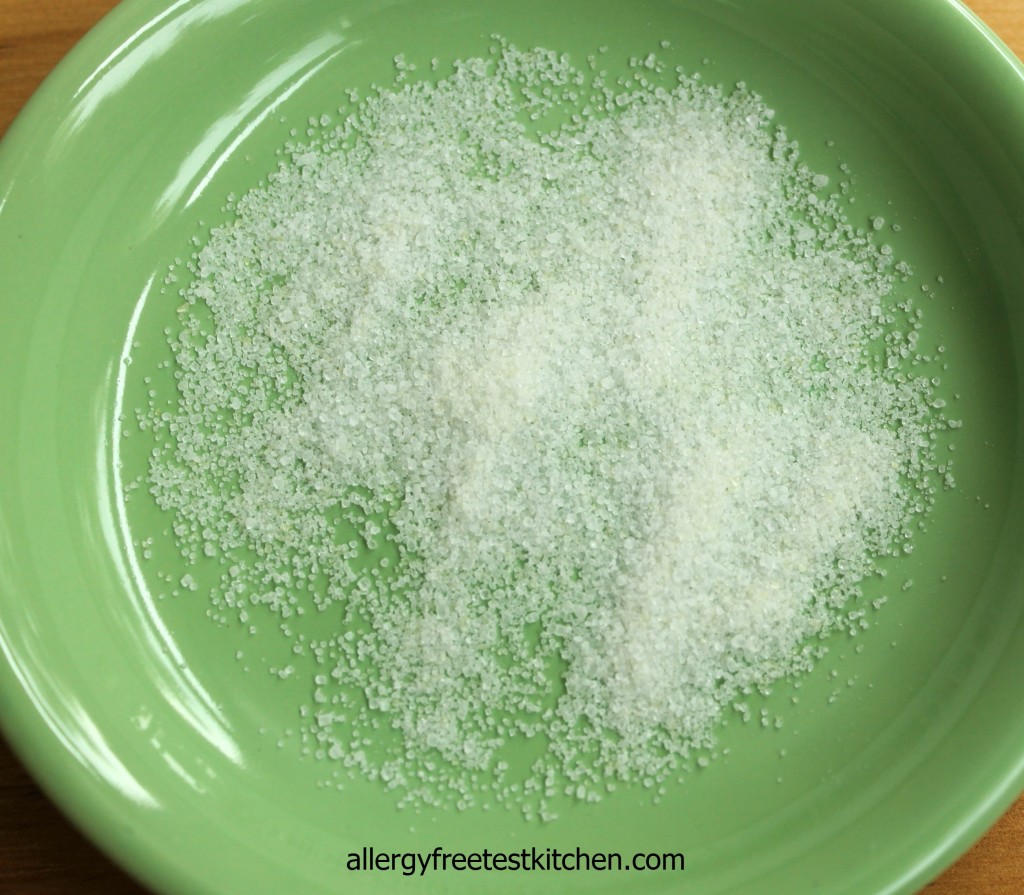 Not only is Habitall all natural, it is low calorie.  In fact rather than type up the neat chart they sent me, I took a picture of this very interesting chart they sent.  Check it out!  Habitall has 0.34 calories per gram.  That is like next to nothing!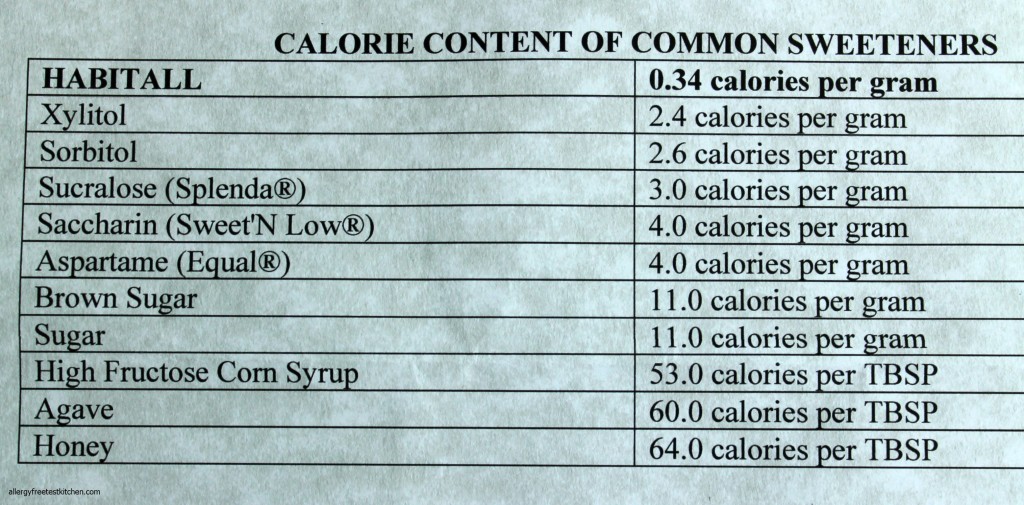 Another great thing about Habitall is that it is low glycemic.  In other words, foods high in sugar will give your body a fast rise in blood sugar levels, giving you a temporary surge in energy, only to crash soon afterward.  Foods that are low glycemic do not make your body do all these high and low crashes.  High glycemic foods "put you at risk for cancer, type 2 diabetes, acne, Alzheimer's and weight gain."  Whereas low glycemic foods raise your blood sugar levels gradually.  The glycemic index of Habitall is zero!  Yep, you read that right.  Read this chart below (provided to me) to see comparisons among common sweeteners.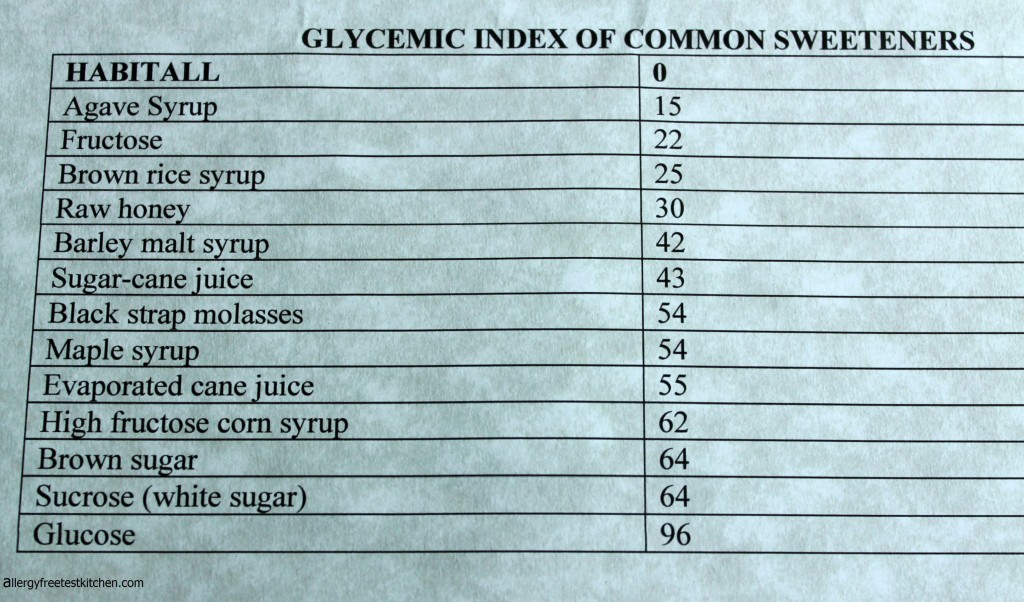 So far we covered three things about Habitall:  it's all natural, low calorie and zero on the glycemic index (diabetic friendly).  Here are a few other facts about Habitall:  no artificial ingredients, does not promote tooth decay or Candida growth, gluten free, GMO free, Vegan and Kosher.
So it sounds good, but how did it fair?  Wonderful!  And I'm not just saying that.  It really worked well!  (I'm not afraid to leave a bad review.  Remember this one?) And just to make sure everyone knows…I was not paid for this review.
So the first thing I did was make these Banana Cupcakes.  I dare say they actually turned out BETTER with Habitall, than with the sugar.   And I could eat it with little guilt knowing I did not add a ton of calories to my treat.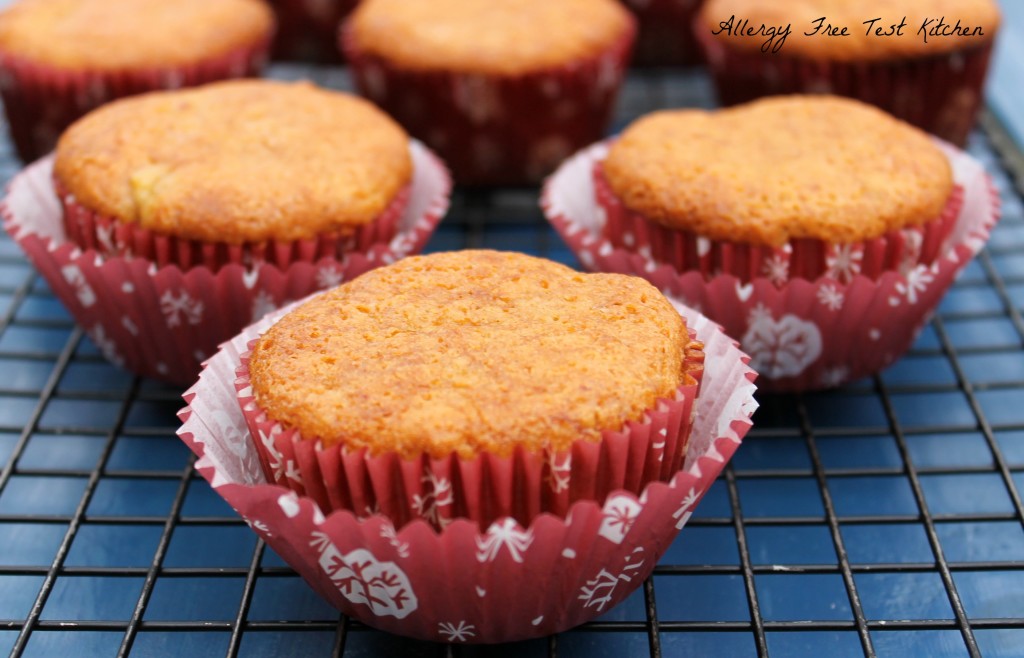 My second test was one of my favorite chocolate fixes….these Creamy Dreamy Chocolate Peppermint Mouse Bites.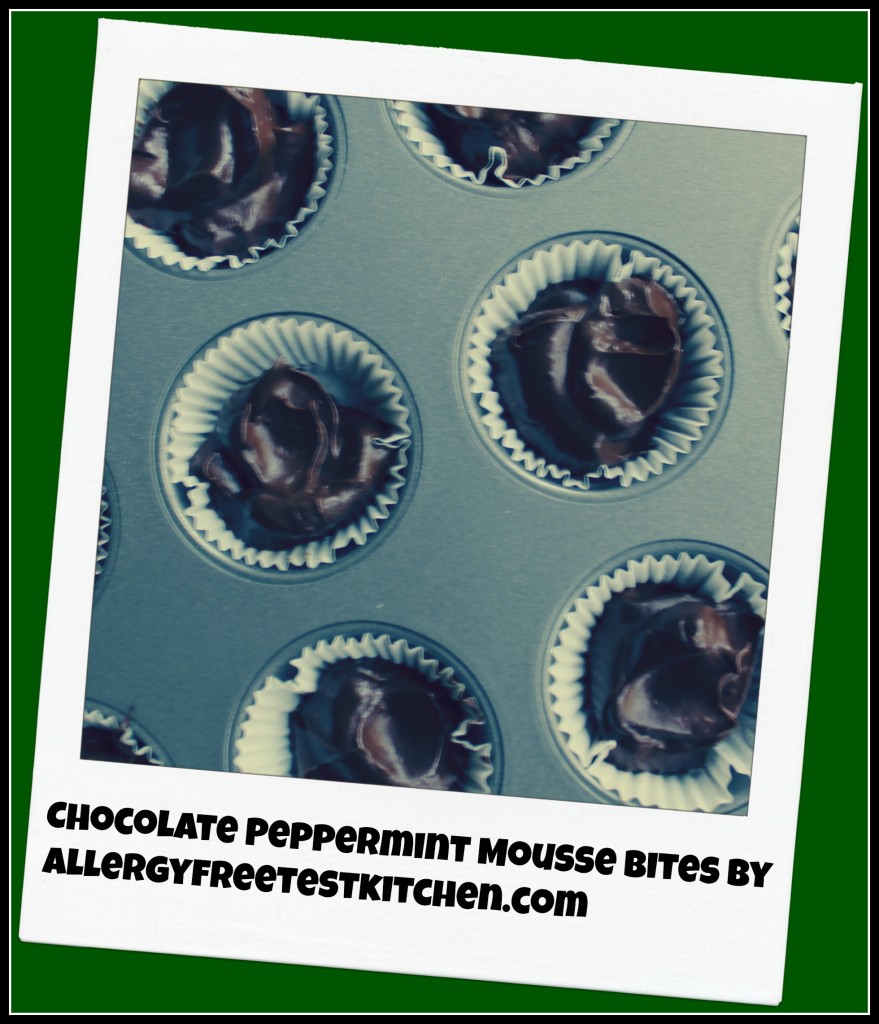 What I found is that Habitall is not a cup for cup replacement for agave nectar.  I needed more Habitall than agave nectar.  But it still saves calories since agave nectar comes in at 60 calories per Tablespoon.  I also found that this is not the best application for Habitall, but I consider that user error.  It left my mouse bits with a bit of a grainy texture.  However, I seemed to be the only person who noticed, so maybe I was "looking" for it."
I wanted to try this sugar replacement in a variety of applications, not just baked goods or sweets.  So, we used it on plain corn Chex for breakfast to sweeten (worked well), and I used it in a glaze for a meatloaf.  Both worked as if I as using granulated sugar.
Pictured below is Breakfast Quinoa when I fixed it with coconut sugar and maple syrup.  For this review, I used Habitall.  It sweetened it to the perfect sweetness, but the color of the dish was not as dark.   By the way, this is an awesome high fiber, high protein breakfast dish.  If you want the recipe you will need to follow this blog as I have yet to post the recipe for it.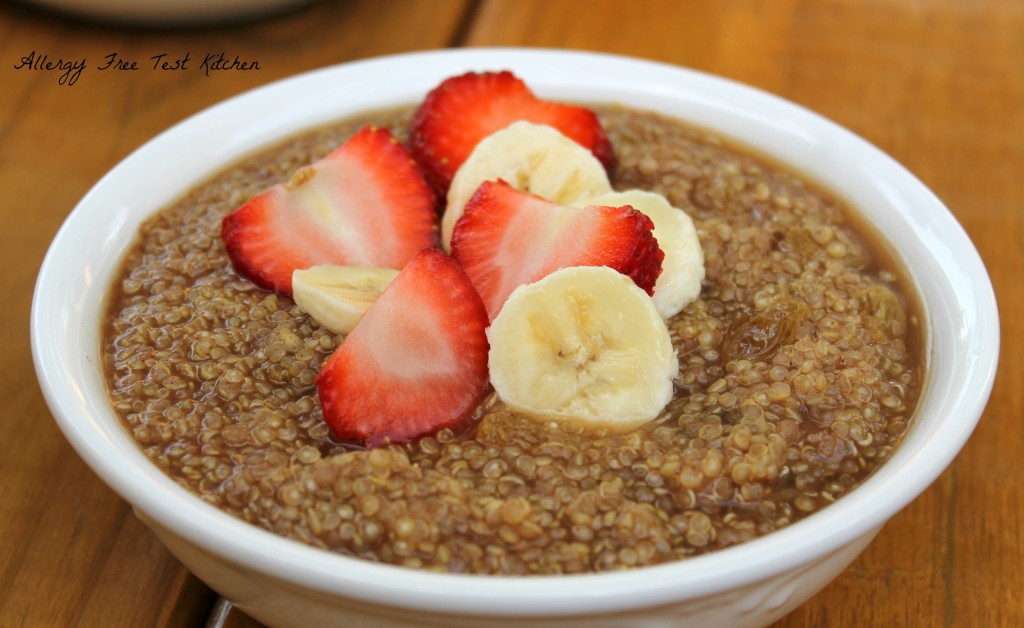 The day I received the Habitall in the mail (came nicely packaged by the way), I had just put this Red and Blue Breakfast Cake in the oven.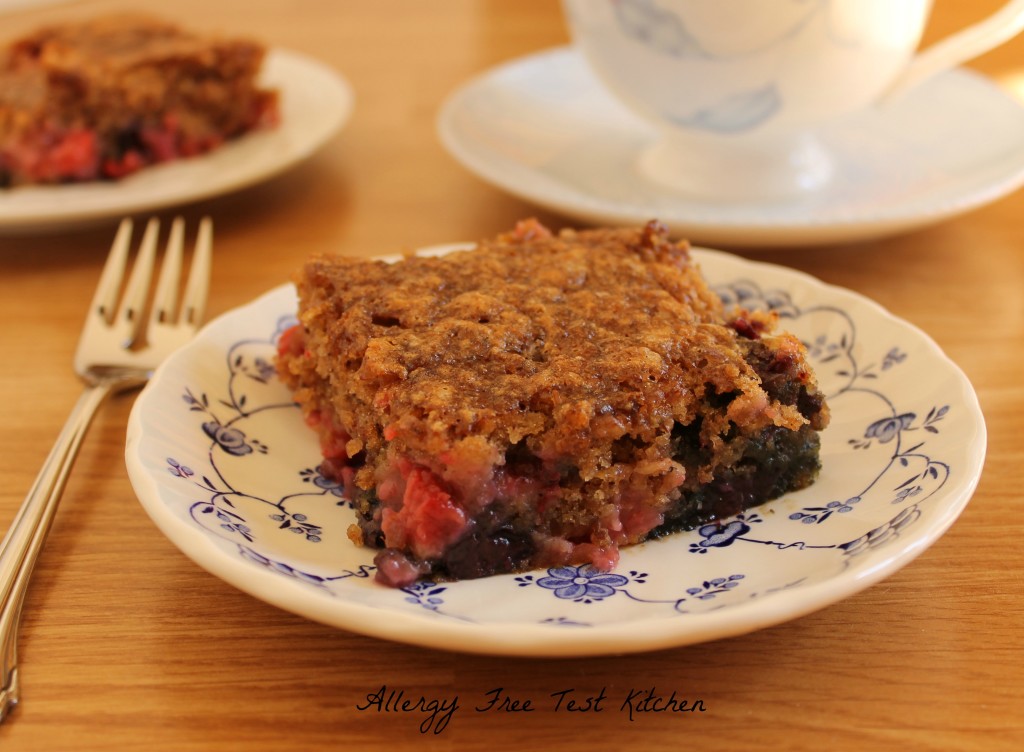 It was too late to make it with Habitall that day, but I knew I would try it again in just a few short days with the Habitall.  Now this breakfast cake is delicious!  (Another recipe you will have to come back here for).  We gobbled it up and it is fairly healthy to begin with.  But when I baked it a second time with Habitall, it came out just as good, if not a little better.  And I can honestly say I had no qualms about feeding my family cake for breakfast when it was made with Habitall.  Just knowing how it is not bad for you, puts one's mind at ease.
From a mom's point of view I wanted to know if Habitall could make Kool-Aid.  I do not make this as it is really just dyed sugar water.  But, I know that this is something moms would want to know.  I just so happened to have a packet of Kool-Aid that came home from preschool, so I tried it with ¾ cups Habitall.  It dissolved perfectly.  The only thing I think about using it in this function is that you would probably need to use 1 cup instead.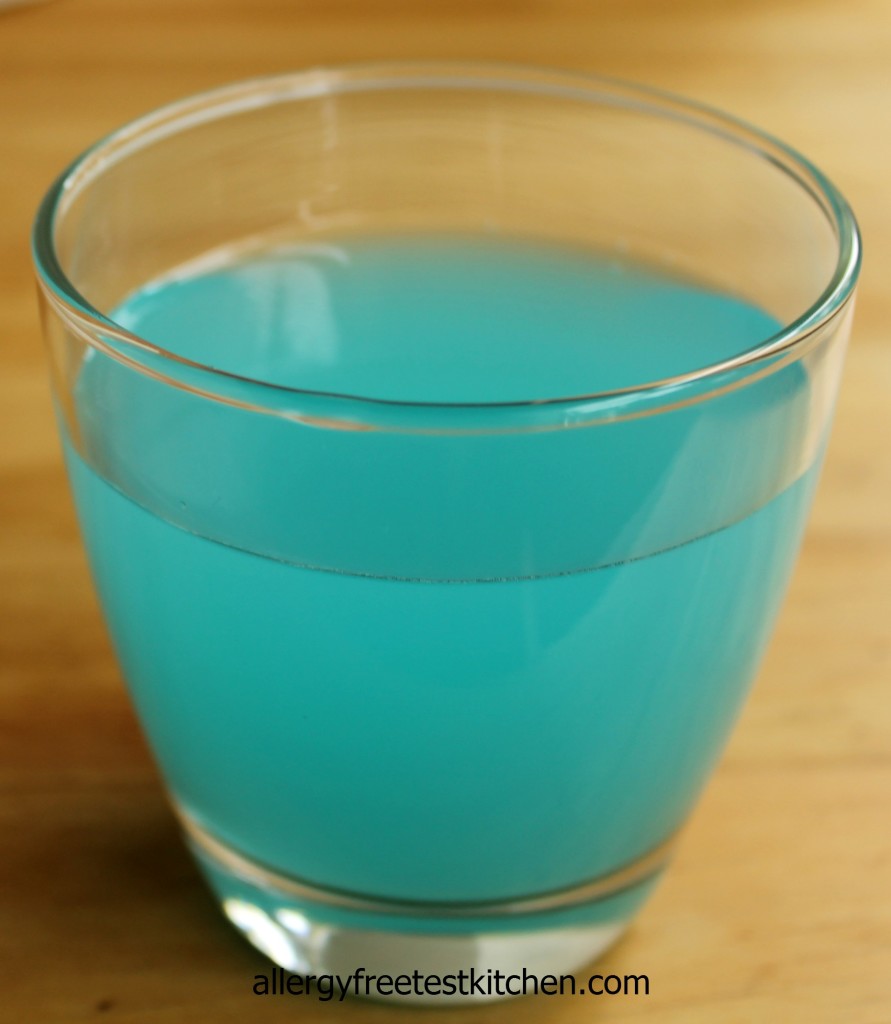 Lastly, I measured out how much Habitall I had left.  I had ¾ cup left, so I flipped through all my cookbooks looking for a baked good requiring ¾ cup sugar.  I came upon these Russian Rock Cookies.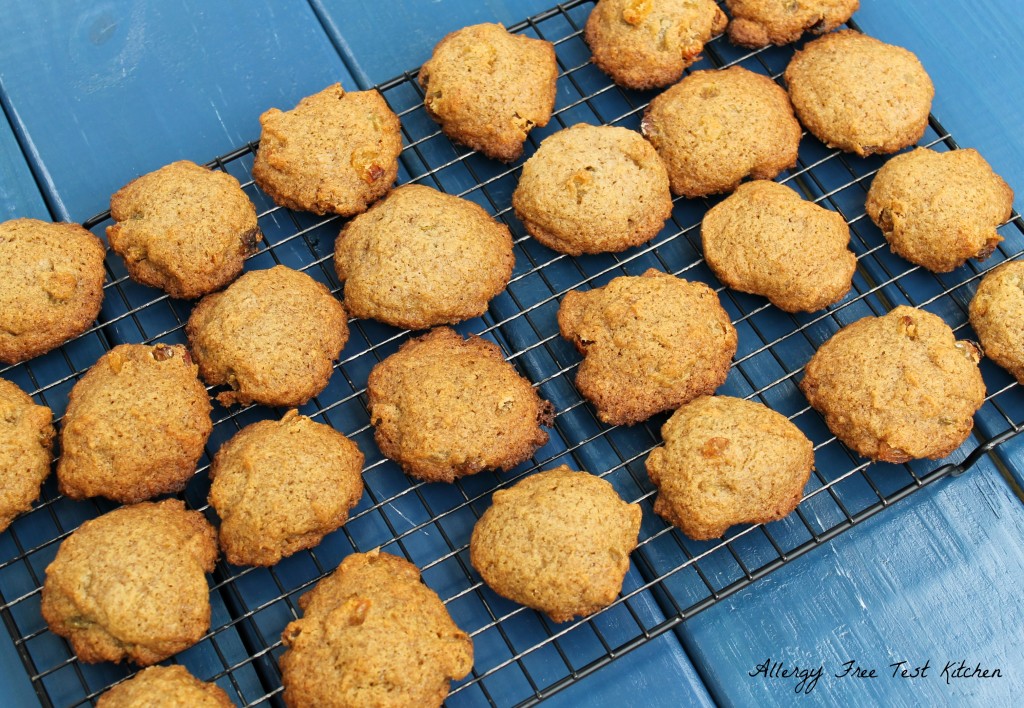 The recipe comes from Cybele Pascal's The Allergen Free Baker's Handbook.  I have made this recipe numerous times, so I already knew what they were like.  I can honestly say that these cookies turned out WAY better with Habitall then with sugar.  Not only did they taste better, but they were "fluffier."  Now I know these cookies do not look like much, but they are addictive.  Baked with Habitall, I didn't feel quite as guilty when I went on a bit of a cookie binge.
Here a few more facts I found using Habitall.  It tastes fine to the tongue and leaves no bitter or weird aftertaste.  It really does look and act like white granulated sugar.  It also creamed very well with shortening.  Another thing to keep in mind is that I was baking gluten free and allergy free goodies.  I'm already eliminating so many things and they still turned out great.  I imagine it would work just as well with "regular" recipes. I couldn't be happier with it.  Thanks to Corey and Michelle for sending me Habitall to try.  It was a great pleasure working with them and Habitall. 
Now you are probably wondering where you can find this wonderful, sugar replacement.  Well, here's the thing.  It is not yet on the market and Habitall needs you to make it to the store shelves at an affordable price.  They are fundraising to purchase very large amounts of raw ingredients to make Habitall affordable to the general public.  You can read more about Habitall and contribute to the fundraising campaign at Indiegogo.   When you contribute, you will receive Habitall to try for yourself and other perks.
To learn more about Habitall you can also visit their website, like their Facebook page, or follow them on Twitter.
If you want the Breakfast Quinoa recipe or the Red and Blue Breakfast cake recipe, head to the header of this site and subscribe to Allergy Free Test Kitchen so you will not miss out on those recipes.  You can also find my Facebook, Twitter, and Pinterest buttons in the header to follow me that way too.