Savor the flavor of earthy and robust mushrooms.  Red potatoes heated to perfect tenderness. Sweet tasting yellow peppers with fresh, spring asparagus that has just a little crunch, roasted to an undeniable sweetness.  All this and more will delight you with this fabulous roasted vegetable medley.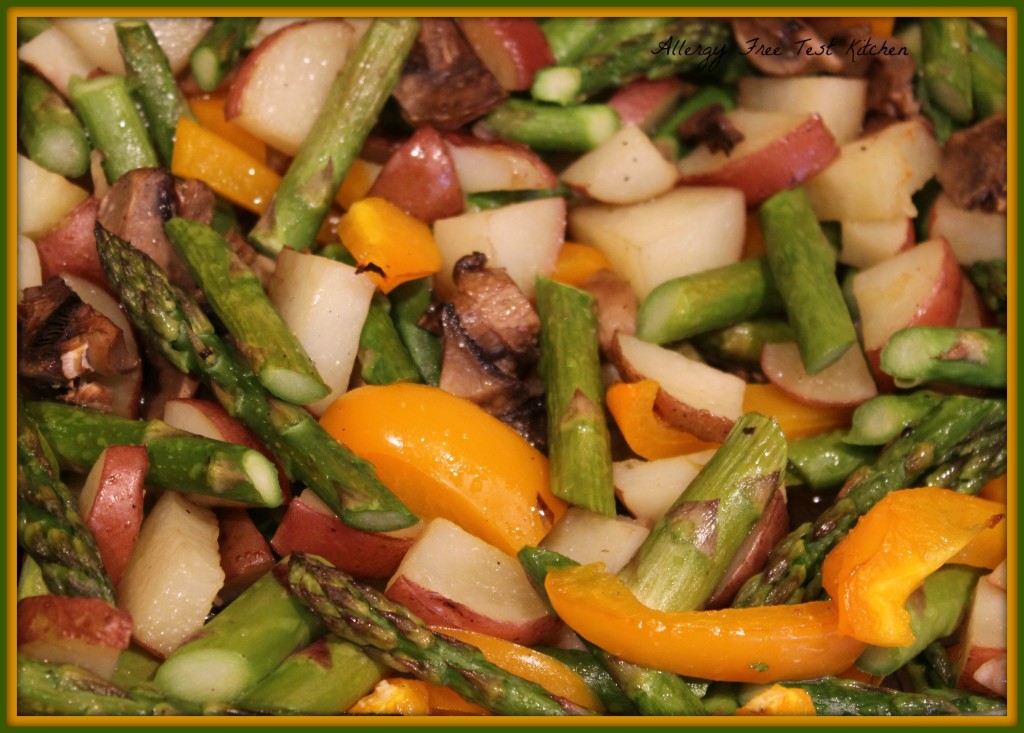 Mushrooms provide many health benefits that you can read about here.  Asparagus is a nutrient dense vegetable high in folic acid, potassium, fiber, vitamin B6, A, C and thiamin.  Sounds like something we could all use a little more of.
Even if you tend to shy away from asparagus and the other vegetables in this dish, I promise you will love it cooked this way.  I have found roasting vegetables to be the best way to prepare vegetables.  It takes away any bitterness or "off" taste they may have.  Many times the vegetables take on a sweet flavor.  I think you could even get a finicky kid to eat this wonderful complement to your meal.
Why not try this now?  Spring and early summer are the best months for asparagus, the star of this dish (a close second is the mushrooms).  If you have not done so yet, why not follow me on Pinterest, Twitter, or like my Facebook page?
Also shared at Slightly Indulgent Tuesday, Real Food Wednesday and Gluten Free Friday .

Roasted Vegetable Medley
Ingredients:
2-3 red potatoes

1 lb. asparagus

8 oz. mushrooms

yellow or red pepper

2 T. olive oil

1/2 tsp. salt

1/4 tsp. pepper
Directions:
Cut potatoes into bite sized pieces.

Cut asparagus in 1 1/2-2 inch pieces.

Cut mushrooms into quarters and pepper into strips and than halved.

Place in glass 9×13 and toss with oil, salt, and pepper.

Roast in a 400 degree oven for 20-30 minutes or until vegetables are tender.

Serve immediately.