This beef and bean dish may not look like much, but it is really good.  Sweet and savory combined, I rank this with comfort food.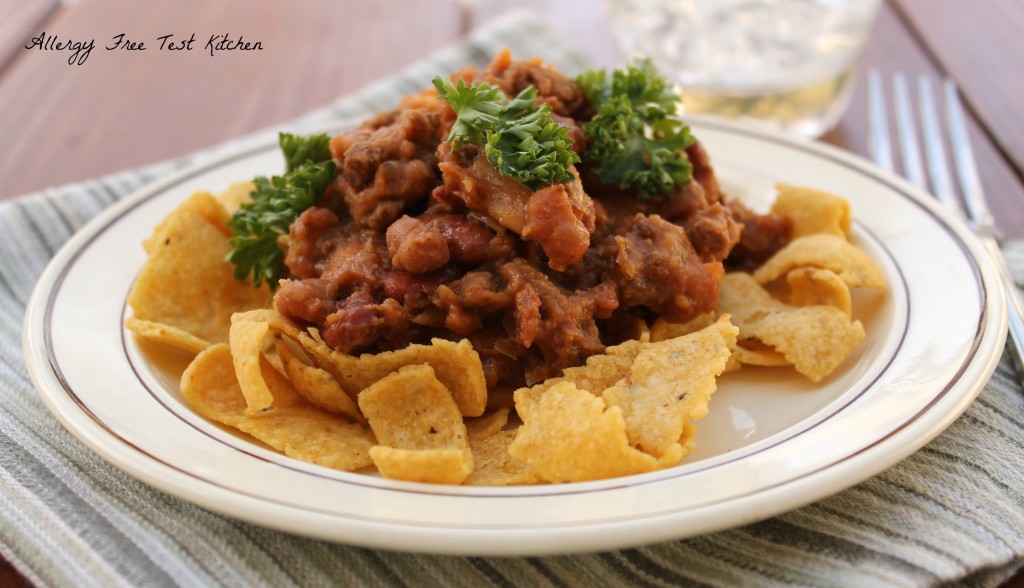 Other great things about this meal:  it's a slow cooker meal and it makes a lot.  I almost always freeze about half.  Then some night when I do not feel like cooking I can simply defrost, warm and enjoy.
So, if you are looking for lots of protein, this dish has it.  If you are looking for a way to eat more legumes, this is a good recipe to start with.  If you are looking for easy, this one is for you. 
Enjoy!
Also shared at Gluten Free Friday. Allergy Free Wednesday.

Sweet and Savory Beef Bean Medley
Ingredients:
1 lb. ground turkey

1 onion chopped

6 slices turkey bacon, cooked and crumbled

2 cans pork and beans

1 can butter beans, rinsed and drained

1 can kidney beans, rinsed and drained

1/2 cup ketchup

1/2 cup coconut sugar or brown sugar

3 T. vinegar

corn chips
Directions:
Cook turkey and onion in skillet.

Place in slow cooker with bacon and beans.

Combine ketchup, sugar and vinegar.  Pour over meat and bean mixture.  Stir.

Cook on low for 4-6 hours.

Serve over corn chips and enjoy.