I call these Power Packed Pancakes because they are packed with fiber, protein, and antioxidants!  Lots of "power" to start your day with!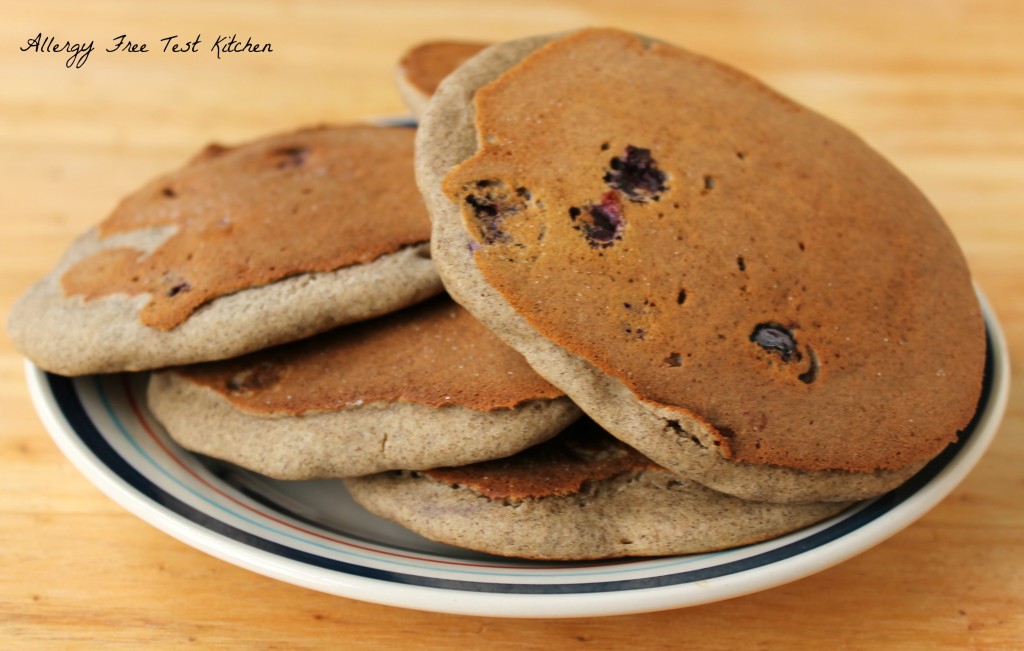 Quinoa flour provides fiber and protein.  In fact, per ¼ cup there is 2g of fiber and 4g of protein.  Buckwheat flour (which is not wheat at all) boasts 6g of fiber and 5g of protein per ¼ cup.  Blueberries add an extra burst of flavor.  But better than that, blueberries pack more antioxidants in them then most fruits.  So it's win-win all around!
I loosely based this recipe off of a recipe in The Whole Foods Allergy Free Cookbook by Cybele Pascal.
So why not try these? And when you do, let me know how you like them!  And if you haven't done so yet, why not subscribe to Allergy Free Test Kitchen and receive an email every time there is a new post?
Also shared at Allergy Free Wednesday, Real Food Wednesday, Wheat Free Wednesday, Gluten Free Wednesday, Whole Foods Friday.

Power Packed Pancakes
Ingredients:
1 cup quinoa flour

1 cup buckwheat flour

3 tsp. baking powder

1/2 tsp. salt

2 T. oil

3 tsp. Ener-G Egg replacer mixed with 4 T. warm water (or two eggs)

1 3/4 cup rice milk

1 T. honey (or agave)

1/4 to 1/2 cups blueberries
Directions:
Mix dry ingredients in bowl.

Mix wet ingredients in another bowl.

Pour wet ingredients over dry and mix thoroughly.

Add blueberries.

Cook on heated gridle.