I have been at it again; another granola recipe that is. Granola is so easy to make.   It is great for breakfast alone or on top of cereal.  It is a great evening snack.  While I love this recipe and this one, I wanted a new one too.  This one, full of cherry flavor and a hint of vanilla, is so delicious I wrote the recipe to make a large batch.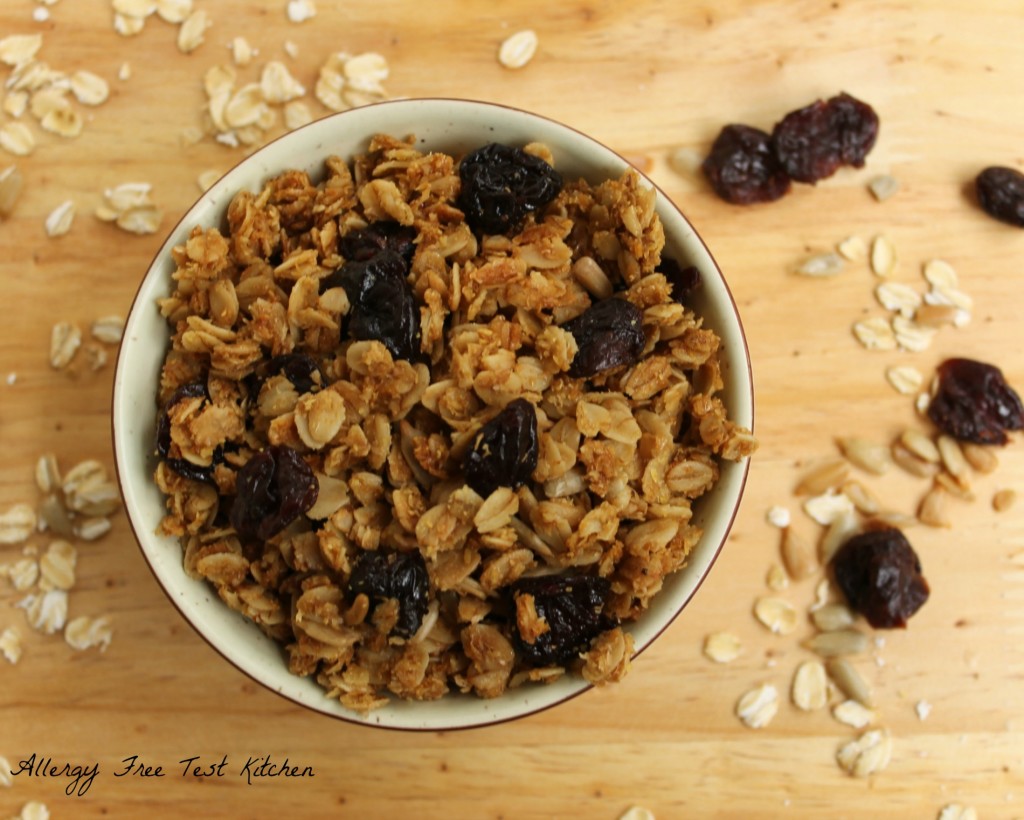 I saw a recipe once that used wheat germ.  I thought, wow, I could add flax meal in place of wheat germ.  Flax meal adds omega 3's and fiber. 
So bake up a batch and let it brighten up your mornings.
And remember, if you like this you can use the Pinterest button below to "pin it."  And while you are at it, why not follow on Pinterest or like the Facebook page?  Just remember, with Facebook, you have to go one step further and hover over the like button and select "add to interests list."
Have you tried making your own granola yet?
Also shared at Gluten Free Friday, Wellness Weekend, Allergy Free Wednesday and Make Your Own Monday

Cherry Vanilla Granola
Ingredients:
1/2 cup canola oil

4 T. coconut sugar (or brown sugar, but it will alter the taste)

1/2 cup maple syrup

2 tsp. vanilla

4 cups gluten free oats (or regular)

1 cup flaxmeal

1 cup dried cherries

1/2 cup sunflower seeds
Directions:
Preheat oven to 300 degrees.

Mix the first 4 ingredients in a large bowl.

Add the oats and flaxmeal and stir to coat well.

Bake for 15 minutes, stir, bake for 10 minutes.

Add cherries and seeds and bake for 5 minutes.

Cool and store covered in refrigerator.