I am on a squash kicky lately.  Can you tell?  I never would even attempt this vegetable a few years ago, but after reading the health benefits I thought I should give it a try. It turns out winter squash (available year round), such as acorn, butternut, or spaghetti, can be really tasty and satisfying.
Okay, this picture isn't great, and I generally don't want to put up bad pictures, but it is dark out at supper time, so picture taking isn't optimal. However,  I am eager to share this recipe.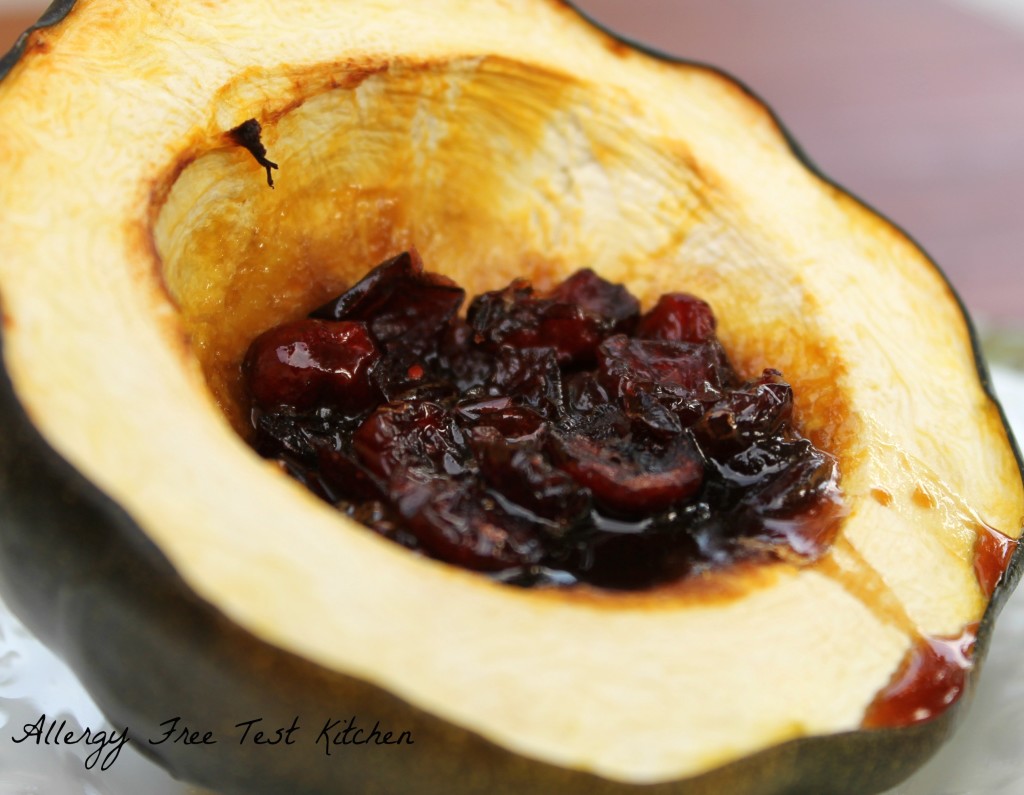 I've made this recipe using acorn and spaghetti squash.  I think I prefer the spaghetti squash, but both are really equally delicious.  I have even made this as an evening snack!  It is both sweet and a bit tart!  It does have a candy like flavor to it.
Before we get to the recipe I want to leave you with some good reasons to eat winter squash.  It is high in vitamins, minerals and antioxidants.  It is anti-inflammatory, and may be a cancer reducing food.  It also helps with blood sugar regulation.  If you want to read more about winter squash, you can do so here.
I adapted this recipe out of The Whole Foods Allergy Cookbook by Cybele Pascal.
Love it?  Why not pin it?  Or like our Facebook page! 
Also shared at Gluten Free Friday.

Sweet Winter Squash
Ingredients:
2 medium sized acorn or spaghetti squash

4 T. dried cranberries

4 T. coconut sugar

2 T. dairy and soy free margarine
Directions:
Preheat oven to 375 degrees.

Wash squash and cut in half. Scoop out seeds. (You will have 4 halves).

Place in pan with cut side up.

In each half, place 1 T. cranberries and 1 T. coconut sugar.

On top of cranberries and sugar, place 1/2 T. dairy and soy free margarine.

Bake for one hour.

To serve, place one squash half on plate with the rest of your meal and scoop out flesh and cranberries to eat.