I cook a lot of stir fry meals.  I kind of always did, but probably a bit more now.  As long as you use a safe sauce or make your own, they are usually a naturally allergy friendly meal when served over brown rice or quinoa.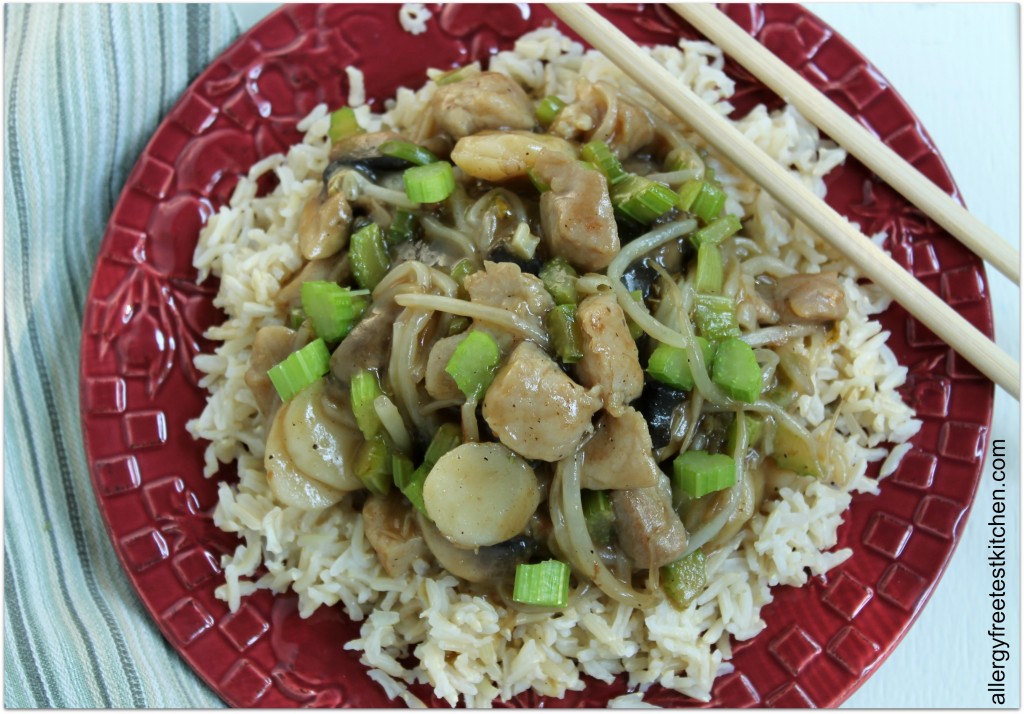 This "Pork Chop Suey" recipe does not make for a pretty picture, but does make a good meal.  I used coconut aminos in place of the soy sauce and then it was free of the top eight food allergens.  Coconut aminos are a great substitute for soy sauce or Worcestershire sauce.  It tastes similar to soy sauce, but less strong. And interestingly, does not taste like coconut at all!
I buy Coconut Secret Coconut Aminos from Whole Foods.  It is 100% organic, gluten free, dairy free and non-GMO, as well as free of the other top 8 food allergens.  It was interesting to find out that coconut aminos are tapped from a coconut tree, almost like maple syrup.  According to the label, it is "very low glycemic," "raw" and an "abundant source of 17 amino acids, minerals, vitamins, and a nearly neutral ph."  The label also states that it contains 2-14 times more amino acids than soy.
When I compared the coconut aminos to my low-sodium soy sauce I found that the coconut aminos are considerably lower in sodium.  Coconut aminos have 339mg of sodium per one tablespoon, while my low-sodium soy sauce has 550mg of sodium per one tablespoon.
I use the coconut aminos in place of soy sauce when I am trying out a recipe for the blog.  And what I have found is that dishes with coconut aminos go over better than with soy sauce.  I think because of the less spicy or tangy nature of coconut aminos.  If you cannot get your kids to eat foods with soy sauce in them because of the taste, you may want to try coconut aminos.  That way you can still enjoy your food and get the kiddos to eat it too!
For this recipe, one really needs to use fresh vegetables.  Using canned mushrooms or canned bean sprouts will make this dish too salty and just not, well, fresh!  Using fresh vegetables will increase your nutrient intake and delight your taste buds.

Pork Chop Suey
Ingredients:
1 pound boneless pork

3/4 cup water

3 T. coconut aminos (or low-sodium soy sauce)

2 T. cornstarch

2 T. water

1 tsp. instant chicken bouillon

1/4 tsp. pepper

1 T. olive oil

1 tsp. ginger

2 stalks celery, thinly sliced

2 cups sliced fresh mushrooms

2 cups fresh bean sprouts

1 bunch green onions

1 8 oz. can water chestnuts

hot cooked brown rice
Directions:
Trim fat from meat and thinly slice into bite size strips.

In a bowl, combine the 3/4 cup water, coconut aminos (or soy sauce), cornstarch, 2 T. water, bouillon and pepper.

In a large skillet, heat olive oil. Add ginger and celery and cook and stir for 2 minutes.

Add mushrooms, fresh bean sprouts, and green onions.

Cook until celery is your desired tenderness.

Remove from skillet and place in a bowl. Keep warm.

Add pork to skillet and cook and stir until meat is brown and cooked through. Once cooked, push meat to the sides of the skillet.

Add sauce to center of skillet and stir until slightly thickened.

Add warmed, cooked vegetables and water chestnuts. Heat through.

Serve over hot, cooked brown rice.