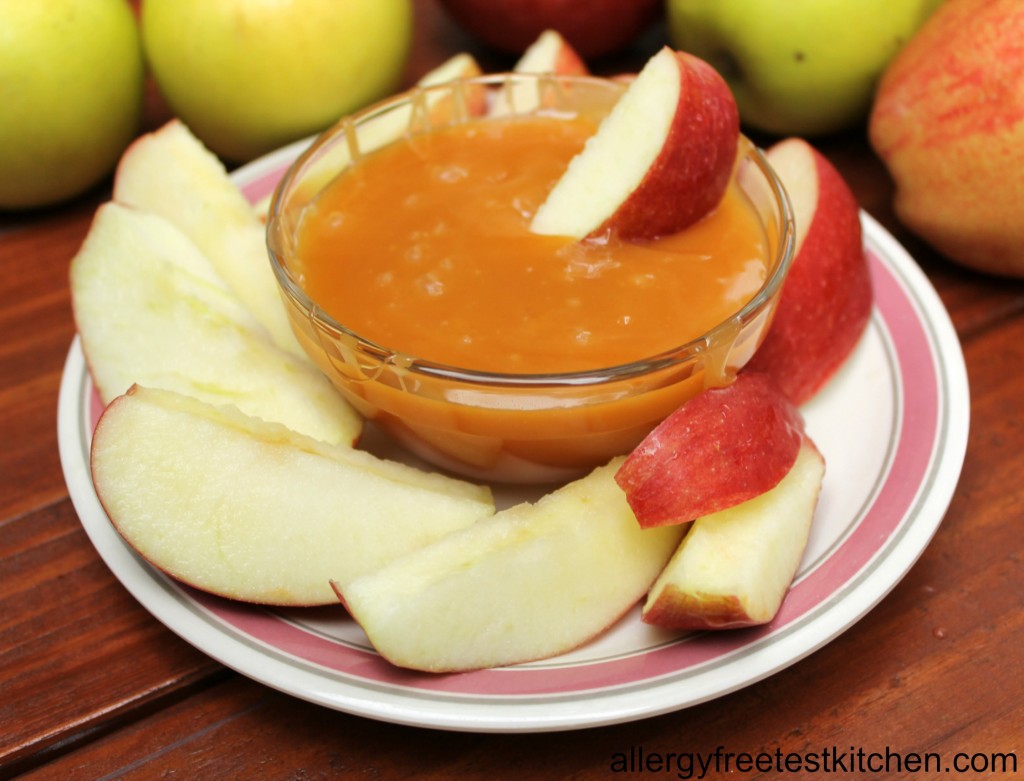 Caramel dip with apples is an autumn treat that the milk allergic cannot enjoy.  Store bought caramel dip is loaded with milk, butter, cream and the like.  But I have come up with five reasons that everyone, regardless of allergies or not, should make their own caramel dip.
It is easy to make.
It has only 3 ingredients.
The store bought kind has 17 (I counted them at the store yesterday) ingredients.
This same store bought kind is loaded with high fructose corn syrup and other unpronounceable ingredients.
The homemade variety is free of any refined sugar.
I found this recipe at Comfy Belly and have tried it two times.  The first time I used agave nectar.  At first it really tasted like agave to me, but I really grew to love it and it tasted more like caramel all the time.  It made a lovely color too.  The second time I used brown rice syrup and I did not like the taste or color as well as agave, although it is still a better alternative than store bought.  I have not yet tried honey, but I bet that would probably be my favorite.
The picture of the dip shown above and at the very end is made with agave nectar.  The tutorial pictures are with brown rice syrup except this first one.  You need three ingredients…thick coconut cream or heavy whipping cream (if you can tolerate it), liquid sweetener and salt.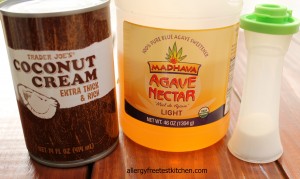 Measure out one cup thick cream from the top of the can of coconut cream.  The remaining cream and coconut "water" can be saved in a different container and makes a thick, delicious smoothie later on.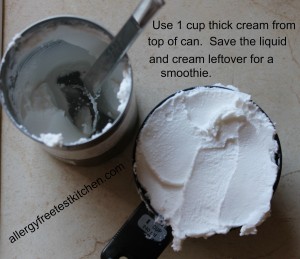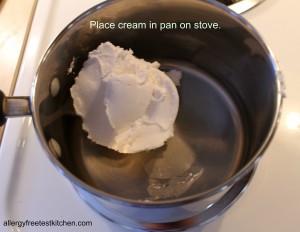 Place the cream, as shown above, in a pan.  Stir the cream like in the picture below.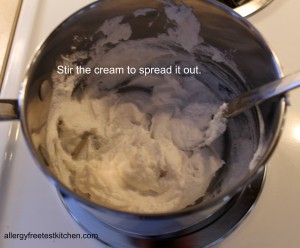 Cook the cream until it is smooth like pictured below.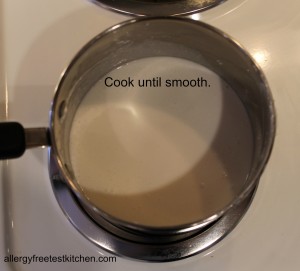 Add two shakes of the salt shaker to the cream.  Slowly add one cup of the liquid sweetener.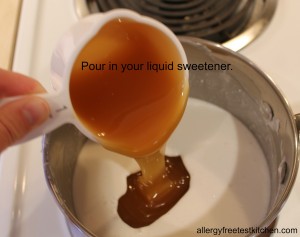 Stir to combine.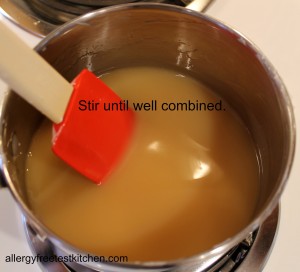 Stirring constantly, bring to a boil.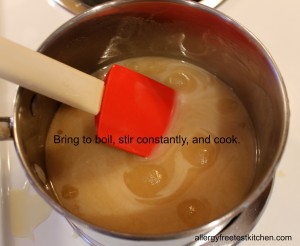 Cook and stir constantly for roughly 15 minutes if you want a "thinner" and more pourable dip.  For a thicker caramel that hardens over time, cook about 25-30 minutes being careful to not burn.  Cooking a shorter amount of time will make a dip that will pour easily the following days.  Cooking a longer amount of time will make a dip that hardens in the refrigerator.  This can scoop out and will easily soften in the microwave in a few seconds.
After your desired cooking time, carefully place your pan in a sink full of ice water.  Being careful to not let water in your pan, chill for about 15 minutes.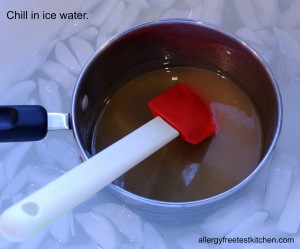 Pour into a sealable container and store in the refrigerator.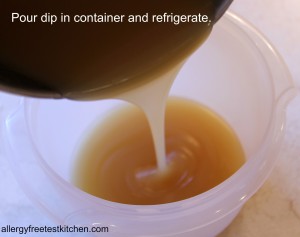 Since I didn't really change much from the original, you can get a printable copy of the recipe at Comfy Belly. 
Shared at Make Your Own Monday, Allergy Free Wednesday and Real Food Wednesday.