Making a gluten free pancake without eggs and milk is no easy feat; at least not for me.  I have been trying all sorts of combinations of flours and egg replacers.  Some were so-so and some were bad.  I even had one turn out fabulously, but I didn't follow my own rule of writing meticulous notes so I'm in the process of recreating that one.
But in the meantime I have settled on this one.  It does turn out every time.  It is high in fiber and a little denser.  It will not be light and fluffy and airy.  But I think that is okay.  I think having a breakfast that fills you up is a good thing.  You will not be eating an hour later.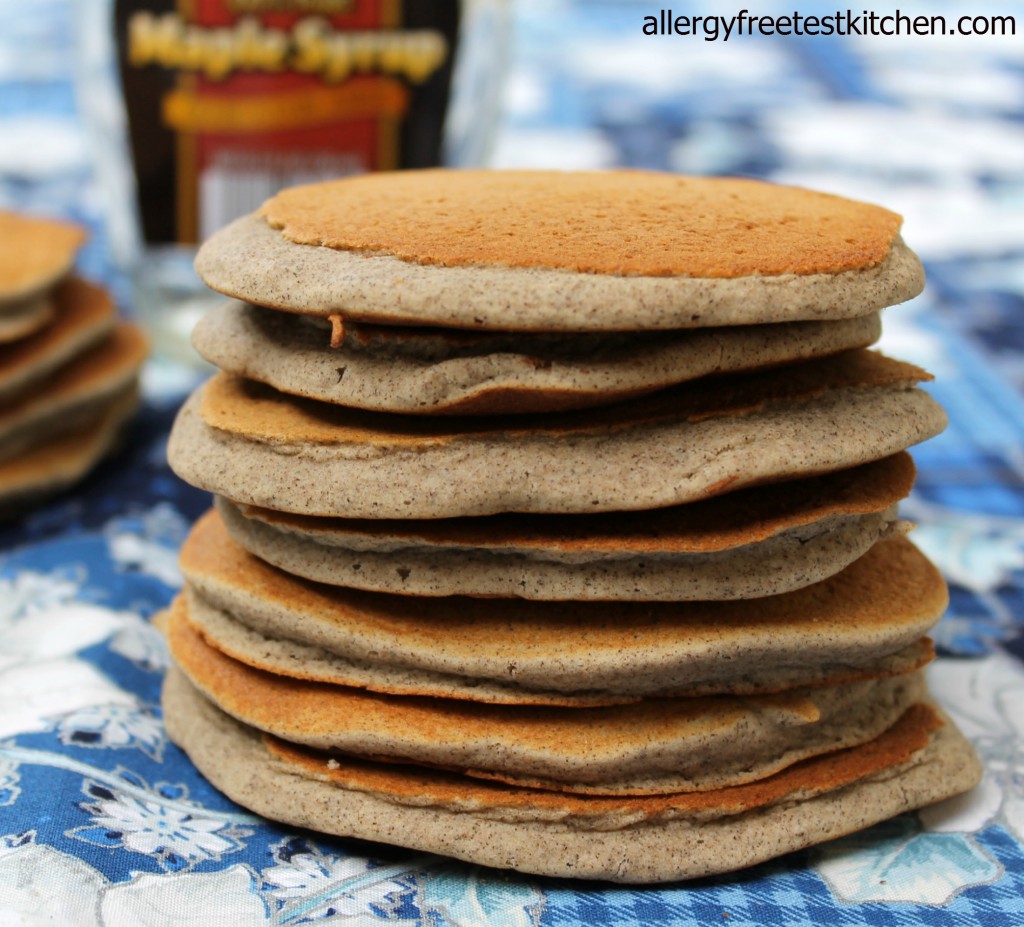 It uses buckwheat flour which is not wheat at all and contains no gluten.  If you haven't tried buckwheat yet, it does have a strong, earthy flavor.  It may take some getting used to if you are used to regular wheat flour or rice flours.  But I have paired the buckwheat with millet flour.  I think the slight sweetness of millet balances out the buckwheat.
I used a pancake recipe from The Whole Foods Allergy Cookbook by Cybele Pascal as a loose guide for this recipe. Will you give this a try?
Shared at Gluten Free Fridays, Wellness Weekends, Slightly Indulgent Tuesday, Wheat Free Wednesday and Gluten Free Monday. Gluten Free Wednesday. Allergy Free Wednesday.

Buckwheat Millet Pancakes
Ingredients:
1 cup buckwheat flour

1 cup millet flour

3 tsp. baking powder

1/2 tsp. salt

2 T. canola oil

1/2 cup applesauce

1 3/4 cup rice milk

3 tsp. honey (or agave nectar)
Directions:
In a large bowl mix with a wisk the flours, baking powder and salt.

In another bowl combine the oil, applesauce, rice milk and honey.

Pour the wet ingredients into the dry and mix thoroughly until there are no lumps.

Use a 1/4 dry measure cup and a silicone spatula to pour batter onto hot griddle.

Serve with dairy and soy free margarine and pure maple syrup.