You may see this title and write this off as a recipe you may not want to try.  I encourage you to not do that.  You will be missing out on an easy and quick meal.  You may hesitate to try something spicy, but you can adjust the seasonings to your liking.  It is always a good thing to try new things…expand your horizons and taste buds.  Adding spice to your meal may add spice to your life…maybe get you out of a food rut.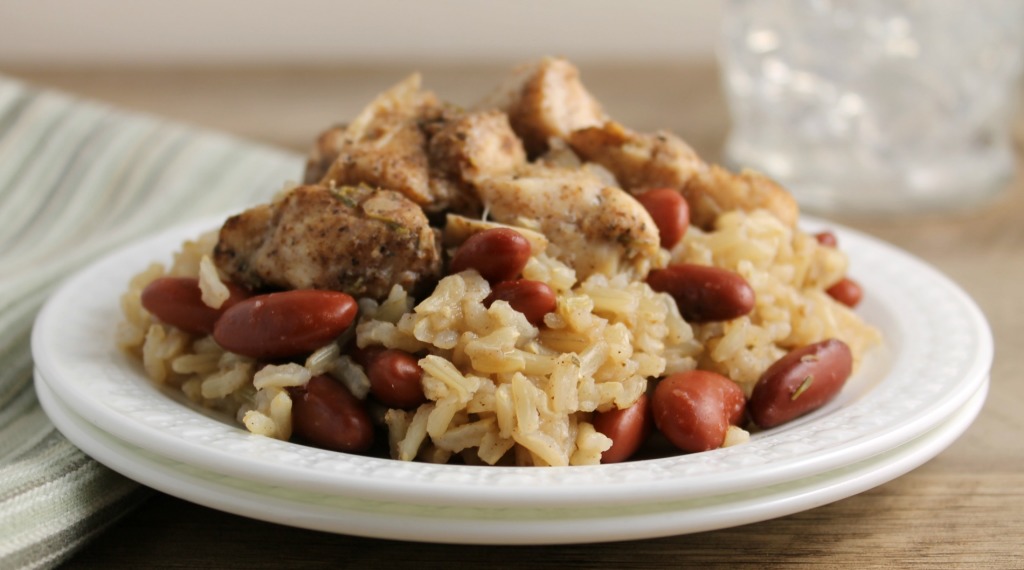 Now you may be thinking, "Well, I have kids, they wouldn't touch this with a 10 foot pole."  Well, I challenge you to think again!  This happens to be a favorite in my house…even the kid who refuses to eat leftovers will eat this as leftovers 3 times in a row.
You can make this a vegan meal by omitting the chicken.  Your protein can come from the beans.  One thing I do suggest though is to have this meal with something like applesauce or jello.  You may want to "cool" your palate in between bites.
You can use this Jamaican Jerk Seasoning.  This recipe comes from a well worn piece of paper cut from a Family Circle Magazine.
Also shared at Gluten Free Fridays. Fat Tuesday. Allergy Free Wednesday.

Jerk Chicken Rice and Beans
Ingredients:
1 cup uncooked brown rice

2 cups lo-sodium chicken broth

3-4 tsp. jamaican jerk seasoning

1 (15oz) can light red kidney beans, rinsed, soaked and drained

1 1/2 pounds boneless chicken
Directions:
Preheat oven to 450 degrees.

Place rice, chicken broth, and 1 tsp. jamaican jerk seasoning in pan on the stove. Cook according to rice package directions.

Stir kidney beans into rice during last 5 minutes of cooking.

Cut chicken into bite size pieces. Sprinkle with 2-3 tsp. of jamaican jerk seasoning according to taste.

Bake in preheated oven for 15-20 minutes, until chicken is no longer pink, turning halfway through cooking.

When ready to eat, place rice and beans on plate. Top with chicken.