Have you seen those commercials on TV?  The ones where a little girl is dressed up as a sandwich (sloppy joe) costume and she is in a school play?  It's a play about vegetables and she "belongs" in the play because that particular sloppy joe mix has vegetables in it.  Well, I beg to differ, but I highly doubt that can qualify as a serving of vegetables.  Especially when you take into consideration all the sodium and high fructose corn syrup that is most likely in the canned good. I'm just saying.   And let's not forget that a lot of canned goods have soy or gluten or milk in them.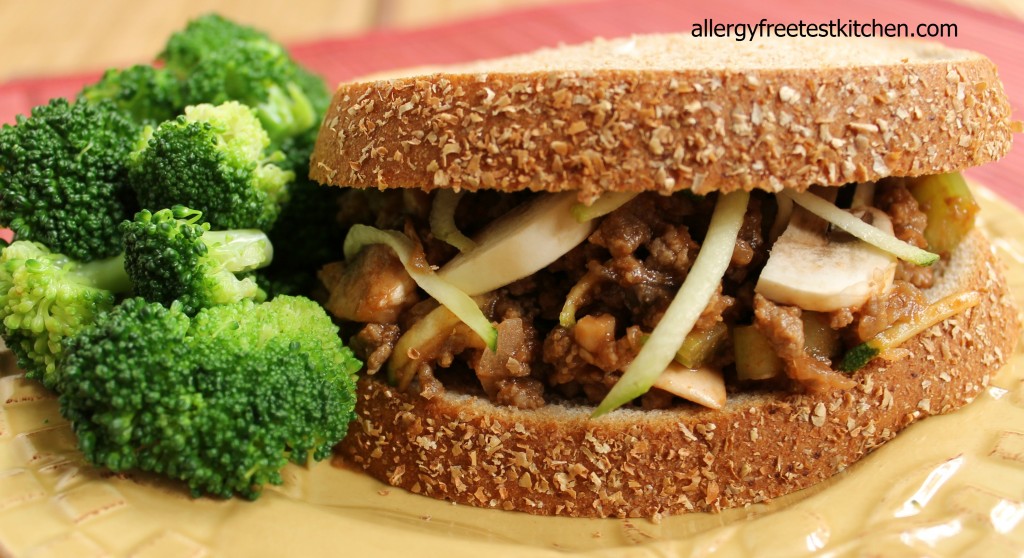 But today I bring you a recipe for sloppy joe sandwiches that is free of those allergens and free of the high fructose corn syrup.  And it has real vegetables in it!  That may sound like a lot of work, but it really is fast and easy.  So, for a weeknight meal when you are in a hurry, this is a good option. And while it is pictured here on regular wheat bread, I'm tagging this recipe as gluten free because the sloppy joe part is gluten free, just make sure to use gluten free bread if needed.  Adapted from my ever useful Betty Crocker cookbook, here is an allergy friendly, vegetable full, sloppy joe sandwich!

Sloppy Joes Vegi Style
Ingredients:
1 pound lean ground beef

1 medium onion, chopped

1/4 cup chopped celery

1 cup ketchup

1/2 cup shredded zuchinni

1 cup diced fresh mushrooms

1 T. coconut aminos (to make soy free) or 1 T. Worcestershire sauce

1 tsp. ground mustard

1/8 tsp. pepper

Gluten free bread or whole wheat bread
Directions:
Cook beef with onion and celery until browned. Drain off fat.

Stir in ketchup, zuchinni, mushrooms, coconut aminos (or Worcestershire sauce), ground mustard and pepper.

Cook to boiling. Reduce temperature and simmer uncovered 10-15 minutes until vegetables are softened.

Serve with gluten free or whole wheat buns/bread.