I have never been one to like oatmeal.  It just seems too mushy to me.  But I know it has health benefits like high amounts of fiber, little fat, and no sodium or cholesterol that I should be enjoying.  That is why I decided to try steel cut oats.  Steel cut oats are oats that have been cut, not rolled and I think of it as less refined than the rolled oats.  They are not mushy, but have some texture…almost chewy.  Cooking time is a little longer, but not too bad.
But they were still bland.  I had to come up with a more flavorful way to prepare and eat steel cut oatmeal.  Enter in….apple pie porridge; make it taste a little reminiscent of apple pie.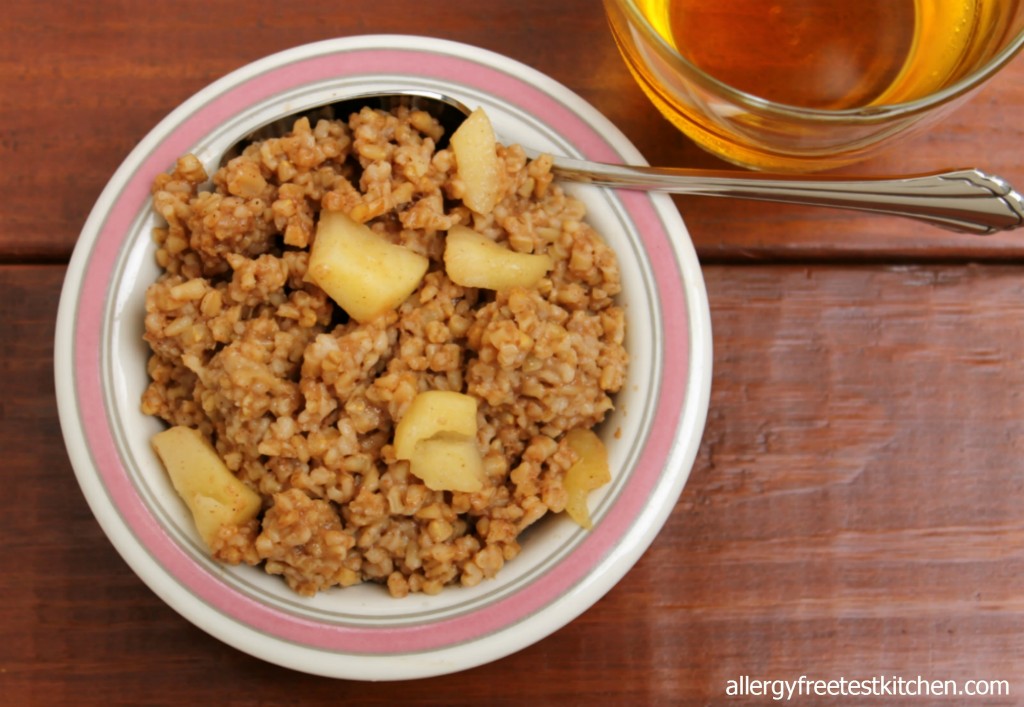 I make this the night before I want it for breakfast so I can eat right when I get up if I want too.  I have been known to eat it at night as a snack as well.  This makes a large amount, but holds up in the refrigerator very well for quite a few days.  In fact, this picture was taken on the morning after I made it at night.  The apples do not turn brown.  Use coconut sugar as listed in the recipe and it can be free of refined sugar as well!
Let me know your thoughts!
Also shared at Slightly Indulgent Tuesdays, Tasty Tuesdays, Allergy Free Wednesday and Wheat Free Wednesday, Real Food Wednesday. Gluten Free Wednesday.

Apple Pie Porridge
Ingredients:
1 cup gluten free steel cut oats

1 cup no added sugar apple juice

1 cup water

2 T. coconut sugar (or brown sugar)

1 tsp. cinnamon

1/4 tsp. nutmeg

1/8 tsp. ginger

1 cup peeled, chopped apples
Directions:
In a pan, combine all the ingredients except apples.

Bring to boil.

Reduce heat, cover and cook for 20 minutes.

Add apples and cook another 5 minutes or until your desired tenderness. (Don't cook too long or your apples will turn to sauce).