Say hello to a new way to prepare and serve pasta.  Well, maybe it is not new to you, but it was to my family.  This pasta dish is now our favorite and far surpasses a jar of spaghetti sauce on noodles.  (That is still a dish that graces our table, though).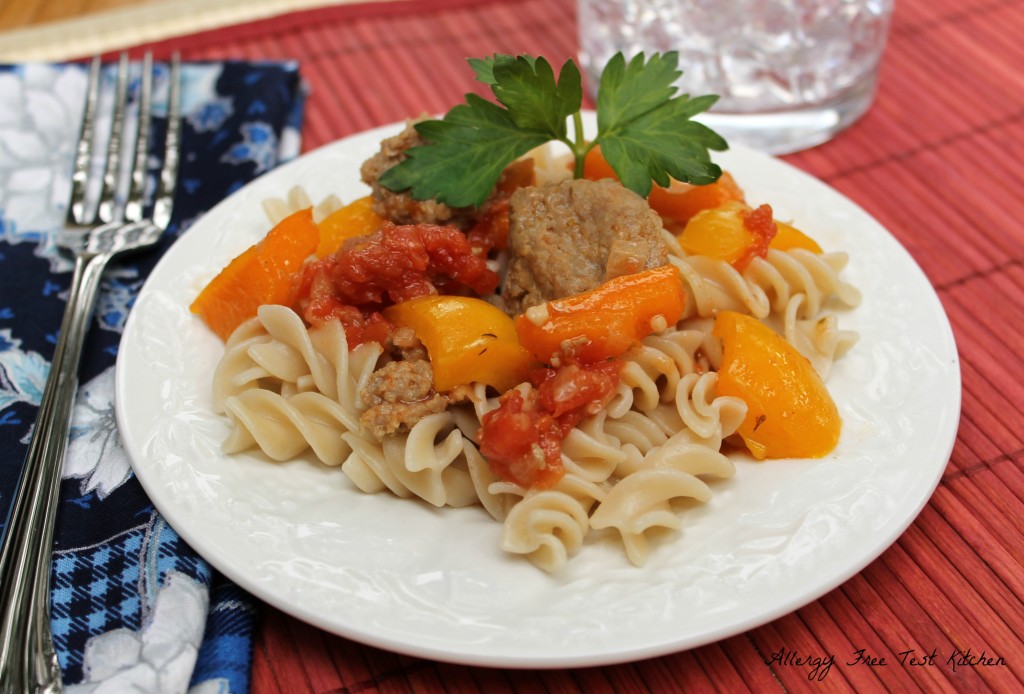 There is something about food allergies.  It expands your horizons.   Prior to food allergies I probably would not even have tried something like this; even though it is not that odd.   But if this looks or sounds like something you would not eat, I encourage you to give it a try anyway.  If you are thinking that this dish is spicy, trust me, it's not.  You will be surprised by how much you like it.
I adapted this from The Whole Foods Allergy Cookbook by Cybele Pascal.  And I know what some of you are thinking…"sausages are not gluten free."  So if you are looking for a resource for gluten free sausages, I can tell you I buy Jennie O Sweet Italian Turkey Sausages. 
Will you try this?
Also shared at Gluten Free Friday. 

Colored Peppers and Sausage Over Pasta
Ingredients:
1 lb. sweet Italian sausages (in franks, not ground)

2 large colored peppers, one red and one orange or yellow

3 T. olive oil

1 onion, chopped

1 tsp. minced garlic

1/2 tsp. oregano

1 can no salt added tomatoes

1/4 tsp. salt

dash of pepper

1 T. balsamic vinegar

cooked brown rice pasta or whole wheat pasta
Directions:
Slice the sausages into 1/4 to 1/2 inch slices.

Brown the sausages in a non stick skillet until thoroughly cooked.  Place in bowl and set aside.

Cut the peppers into one inch squares.

Heat the oil in a skillet over medium high heat.

Saute the onion and garlic about 5 minutes.

Add peppers and cook for about 8 minutes, stirring often.

Add the tomatoes, salt, pepper and cooked sausages and simmer for 10 minutes.

Add balsamic vinegar and simmer an additional 5-10 minutes.

Serve over cooked pasta of your choice.