What if I told you that you could have apple pie for breakfast?  And not feel guilty about it?  Or for lunch or a midafternoon snack?  
Well, you can, sort of.  See, this smoothie tastes like apple pie.  But it is simply fruit and surprisingly….a vegetable.  No added sugar, no dairy products.  No guilt smoothie.  At least for me.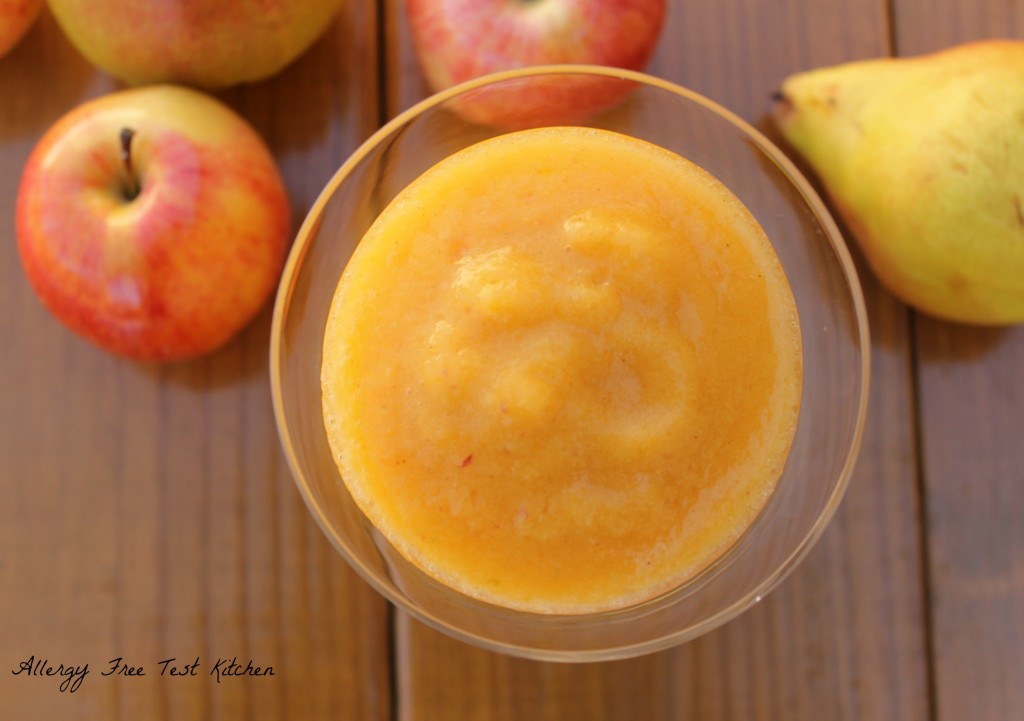 If you read my Savory Butternut Squash Soup post, you will remember I promised a delicious way to use any leftover squash you may have.  Well, now I deliver.  Yes, the surprising vegetable of choice in this smoothie is squash!  No one will know any different.
If you like this recipe, please like my Facebook page, follow me on Twitter or Pinterest, or subscribe to Allergy Free Test Kitchen.  You can find these buttons in the header.
Apple Pie Surprise Smoothie. Deliciously Surprising.  Surprisingly Delicious.
Also shared at Make Your Own Monday , Slightly Indulgent Tuesday, Gluten Free Friday, and Wellness Weekend and Whole Foods Friday, Healthy Vegan Friday. And Whole Foods Wednesday.

Apple Pie Surprise Smoothie
Ingredients:
3/4 cup cooked, mashed, butternut squash

2 apples, chopped

1 pear, chopped

1/8 tsp. cinnamon

3/4 cup apple juice
Directions:
Put all ingredients in blender and blend until smooth.