I love my crockpot.  If you do not have one, you need one!  And if you have one and never use it, you are missing out.  There is no need to buy a fancy one.  One with simply a low and high setting is all you really need.  I have one that is called "smart" because you can set it for a certain amount of hours and then it will turn itself off, but I never use that.
The great thing about crockpots is that it makes meal making so easy.  The recipes are often delicious.  If you are doing your meat dish in the crockpot, you can put more time towards a dressier vegetable or dinner roll in the evening hour.  You can also make one pot meals, soups, or stews in the crockpot.  A crockpot is the only way I do a roast.
I really use my crockpot quite a bit.  I haven't shared many of the recipes here because while they are yummy, they are not necessarily photogenic.  But today I bring you a recipe for mushroom chicken and rice.  If you love chicken and mushrooms you will love this.  The extra sauce tastes great over the rice.  Add your vegetable of choice and there is a fast and healthy meal!  And happily…it's naturally allergy friendly!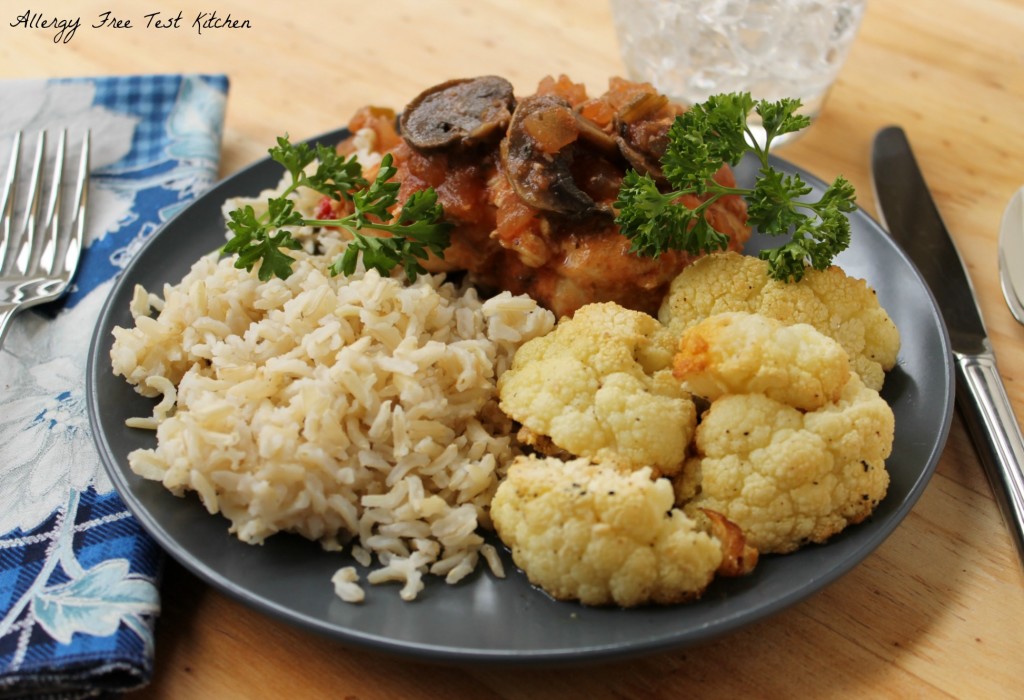 Also shared at Allergy Free Wednesday, Allergy Friendly Friday, Real Food Wednesday, and Hunk of Meat Monday and Mom's Test Meal Monday.

Mushroom Chicken and Rice
Ingredients:
4-6 boneless chicken breasts

16 oz. tomato sauce

1 8oz. package fresh mushrooms, sliced

1 10-12 oz. package of frozen onions and peppers seasoning blend

2 tsp. Italian seasoning

2 tsp. minced garlic

1/4 cup water
Directions:
Trim fat off of chicken.

Brown chicken in skillet on stove on both sides of breast.

Place chicken in bottom of crockpot.

In a bowl, mix the tomato sauce, fresh mushrooms, frozen vegetables, Italian seasoning, garlic and water.

Pour over the chicken.

Place cover on crockpot and cook on low for 4-5 hours.

minutes before crockpot is finished cooking, cook brown rice

Serve chicken breasts alongside or on top of rice. Top rice with extra sauce if desired.