Every kid likes mac and cheese, right?  And let's admit it folks…adults do too!
And I admit I used to buy the boxed kind.  Only, I was too cheap back then to even spring for the Kraft!  I still try and watch the grocery bill.  Who doesn't these days?  But cooking allergy free also means an increased grocery bill whether you like it or not.  I'm getting used to the higher prices of allergy free cooking.  All this to say the homemade macaroni and cheese is more expensive when you add in dairy free cheese and gluten free pasta, but it is worth it to sit down to some yummy, creamy, "cheesy" mac and cheese that you and your children will eat.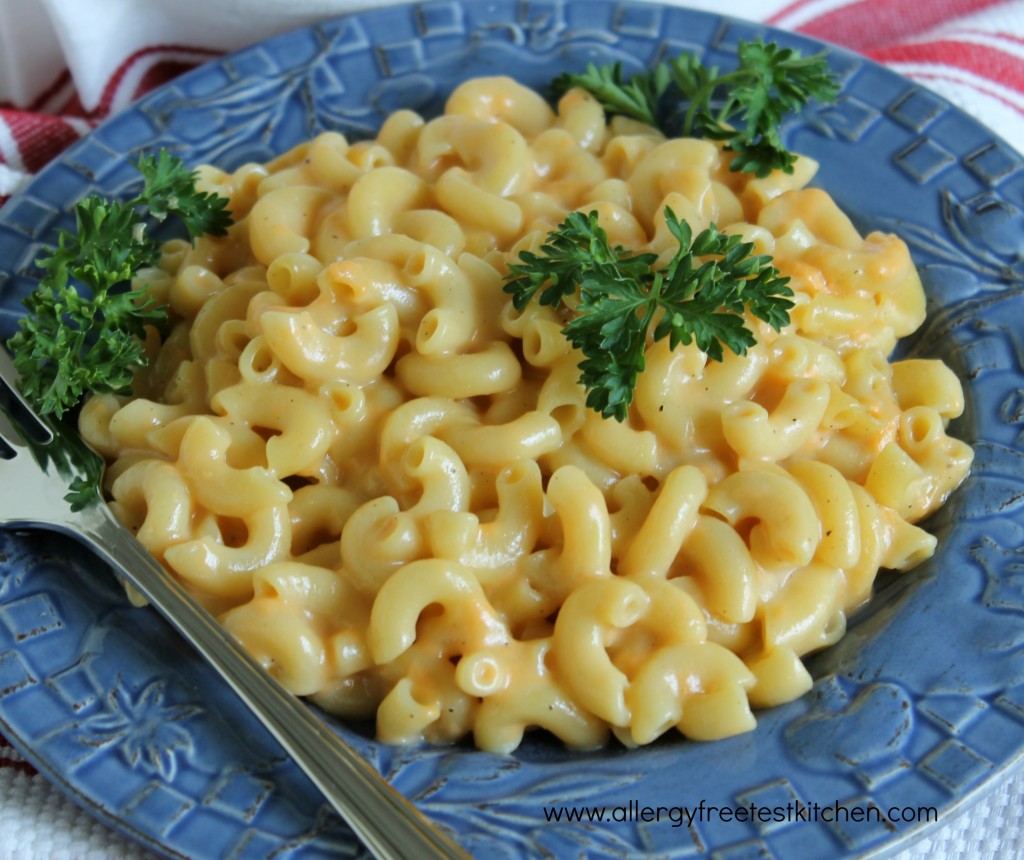 Honestly, I cringe at the thought that I used to make and serve the boxed kind of macaroni and cheese.  There isn't a whole lot of nutrition in those boxes and back then I thought I was doing good to buy the white cheddar kind because it lacked the yellow food dye in the regular kind.  Now, I will admit that even this allergy free version of macaroni and cheese cannot really qualify as a health food.  But it's got to be a little better.  After all, the cheese I use is cholesterol and trans fat free.  That's got to count for something right?
So, get back to enjoying some macaroni and cheese, please? And if you are not on allergy free diet, won't you give making a homemade version a try?  If you look in the recipe below you will notice it is written for either allergy free or "regular."  And trying to keep it honest here….I adapted this from Betty Crocker's Cookbook, but did make 6 changes.
Shared also on Cybele Pascal's Allergy Friendly Friday and Allergy Free Wednesday.
Also shared at Melt In Your Mouth Monday and Mom's Test Meal Monday.

Dairy, Soy, and Gluten Free Macaroni and Cheese
Ingredients:
2 cups uncooked gluten free elbow macaroni (or whole wheat macaroni)

1/4 cup dairy and soy free margarine (or butter)

1/4 cup brown rice flour (or whole wheat flour)

1/2 tsp. salt

1/4 tsp. pepper

1/4 tsp. ground mustard

1/16 tsp. onion powder

1/16 tsp. garlic powder

2 cups rice milk (or cow's milk)

2 cups dairy and soy free cheese-preferrably Daiya (or cheddar cheese)
Directions:
Cook macaroni according to package directions.

Preheat oven to 350 degrees.

Melt margarine in large saucepan over low heat. Stir in flour and spices.

Cook over low heat, stirring constantly, until smooth.

Remove from heat and add rice milk. Put back on stove and heat to boiling stirring constantly.

Boil and stir one minute. Remove from heat.

Add cheese and stir until melted.

Drain macaroni and gently stir it into the cheese mixture.

Pour into ungreased 2 quart casserole dish and bake uncovered 20-25 minutes.