I know that for many people, when they hear "spinach" they think either "yuck" or "Popeye," and "makes you strong."  Well, if you are eating canned or frozen spinach I can see where the "yuck" might factor in.  But by buying fresh spinach you can toss that excuse out the window.  And let's clear up the whole Popeye thing.    Yes, spinach is good for you which we'll get to in a little bit.  But I think the whole "Popeye/strong" thing probably started with folklore as I found out when I did a little research.  You see, it is often thought that spinach is very high in iron.  While it is higher in iron than other greens, it's really not as high as once thought.  It so happens that back in 1870 when a Dr. Even Wolf measured the iron in spinach he then put the decimal point in the wrong spot.  His mistake was not uncovered for 67 years.
So what is so great about spinach?  Well, it is high in Vitamin A, C, E, K, and B6.  It is a natural source of calcium (a must for anyone on a dairy free diet), along with other vitamins and minerals, not to mention that it is a good source of fiber.  And we could probably all use more fiber in our diets.
Well, here is a great way to get your spinach on and one that I'm pretty sure children will like as well.  I dreamed it up after buying a bottle of raspberry vinaigrette dressing and it stood in my cupboard for while with me not sure what to do with it.   Then it popped into my head.   What better way to eat greens than with fruit in it?  Tell me, did you try this and did your kids eat it?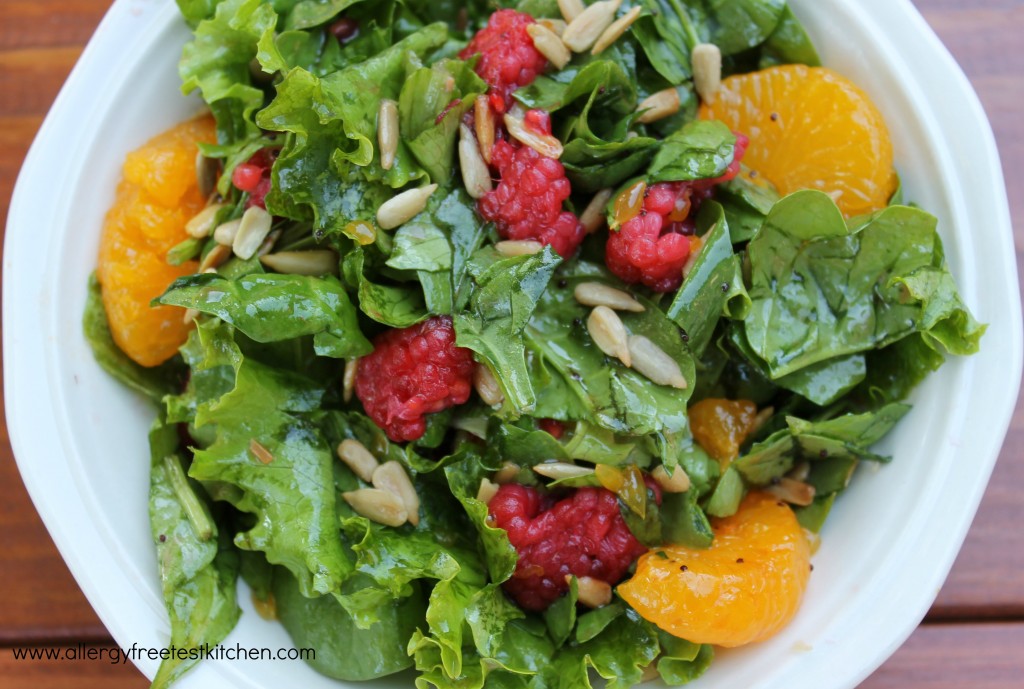 Shared also at Raw Foods Thursday at www.glutenfreecat.com and Wellness Weekends.
Shared at Slightly Indulgent Tuesday . Mostly Homemade Mondays.

Raspberry Spinach Salad
Ingredients:
3 cups torn spinach

1 1/2 cups torn leaf lettuce

1 cup fresh raspberries

1 11oz. can mandarin oranges, drained

1/4 cup sunflower seeds

1/4 cup soy free raspberry vinaigrette dressing
Directions:
Toss the first 5 ingredients in a large bowl. Add dressing and toss again. Serve immediately.