In April 2012 I attended the Nourished Food Bloggers Conference in Chicago.  I did not have a food blog at the time, but I was eager to get one going.  This was just the event to get me started.  It was a wonderful experience and I met many wonderful food bloggers and heard informational and exciting sessions.
One woman I ate lunch with was Colette Martin.  She was fun and such an engaging person.  She really encouraged me to get started and asked what was holding me back.  She had great advice and knew just what to say.  She even sought me out later to talk a little more.
Shortly after the conference her first book Learning to Bake Allergen Free was released.  When I first opened the package from Amazon I thought, "Wow, this is heavy."  That is because this is no ordinary cookbook.  The first 85 pages are a resource for learning all about the science of baking, why "regular" ingredients such as milk and eggs and wheat are used, and how to replace them.  I found this fascinating. 
The rest of the book is recipes interspersed with "crash courses" about topics similar to the ones found in the first 85 pages.    I personally find the layout a bit confusing, but still the crash courses are very informational.  The recipes are divided differently than I have seen in other cookbooks as well.  This part may take some getting used to.
I have only tried a handful of the recipes…the blueberry muffins, chocolate chip cookies and maybe one or two more. I just do not have enough time to try everything I want to! One recipe that intrigued me was the sweet potato dinner rolls.  However, not everyone in my family loves sweet potatoes as much as me.  So I found a way to make them using instant mashed potatoes.  I emailed Colette recently to ask her permission to blog about this and she was very eager for me to do so.  She blogs at Learning to Eat Allergy Free and you can learn more about her book there.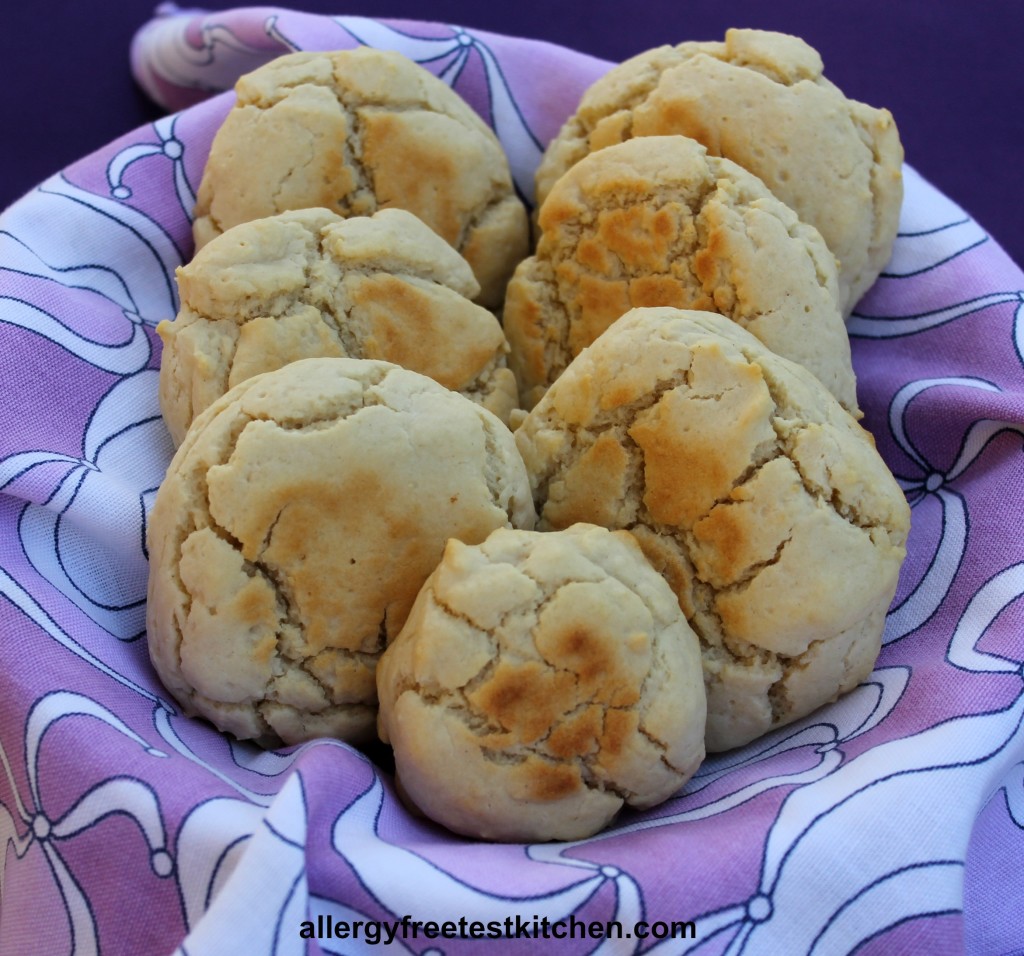 So without much further ado…here is the adapted recipe.  I halved the recipe because I found these make a large batch, yet dry out in the freezer so I wanted a smaller version.  And I used instant mashed potatoes instead of sweet potatoes, and rice milk instead of hemp milk, and added a little starch.

Mashed Potato Biscuits
Ingredients:
1/3 cup water

1/2 T. dairy free/soy free margarine or butter

5 T. rice milk or cow's milk

1/3 cup instant mashed potato flakes

1/3 cup millet flour

1/2 cup + 5 T. King Arthur Flour Gluten Free All Purpose Flour

1 T. cornstarch

1/4 tsp. xanthan gum

1 1/2 tsp. baking powder

1/2 tsp. salt

4 T. soy free shortening

1/3 cup rice milk

1 T. water
Directions:
Preheat oven to 375 degrees and line cookie sheet with parchment paper.

Place 1/3 cup water and margarine in microwave for 1-2 minutes on high.

Add milk and instant mashed potato flakes. Mix well and set aside.

In a bowl, whisk the flours, cornstarch, xanthan gum, baking powder and salt. Set aside.

Using a stand mixer, combine shortening and rice milk.

Slowly add the mashed potatoes and mix another minute or two.

Slowly add the dry ingredients and blend until mixed well.

Add 1 T. water. Mix a bit more.

Wet hands and the inside of a 1/4 cup dry measuring cup.

Using the measuring cup scoop up 1/4 cup of the batter, and flip out onto wet hands.

Shape in circle and place on parchment paper.

Rewet inside of cup and hands and repeat until all batter is used up.

Bake for 10 minutes. Flip over and bake an additional 10 minutes.