One of my local news channels used to have a segment called Deal or Dud. They would investigate and review products and let the consumer know whether it was worth buying or not.
Well, cookbooks can definitely fall into a deal or dud category. And I love using the library to scout out cookbooks before deciding if I should buy them or not.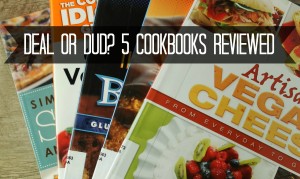 I reviewed five gluten free and allergy friendly cookbooks for the blog My Life With Food Allergies. In this article you will learn about these cookbooks:
Simply Sugar and Gluten Free
The Complete Idiot's Guide to Gluten Free Vegan Cooking
The Allergy Free Cook Bakes Bread
The Allergy Free Cook Bakes Cakes and Cookies
Artisan Vegan Cheese
Are they deals or duds? You have to read here to find out!