Part of eating "free" is making your own food, a lot. And we're better for it…less chemicals, preservatives, food dyes, fake sweeteners, and high fructose corn syrup, what have you. So today it's another "make your own post."
Enter: cherry pie filling.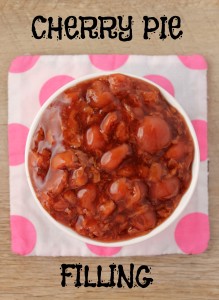 I did not use this to make a pie, so I'm not sure how it works in that application. However, I used this pie filling in a salad/dessert type dish. And it worked wonderfully.
I love it because it's easy and free of the bad stuff. I adapted it from Carol Fenster's Cooking Free cookbook to be refined sugar free. Even better!
When buying your can of cherries, make sure you are buying tart cherries packed in water. The ingredient list should have only two ingredients: cherries and water; none of this "heavy syrup" stuff. That would totally be defeating the purpose of making your own, healthier, refined sugar free, version.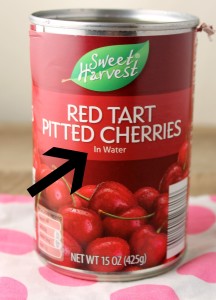 So, without further ado….cherry pie filling you can feel good about.
Also shared at Allergy Free Wednesday. Gluten Free Wednesday. Real Food Wednesday.

Cherry Pie Filling
Ingredients:
1 can (15 oz.) red tart cherries packed in water

1 T. tapioca starch

2 T. coconut sugar

1 1/2 tsp. vanilla

1/4 tsp. salt

18 drops liquid stevia
Directions:
Drain cherries, reserving 1/4 cup of the cherry water.

Mix the reserved cherry water with the 1 T. starch.

Place cherries, starch mixture, and the rest of the ingredients into a small saucepan.

Cook over medium heat, stirring frequently, until thickened.

Use in place of canned cherry pie filling.