Party Mix! Does it grace your cupboards and counters at this time of year? Or maybe it's a year-round snack for your household.
No matter what….try this new version for your New Year's Party or low-key movie night.
Original Party Mix is oil, Worcestershire sauce, and garlic and seasoning salt. This NEW version is slightly different, but just as tasty…maybe even more so!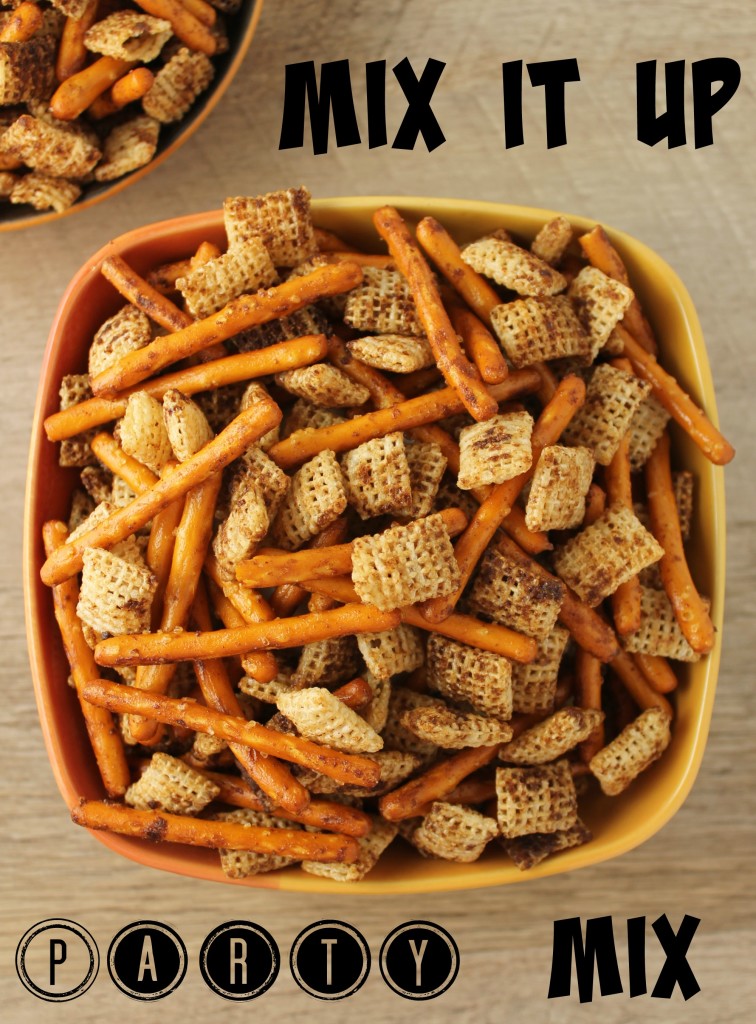 The great thing about this snack mix is that it is pretty interchangeable to suit dietary needs. I used generic gluten free rice squares (like Chex) and gluten free pretzels from Aldi. If you can tolerate corn, go ahead and add some corn squares.   Leave out the pretzels, or use "regular" if you can tolerate gluten. Same goes for the flavoring…use any nut butter or sunflower seed butter you can have and use coconut aminos for a soy free option in place of the soy sauce.
No matter, this is sure to please and go quickly! So double up or triple the recipe to make sure you have enough for everyone!
Also shared at Gluten Free Friday.

Mix It Up Party Mix
Ingredients:
3 T. oil

1. T. peanut butter, nut butter or sunflower seed butter

2 T. soy sauce (or coconut aminos)

1 tsp. coconut sugar

1/2 tsp. garlic powder

1/2 tsp. dry, powdered mustard

1/2 tsp. dry, powdered ginger

4 cups rice squares (or corn squares, or mixture of both)

2 cups gluten free pretzels or regular pretzels
Directions:
Preheat oven to 250 degrees.

In a roasting pan, place the first 7 ingredients.

Place pan in oven for about 5 minutes.

Remove pan from oven and stir in cereal and pretzels.

Bake for 30 minutes total, stirring every 10 minutes.

After 30 minutes, remove pan from oven.

Cut open a paper grocery store bag and lay flat. 

Spread mix onto paper bag to dry.

Store in air-tight container.