Independence Day is just around the corner!  Why not start the day out with this delicious and easy Red and Blue Breakfast Cake.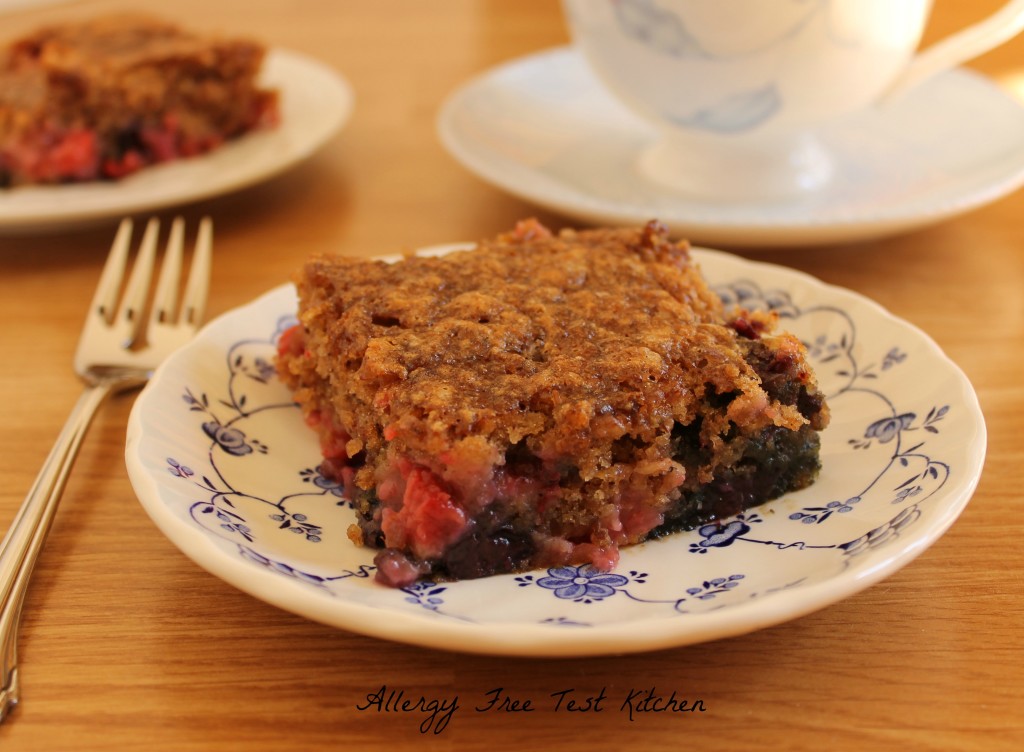 It's not just for breakfast either!  Enjoy for brunch, mid-afternoon snack, dessert, or late evening treat!
Red and Blue Breakfast Cake was inspired by a recipe I found in the June 2013 issue of Martha Stewart Living magazine.  I made it gluten free, allergy free and better tasting I dare bet.
This cake is very moist and 'short'.  It is supposed to be, so do not worry that you may have done something wrong.  It's best tasting this way.  I used Bob's Red Mill All Purpose Gluten Free Flour Blend.  Don't be freaked out by this.  This cake doesn't have any "beany" flavor.  I suggest you use this flour and not tweak the recipe.  I determined this flour was best and the measurements are based off of weight, not volume.  (Make sure to spoon your flour in the measuring cup, not scoop).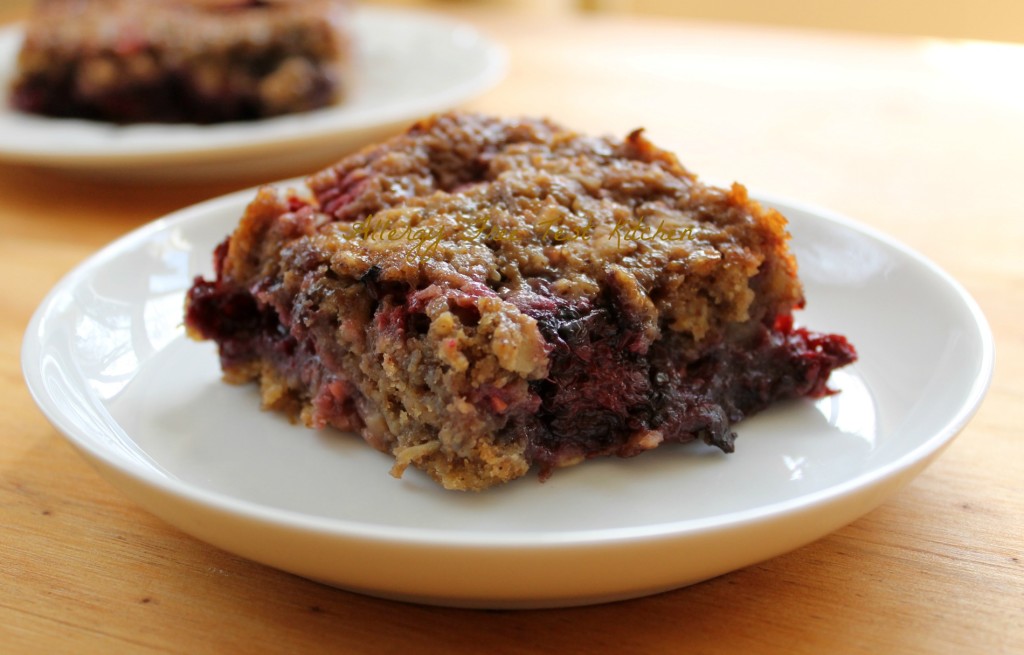 This is seriously a great cake.  It gives "gluten free" a good name.  It has fast become a family favorite. With oats, raspberries, and blackberries it has a fair amount of fiber and antioxidants making it fairly healthy.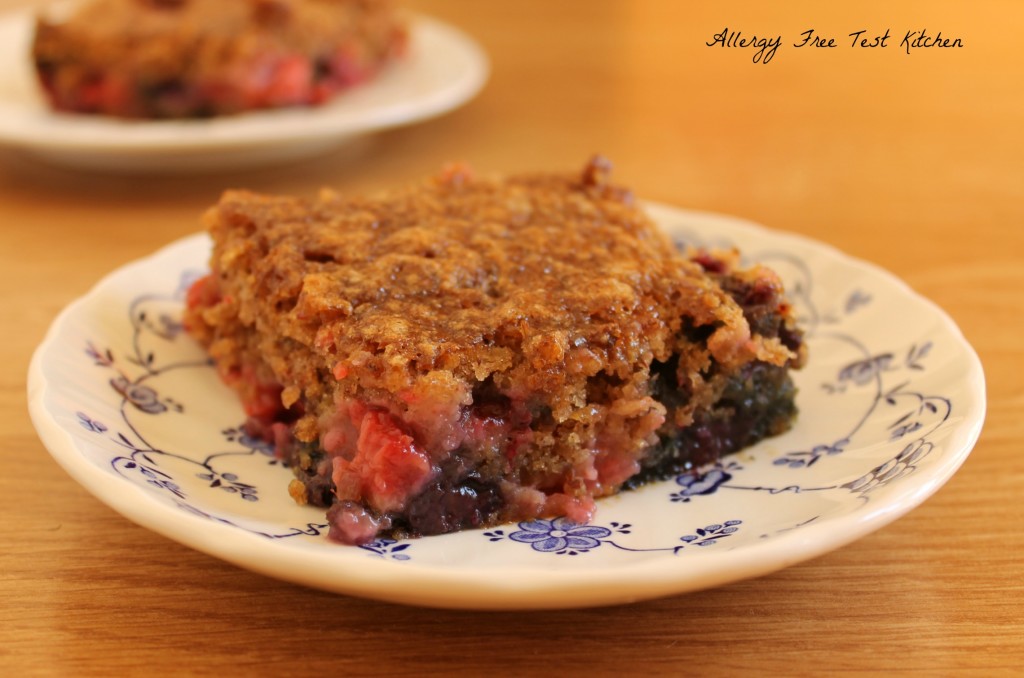 I would love it if you would "pin it," "like it," and/or "tweet it."  And don't forget to follow on Pinterest or like Allergy Free Test Kitchen so you do not miss other great posts and recipes like this one!
Also shared at Slightly Indulgent Tuesday . Allergy Free Wednesday . Gluten Free Wednesday .

Red and Blue Breakfast Cake
Ingredients:
1 cup gluten free oats

2/3 cup water

1 T. flax meal

3 T. water

3/4 cup Bob's Red Mill All Purpose Gluten Free Flour Blend

1/2 tsp. xanthan gum

1/2 tsp. baking soda

1 1/2 tsp. baking powder

1/2 tsp. cinnamon

1/2 tsp. salt

4 T. dairy and soy free shortening (or regular shortening)

1/2 cup white granulated sugar

1/2 cup brown sugar

1 tsp. vanilla

1 cup raspberries

1 cup blackberries
Directions:
Preheat oven to 350 degrees.

Combine oats with the 2/3 cup water and let sit 5 minutes

Combine flax meal with the 3 T. water in a separate bowl and let sit.

In another bowl whisk together flour, gum, soda, baking powder, cinnamon and salt.

In a large bowl combine shortening with sugars.  Add vanilla.

Stir the flax mixture and add to the shortening and sugar mixture.

Add the flour mixture and stir. 

Add the soaked oats.

Gently stir in both berries.

Spray an 8×8 pan with cooking spray.  Spread the batter into pan.

Bake for 40 minutes.

Serve warm or cold.