Today I bring you Oatmeal Cranberry Cookies-Allergy Free. Yep, that's right!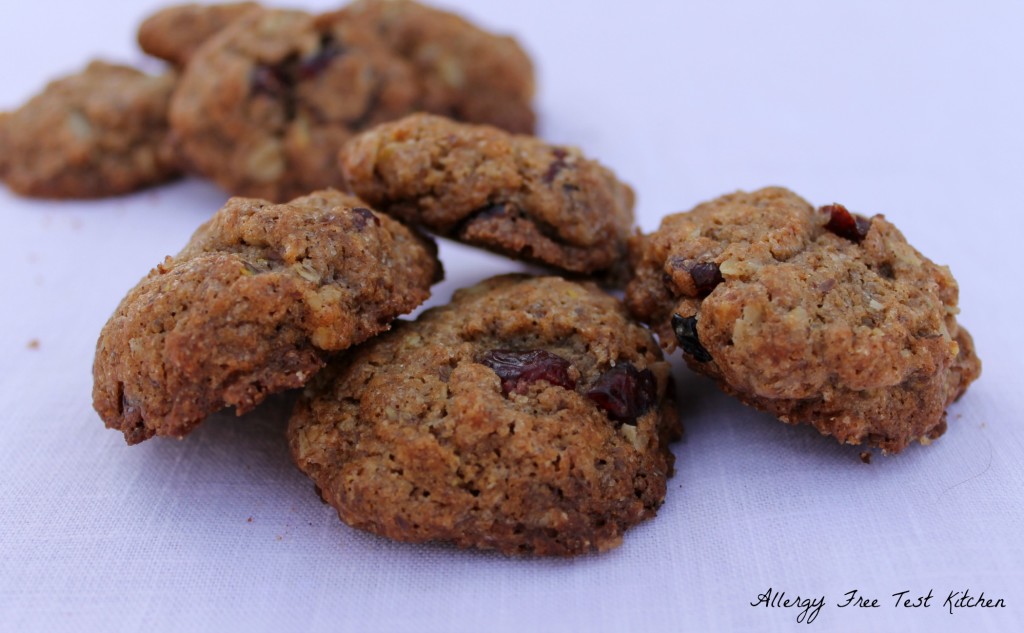 I adapted this recipe from my Babycakes Covers the Classics cookbook by Erin McKenna. I'm sure you'll enjoy them as much as we do.  They are simple and easy to prepare.  Enjoy!
Also shared at Slightly Indulgent Tuesday . Gluten Free Friday . Allergy Free Wednesday.

Oatmeal Cranberry Cookies
Ingredients:
1 3/4 cups Bob's Red Mill All Purpose Gluten Free Flour

1 cup sugar

1/2 cups gluten free oats

1/4 cup flax meal

1 T. cinnamon

1 1/2 tsp. xanthan gum

1 tsp. baking soda

3/4 tsp. salt

1 cup canola oil

1/2 cup applesauce

1 T. vanilla

3/4 cup dried cranberries
Directions:
Preheat oven to 325 degrees and line cookie sheets with parchment paper.

In a bowl, whisk the first 8 ingredients together.

In a different bowl, combine the oil, applesauce and vanilla.

Pour wet ingredients into dry and mix well to incorporate.

Gently fold in cranberries.

Place by spoonfuls onto cookie sheets.

Bake for 15 minutes. 

After baking, let stand on cookie sheets for 5 minutes before removing to cooling rack.