While surfing the internet, I stumbled upon Allergic Solution, A Premium Allergen Free Food Products Company.  I contacted them and they sent me 4 packages of their products to try.  The opinions below are strictly mine and my family's. 
Before we get to that let's talk a little about Allergic Solution.  This company creates foods that are high fiber and high in nutrients while having a low glycemic index.  Most prepackaged gluten free, allergy free foods are high in sugar and other "white" flours.  Not so with Allergic Solution.  They are sugar free…so you can add as little or as much sugar as you want too.  The production facility is dedicated to allergen free food production and they take allergies seriously to ensure cross contamination does not occur.  The products are free of dairy/casein, wheat/gluten, soy, peanuts, tree nuts, eggs and corn, although they do contain xanthan gum.
So let's get started.  First up, we tried the Pancake and Waffle mix.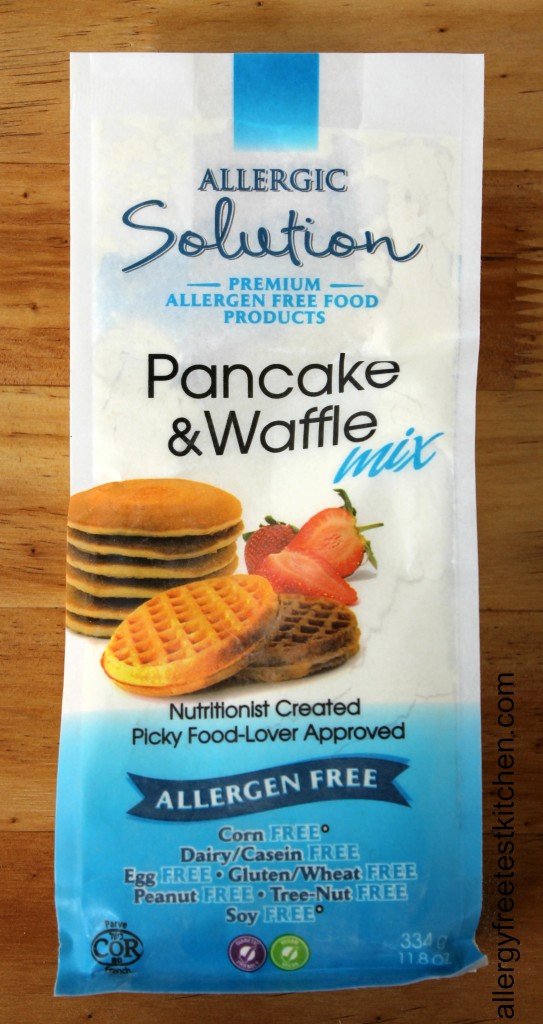 I followed the directions they provided to make them egg free.  They were light and fluffy and they actually turned out round!  (I rarely have perfectly round pancakes).  They tasted like an ordinary pancake to us (although it's been a long time since we have had wheat pancakes).  They were filling.  I didn't need a snack that morning.  If you can tolerate eggs you can make them with eggs just as easily.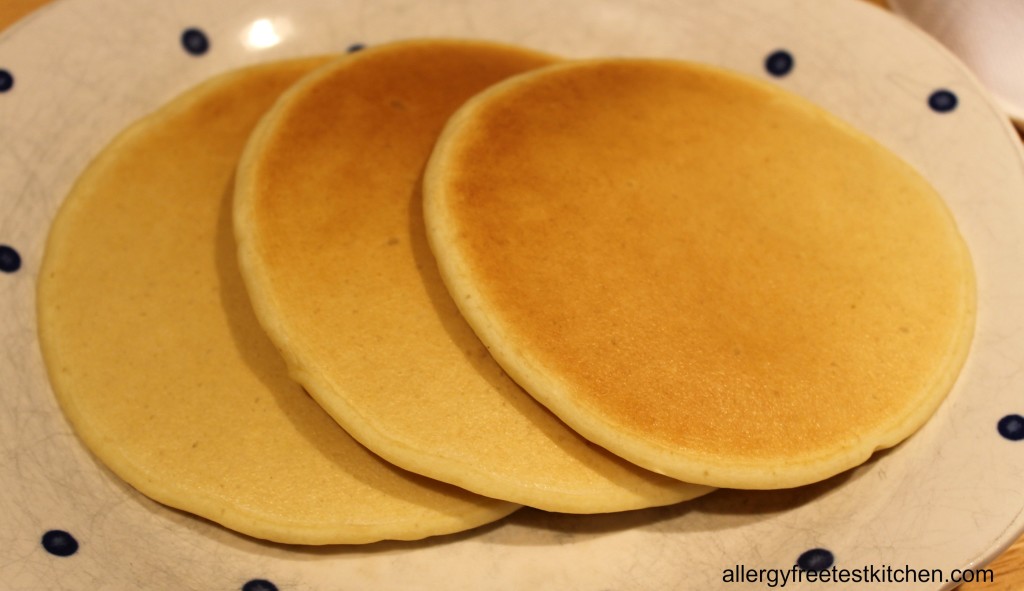 Secondly, we tried the Carob Cake mix.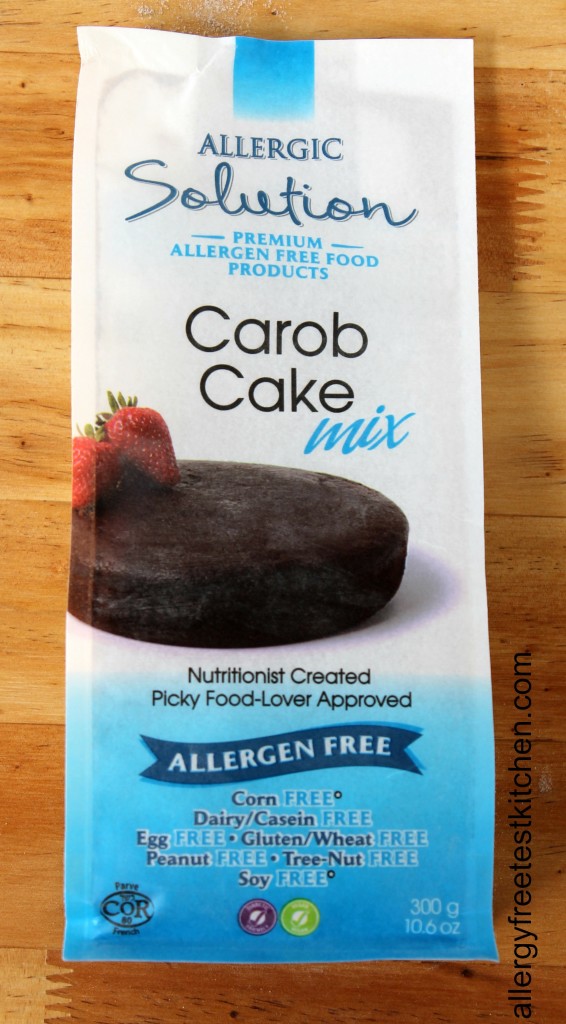 I was impressed before it even finished baking.  I looked in the oven and it was tall and rounded.  After baking I cooled it about 5 minutes in the pan before turning out to cooling rack.  It remained rounded and tall.  It did not get flattened or sunken in.  It did not crumble or fall apart.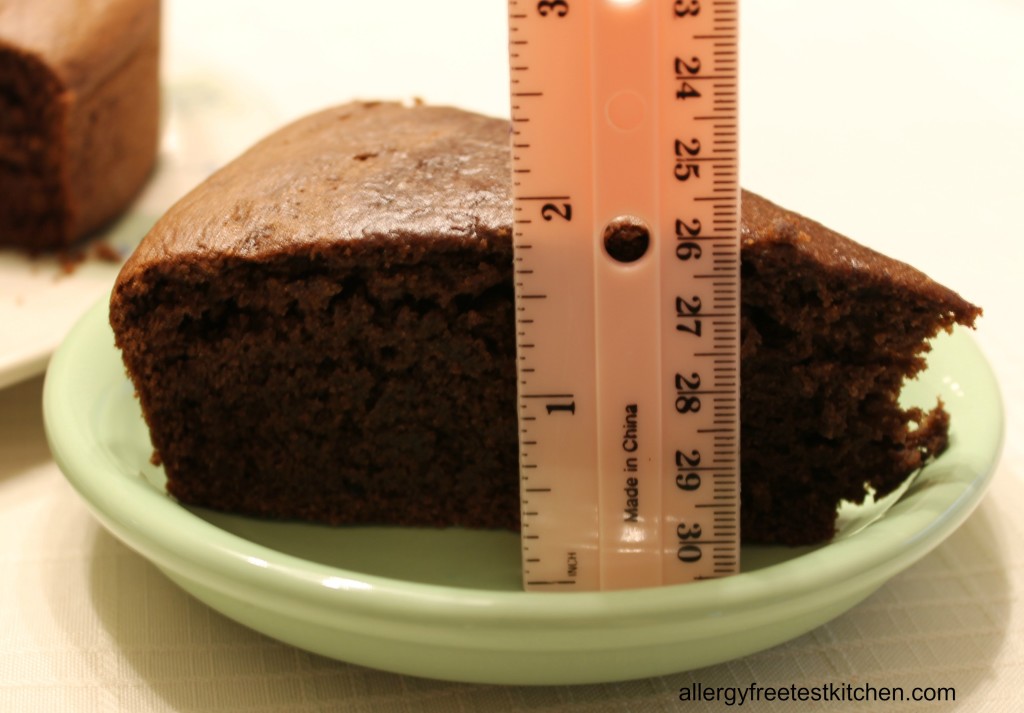 Eating it was even a bigger treat!  It was delicious!  Our conversation went something like this.
"Wow, I'm impressed, this is really good."
"I know, I was leery at first, but this is one of the best chocolate cakes I have ever had!"
"It doesn't taste 'allergy free' at all."
"They should call it premium, it's so good."
"They do. See here on the package…Premium Allergen Free Food."
It went on like that.  And this cake stays moist too.  I had it uncovered most of the afternoon and we ate it in the evening.  It was very moist.  I had it on a plate and simply covered it with foil late evening.  The next morning I thought I should cut it up and put it in a covered container because gluten free foods often dry out.  But it was still moist as ever.  24 hours later and we ate it again and it was still moist and just as good as the night before. 
This cake mix allows you to add the amount of sugar you want.  I added ¾ cup granulated white sugar.  I did not frost it and it was very good just as it was.  I also sprinkled a little bit with powdered sugar, more for looks than taste.  If you added frosting, this would be really decadent.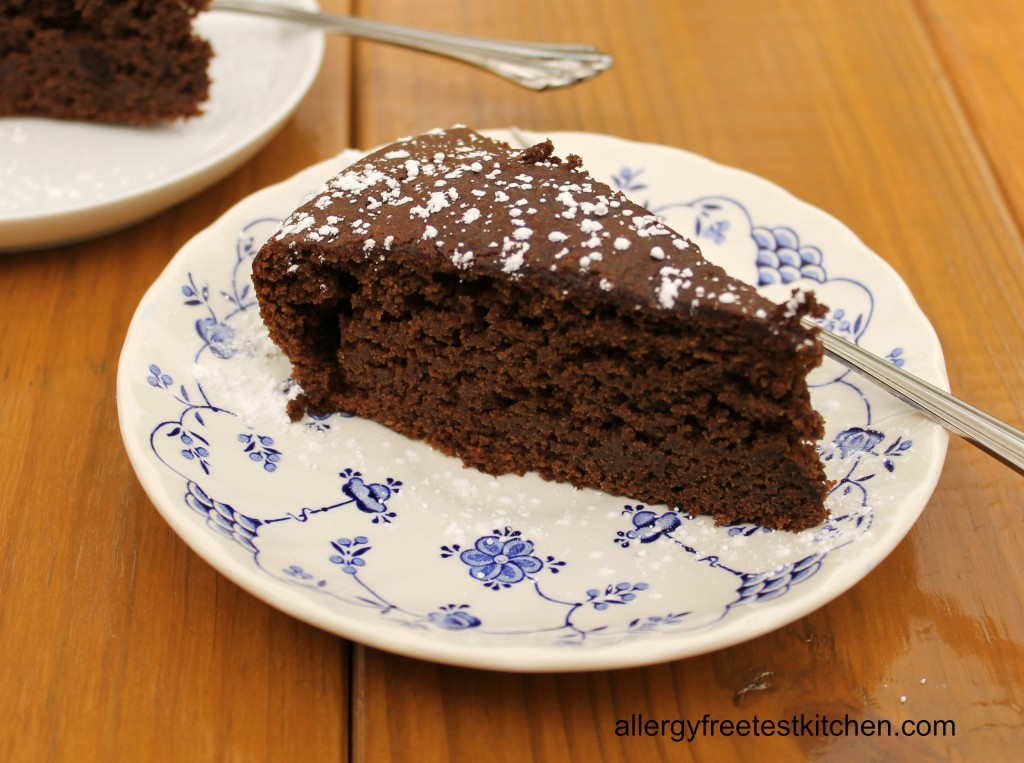 Next up we tried the Yeast Free Bread Mix.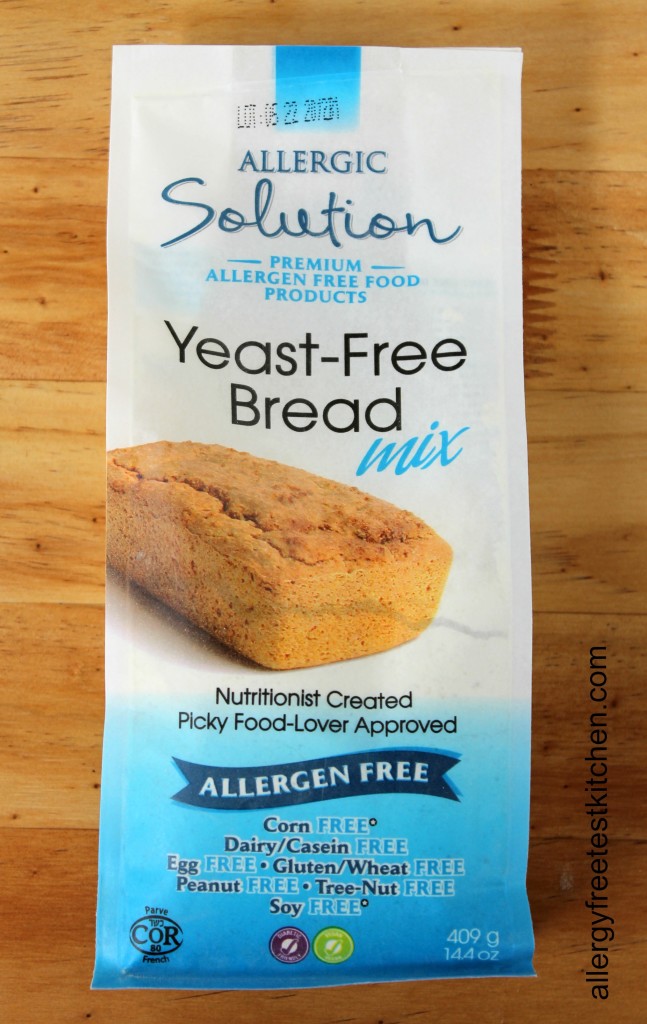 To us, this is more of a bread to accompany a meal; something to eat with a hearty bowl of stew or soup.  It did rise, but was a little on the dense side, but the texture quite good for being gluten free, egg free and yeast free.  It has a distinct flavor that I'm not sure would be for everyone. It tasted best to us with strawberry jam on it.  If you are looking for a good gluten free yeast free bread to make a turkey sandwich with lettuce and tomatoes on it, this is not that bread.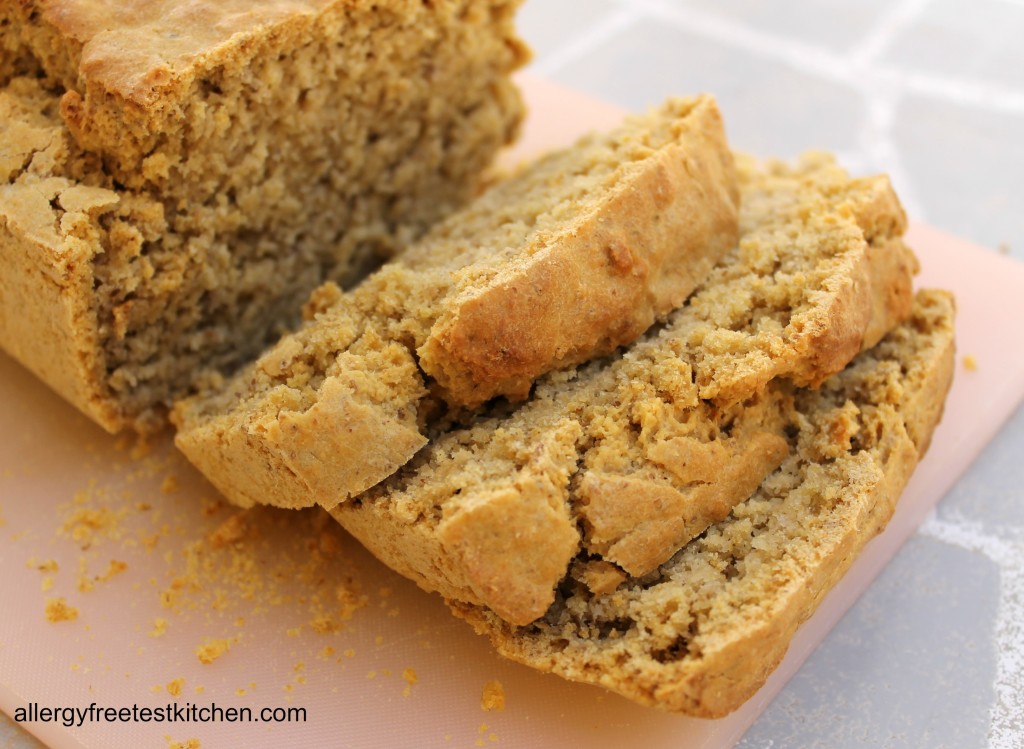 Lastly, we tried the vanilla cake mix.  In my head this is a "yellow" cake mix.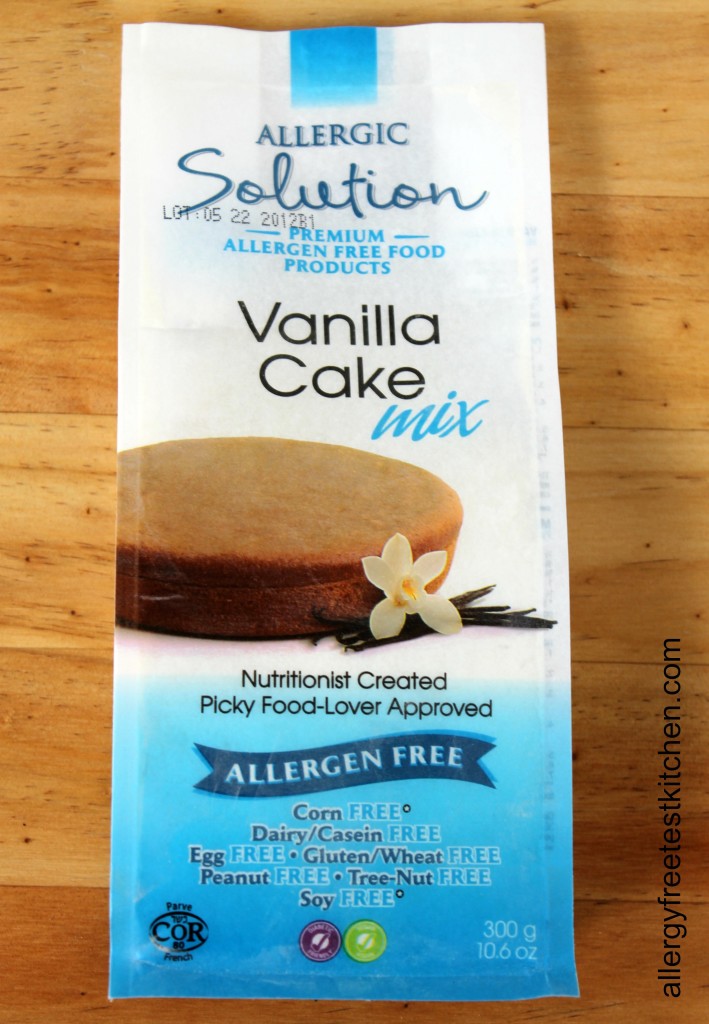 I followed the directions to the tee and like the chocolate cake you add your own sugar.  I added ¾ cup white sugar.  It was rounded and "rose" although not as much as the chocolate cake.  It was a little more dense than the chocolate cake, but don't get me wrong…it was not heavy.  I frosted it with chocolate frosting and it was really good.  I do think this cake needs a frosting.  And the sooner you eat it the better.  While still good, it was not as good 24 hours later.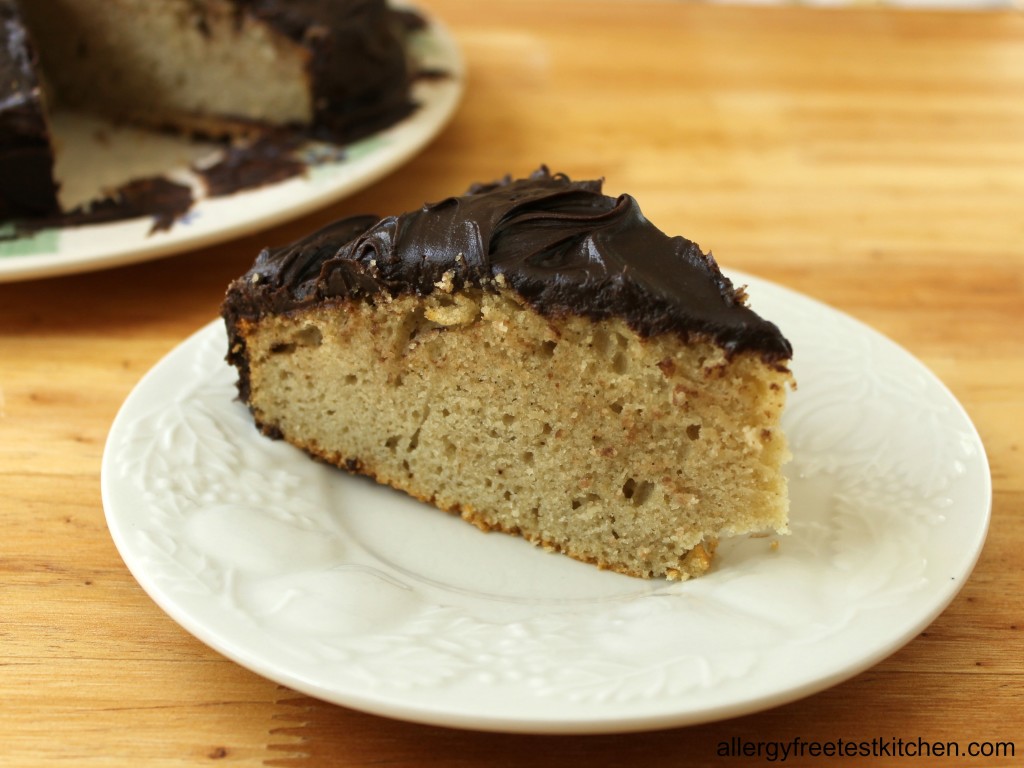 So, our top choice was the chocolate cake, followed by the yellow cake mix, then the pancake and waffle mix and lastly, the bread mix.  But these mixes are not one trick ponies!  These mixes are designed to be used for other baked goods as well.  The pancake waffle mix can be used to make cookies or a coating mix.  The bread mix can be used to make "flavored" breads such as raisin bread.  And the cake mixes can be dressed up to make even fancier cakes.website
Overall, I was very impressed with these products.  For an allergen free line I could tell that top of the line ingredients were used.  If you hate to bake, or do not have time to, these mixes are a great quality option for you.
And thanks Allergic Solution for providing me with your products.  It was a delight to bake with them and fun to try out as well.
Make sure to check Allergic Solution out at their website.  They can also be found on Pinterest and Twitter.