You know how you are supposed to have fish like three times a week or something?  Well, I do not know anyone who does that.  Do you?
I'll be honest here…we maybe eat fish once a month and that only comes in the form of tuna.  I am just not a fish person.  (I do take fish oil…do you think that counts)?  Plus, to get the real good stuff in the supermarket, we're talking a lot of money for just one meal.  Tuna however, is quite affordable.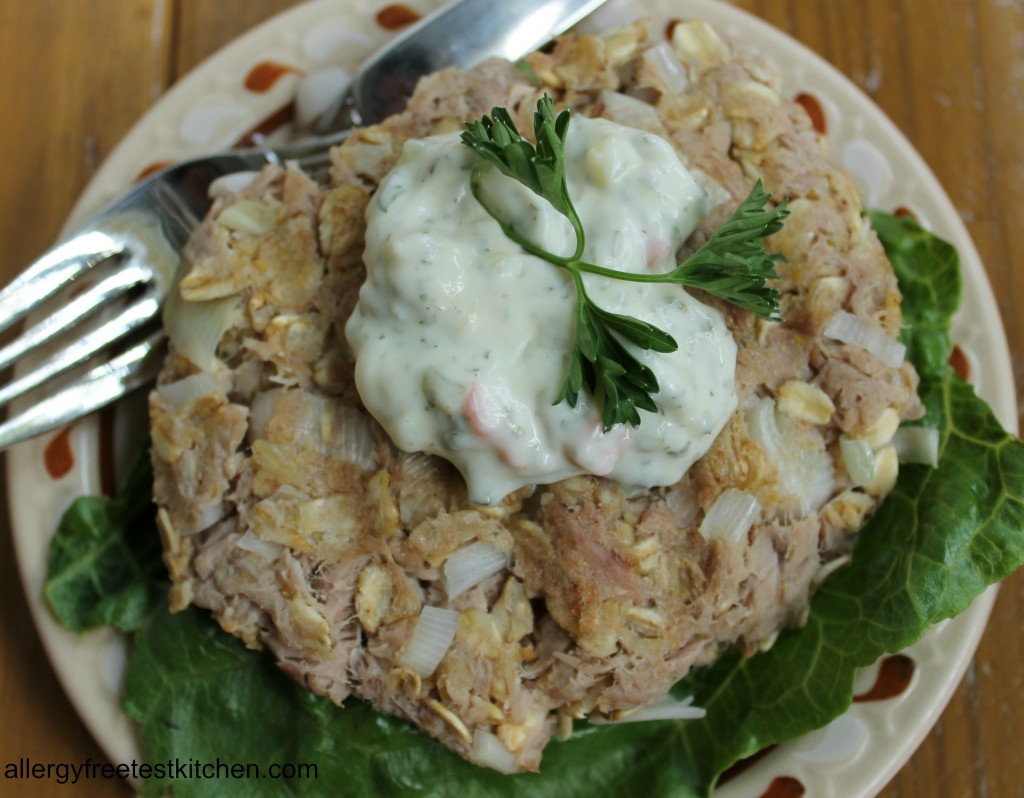 This meal of tuna fish patties is fast and easy.  Most recipes like this call for bread or crackers and eggs to hold the patties together….all things the allergic or food sensitive person may not be able to have.  But I have adapted a recipe for you that is just as good (and probably better I'm guessing). 
One trick I learned is to make these a little bit ahead of time and chill them in the refrigerator for about an hour.  That helps hold them together.  Another trick I use is the George Forman grill.  Since that does not require flipping of the patties, they hold together much better.
Even if you are not a tuna fish fan, you may like these if you slather them with the super yummy tartar sauce I profiled earlier.
I would lover your thoughts.  Feel free to chime in below by leaving a comment.
Also shared at Whole Foods Friday.

Tuna Patties
Ingredients:
15 oz. canned tuna

2 T. rice milk (or cow's milk)

1 T. flax meal mixed with 3 T. water (or one egg)

1 bunch green onions, chopped

3/4 cup gluten free oats (or regular oats)

1/4 tsp. salt
Directions:
Drain the tuna well.

Mix the flax meal and water and let sit for about 3 minutes.

In a large bowl, mix tuna, rice milk, flax meal mixture, green onions, gluten free oats and salt.

Form into 4 large patties.

Chill for about 1 hour before cooking.

Cook on indoor grill such as a George Forman grill or on stovetop with a non stick pan.

Serve with tartar sauce that is safe for you.