It has been a little more than two years since I went off milk and egg products.  Yet, I just now found (or I shall say adapted) a creamy vegi dip.  I have never been one to use a lot of dips, but when you cannot have them all of a sudden you seem to want one.   This is quite easy and tasty; I really do not know what took me so long to get one in my recipe collection.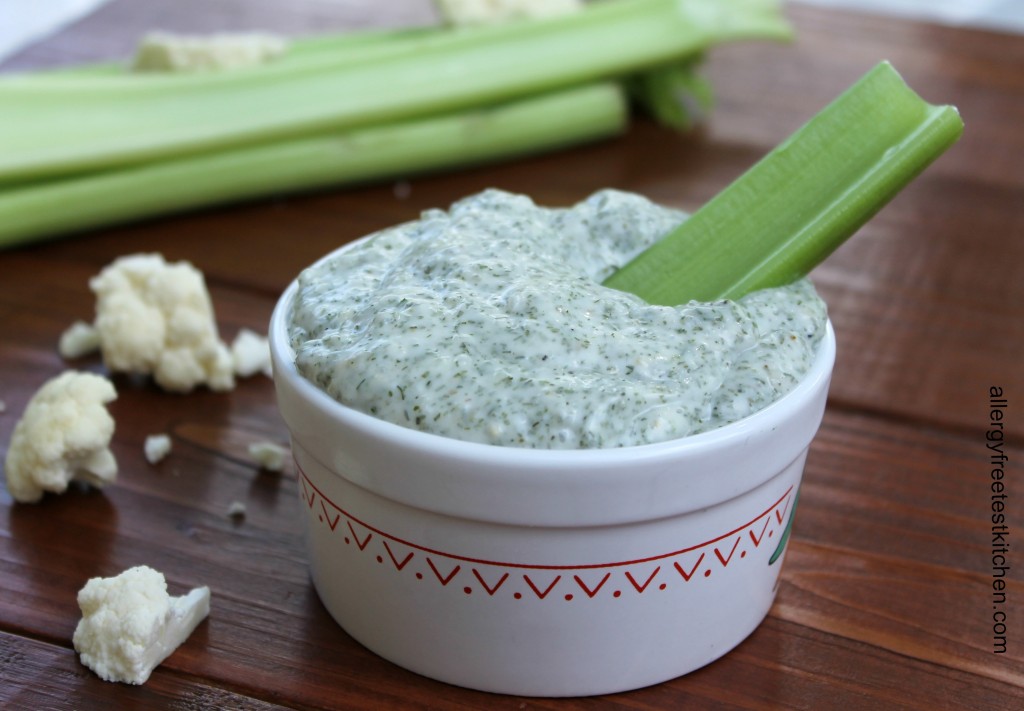 For any of you parents out there, who cannot get your food allergic child to eat raw carrots or broccoli, I think this may be the dip for you.  It is not exactly like Ranch, but it is a close second.
This dip is gluten free, egg free, milk free, soy free, peanut free, tree nut free and still it is mighty delicious.  So what is it made of you might think?  Well, we are talking coconut milk plain yogurt, my favorite Earth Balance Mindful Mayo and a bunch of other little fun surprises to make it the dip you or your child cannot pass up.
Go ahead, whip up a batch and let me know in the comments section below or on the Facebook page what you think.
Also shared at Make Your Own Mondays and Allergy Free Wednesday.

Creamy Vegi Vegan Dip
Ingredients:
1 tsp. olive oil

1 1/2 T. dried minced onion

1 tsp. minced garlic

1/2 cup plain coconut yogurt

1/2 cup Earth Balance Mindful Mayo

2 1/2 T. rice milk

2 T. dried parsley

1 T. dried dill weed

1 T. dried chives

1/2 tsp. salt

1/8 tsp. pepper
Directions:
Place all ingredients in large food processor or blender and process until smooth.

Store in refrigerator.