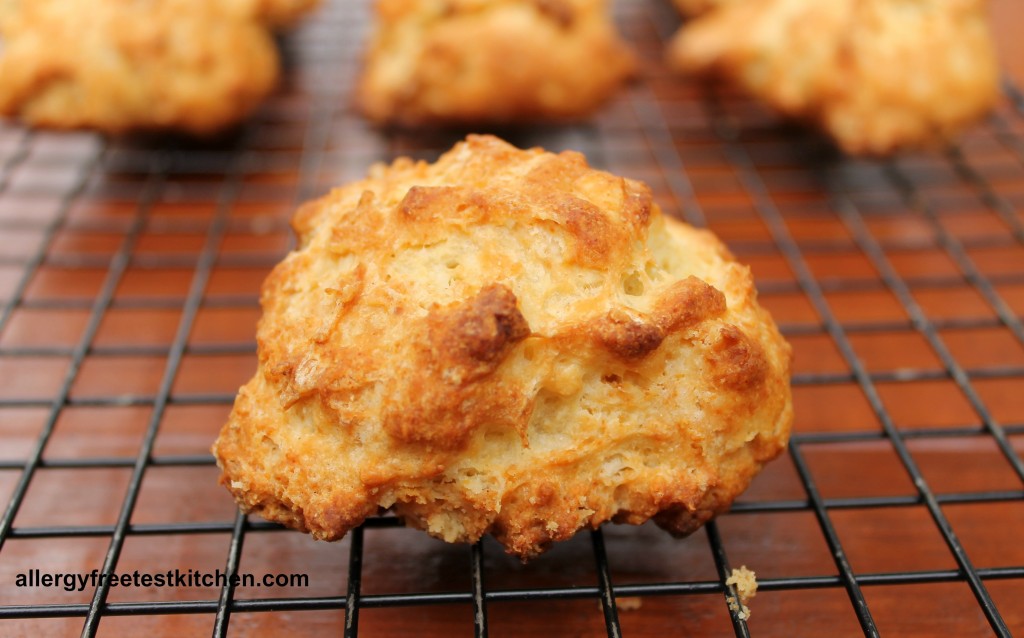 Some meals just need dinner rolls.  You know the kind.  They don't feel like a complete meal without a roll.  Well, for a person on an allergy friendly diet who should not have gluten, or the person on the anti-candida diet or allergic to yeast or just doesn't like yeast, it is pretty hopeless.  Until now.  I wish I could claim this as my own recipe…that is how good it is.  But alas, I am just the person who did a massive internet search and stumbled upon these and slightly adapted them from here.  Anyhow, these delicious dinner rolls do taste like bread and appear "yeasty."   Now, healthwise, I don't think they are the healthiest considering they are mostly starches and some flour.   I kind of consider them the Wonder white bread version of an allergy free roll, because it certainly isn't whole grain.   But every now and again, it's nice to have a quick, easy, gluten free and yeast free dinner roll.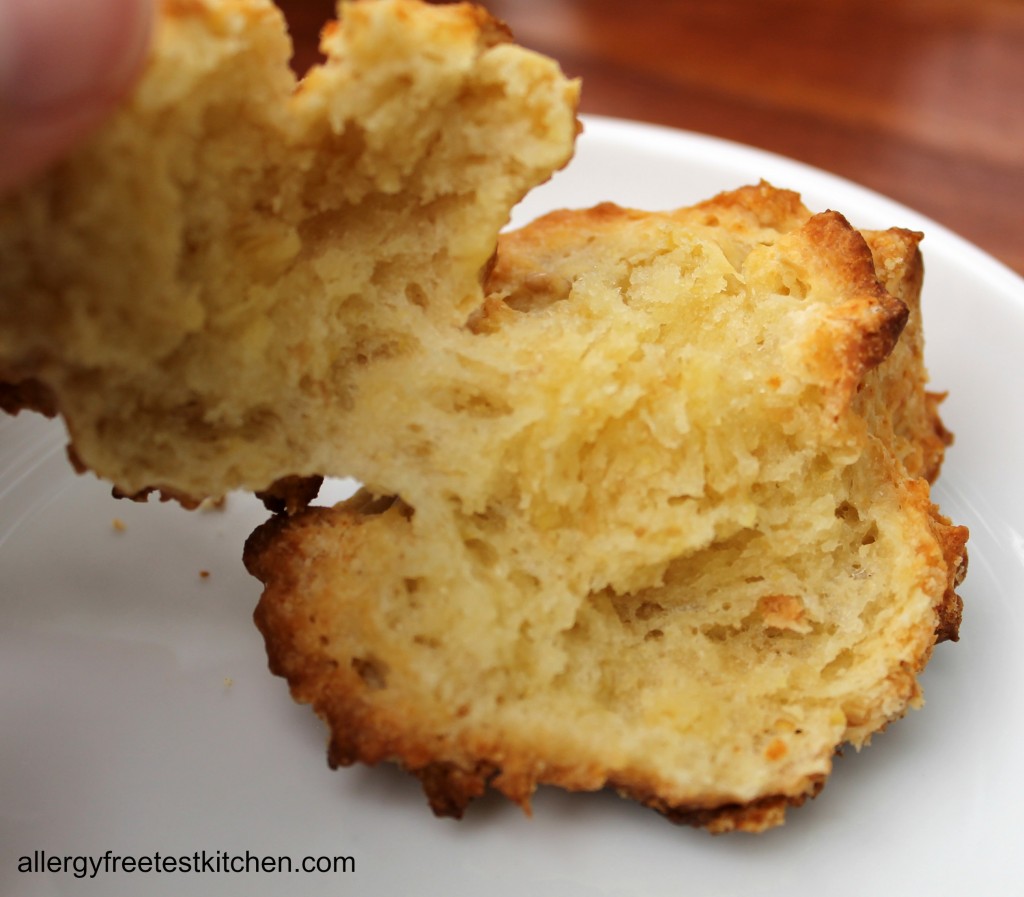 I do find that you have to have your oven preheated so you can slip the rolls right in and not have them on the counter waiting.  Also, don't saturate the dough when adding the liquid.  And you may have to consider covering the rolls after a while so as to not burn the tops.  You must use parchment paper or the bottoms will burn. These taste best warm so I don't like to bake them ahead, but rather right before our meal.  They do freeze nicely if you freeze them as soon as they are cooled off.   When you are ready to eat them, thaw right before your meal and warm up in the microwave. The blog I found them from says this also makes a good loaf.  I have tried that, and have found that to not be true.
Edited 2015:  I have started making these with seltzer water in place of the white soda.  It alters the taste a smidge, but these are still to die for.  And the appearance is different too.  Here is what they look like made with seltzer water.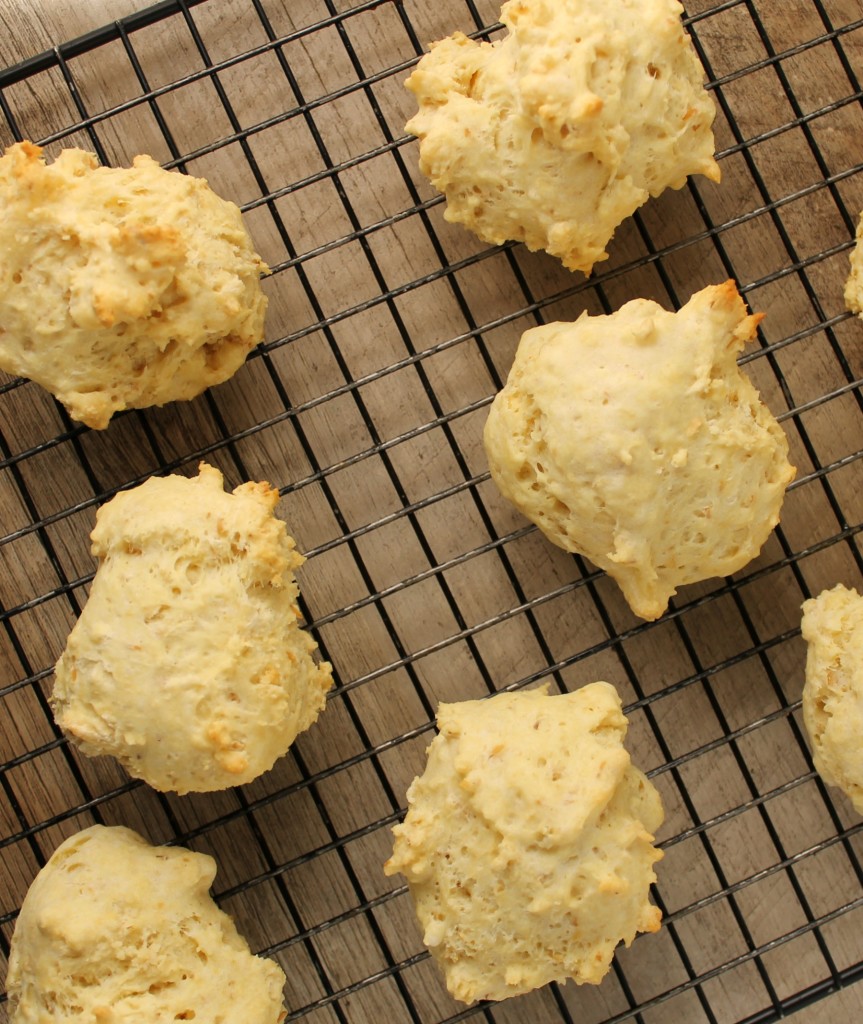 So mix up a batch and tell me what you think.
Also posted at Gluten Free Fridays and Allergy Friendly Fridays. Gluten Free Wednesday. Allergy Free Wednesday.

Gluten Free Yeast Free Dinner Rolls
Ingredients:
1/3 cup potato starch

2/3 cup tapioca starch

1/2 cup garbanzo bean flour

2 tsp. xanthan gum

1 tsp. baking powder

1/2 tsp. salt

1 T. flaxseed meal

1/3 cup canola oil

1 1/2 tsp. Ener-G egg replacer mixed with 2 T. warm water (or 1 egg)

1/2- 3/4 cup white soda (or seltzer water)
Directions:
Preheat oven to 400 degrees.

In a large bowl, mix the dry ingredients with a wire whisk.

Add the oil and egg replacer.

Slowly add the white soda. Do not swamp the dough

Make sure all liquid is absorbed. Add soda if needed to have thick, yet wet dough.

Spoon the dough (like a drop biscuit) onto parchment paper making 6-10 rolls depending on the size you want.

Bake 18-25 minutes, checking often to make sure the tops are not burning.