Do you need a Christmas gift idea for the foodie in your life? How about a gift to yourself? (That is allowed, you know. 🙂 )
A subscription to Living Without's Gluten Free & More magazine would be an excellent choice!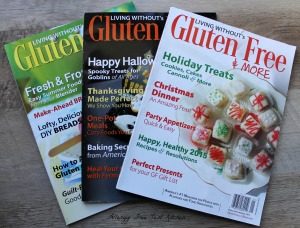 I get this bi-monthly magazine and read it from cover to cover almost the same day it comes in the mail. I keep all my copies for reference and to look through again and again.
It's called Gluten Free & More for good reason. It's about more than gluten free foods. You can also find many dairy free recipes as well as lot of recipes with egg replacement ideas.
The magazine contains recipes, how-to tips, answers to your questions and more! I really enjoy reading the articles about various cities to travel to what that city has in way of allergy friendly restaurants.
Give the gift of gluten (and allergy) freedom this year!
Click on the image below or in the sidebar to subscribe.  (This is an affiliate post.  If you purchase through this link I will get  a very small commission).