I have several food memories from childhood. Most of them are fond such as using cookie cutters to cut out Christmas cookies and decorating them. Or the smell of homemade bread; warm cookies straight out of the oven after walking home from school.
Some of them are not so fond. The one that sticks out for me and was a defining moment has to do with Thanksgiving and pumpkin pie.
I always liked pumpkin pie, so when it came time to "order" my dessert at a turkey supper fundraiser I asked for pumpkin pie. (I was quite young, I'm thinking 7 or 8). Much to my dismay, it came to me gray. Yes, gray! I could not eat it and I have been forever grossed out by anything pumpkin that did not come from either my mom or myself.
To this day, I will only eat something pumpkin if I make it. I have never and will never eat anything pumpkin that I do not make myself. Like I said, it was a defining moment.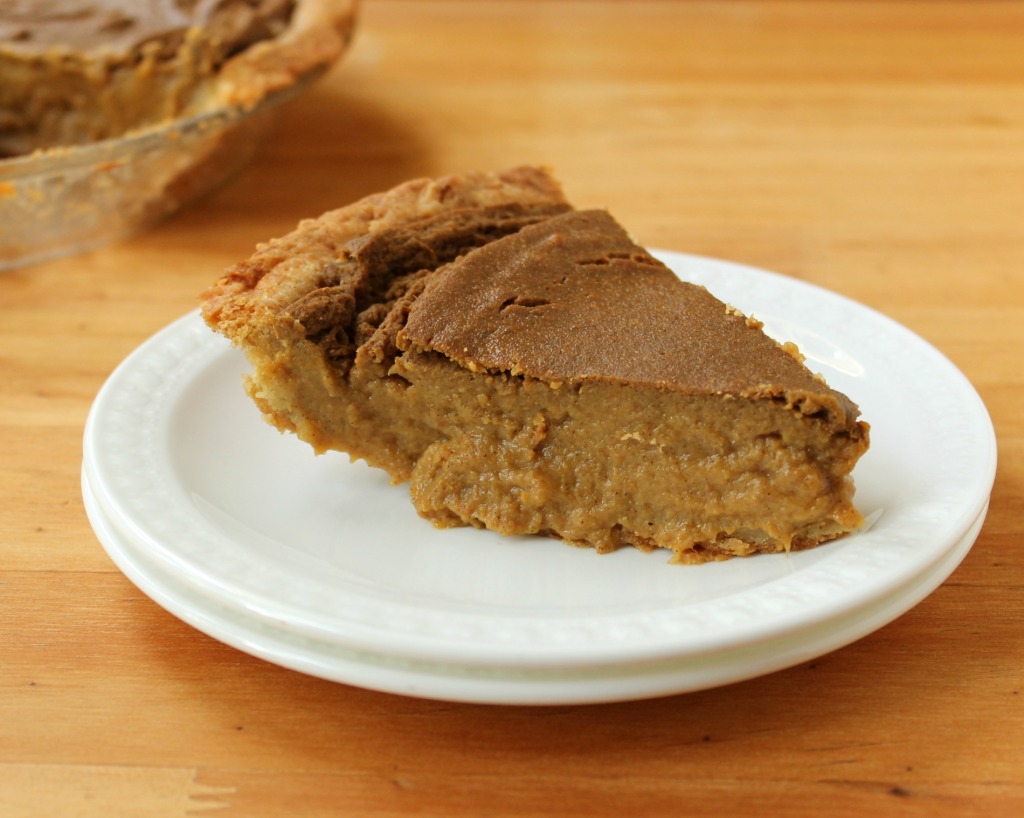 So, when dairy and eggs became a no-no, I had to adapt and started making pumpkin pie with tofu. Surprisingly, it tastes wonderful and almost like my old recipe from childhood.
However, many people are allergic to soy. Or they want to avoid soy because it is primarily genetically modified. Or maybe you are like me and try to avoid soy for other reasons.
So I adapted a recipe from More Choices by Cheryl D. Thomas-Peters to try a soy free, vegan pumpkin pie recipe to share here. I hesitate to share it because I like the tofu version pumpkin pie better and I only like to post recipes I would eat over and over again.
Yet, with Thanksgiving a week away I thought maybe this could help someone and since I went through the work to adapt the recipe, make it and take a picture I might as well post it. Given my past experience with pumpkin pie I'm quite picky. So as for me, my only complaint about this pie is that it is a little dense for me and I prefer something more light and fluffy. Everybody else who ate it noticed no difference from either a "regular" pumpkin pie or my tofu pumpkin pie.
For the pie crust I relied on a recipe from Cybele Pascal's The Allergen-Free Baker's Handbook.
What is your fondest or worst food memory? Do you like pumpkin pie?
Also shared at Allergy Free Wednesday.

Pumpkin Pie: Soy Free, Vegan and Gluten Free
Ingredients:
One 15 oz. can pumpkin puree

2 T. tapioca starch

6 T. water

3/4 cup coconut sugar

1/2 tsp. salt

1 tsp. cinnamon

1/2 tsp. ginger

1/2 tsp. allspice

1/4 cup powdered rice milk

1 1/4 cups water

1/2 cup sorghum flour

Gluten Free or regular pie crust (I use a recipe from Cybele Pascal's The Allergen Free Baker's Handbook)
Directions:
Prepare your pie crust for filling.

Preheat oven to 425 degrees.

In a large bowl place pumpkin puree.

In another bowl, combine starch and 6 T. water.  Stir until starch is dissolved.

Pour into bowl with the pumpkin.

Add coconut sugar, salt, and spices. Stir to combine well.

In a liquid measuring cup place 1 1/4 cup water.  Add the powdered rice milk and stir to combine.

Add to pumpkin mixture.

Add sorghum flour to mixture and stir until well combined.

Pour into pie crust.

Cover the crust with little strips of aluminum foil.

Put in oven and bake for 15 minutes.

After 15 minutes, turn oven to 350 degrees. and bake for 65 minutes more.

Cool before cutting.